Many individuals with disabilities (may it be physical, cognitive, etc.) have a difficult time tying their shoes.  This is also true for many kiddos!  If you're looking for a way to never have to tie your ordinary sneakers again, check out U-Lace No-Tie Laces.
U-Lace No-Tie Laces were originally designed a decade ago "to make lacing sneakers in multiple colors and patterns a quick and easy process."  Additionally, they're ideal for individuals of all abilities as they instantly become easy-on/easy-off slip-on shoes.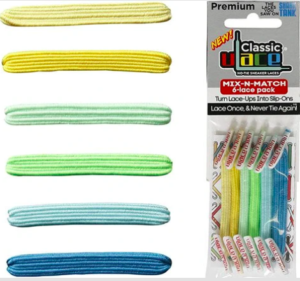 Here's more from U-Lace's website:
"In the years since we launched, U-Lace has become so much more than a fashion product. U-Lace saves traveler's time at airport security; saves lives in mental health facilities; saves skateboarder's from wasting valuable skate time fixing broken laces; helps ER docs & nurses quickly get from nap rooms to operating rooms; and helps special needs individuals live more typical lives, and that's just to name a few things."
Overview of U-Lace No-Tie Laces:
U-Lace No-Tie Laces let you update your current sneakers with a no-tie solution "that's still clean and modern without undermining the classic look and feel of your sneakers"
Uniquely you: you can choose your colors and designs
These no-tie shoelaces are made to keep your sneakers look like ordinary/classic sneakers.  According to their website, "To us, classic sneakers call for classic woven laces and that's what they are – truly woven"

No plastic, silicone, or latex

Easy to install: simply push the lace through the eyelet and pull to lock in place!
There are laces for kiddos, adolescents, as well as adults
Check out the company's website to learn more!