Podcast: Play in new window | Download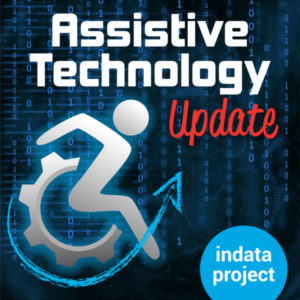 Your weekly dose of information that keeps you up to date on the latest developments in the field of technology designed to assist people with disabilities and special needs.
Show Notes:
Michele Walker – Owner of BeeVisual
Easterseals Crossroads Guests: Sierra Cox and Alex Buchman – Employment Services
——————————
If you have an AT question, leave us a voice mail at: 317-721-7124 or email tech@eastersealscrossroads.org
Check out our web site:
https://www.eastersealstech.com
Follow us on Twitter: @INDATAproject
Like us on Facebook:
www.Facebook.com/INDATA
———————–Transcript Starts Here ———————————
Michele Walker:
Hi, this is Michele Walker and I'm the owner of Bee Visual, and this is your Assistive Technology Update.
Josh Anderson:
Hello, and welcome to your Assistive Technology Update, a weekly dose of information that keeps you up to date on the latest developments in the field of technology designed to assist individuals with disabilities and special needs. I'm your host, Josh Anderson, with the INDATA Project at Easterseals Crossroads in beautiful Indianapolis, Indiana. Welcome to Episode 475 of Assistive Technology Update. It's scheduled to be released on July 3rd, 2020.
Josh Anderson:
So folks, with COVID, stay-at-home orders and a lot of other things, it's really changed the way that a lot of us do our work, and that's true for everyone here at Easterseals Crossroads. So I'm lucky enough to have two of our folks from our employment department, [Sierra 00:00:55] Nash and Alex [Buchman 00:00:56], on today to talk about how the COVID and the telehealth thing has kind of changed their services. So welcome to the show both of you. Can you guys start off by just telling our listeners a little bit about yourself and your job?
Alex Buchman:
My name's Alex Buchman, and I've been an employment consultant for a little over six years now. This COVID has kind of changed some things up a little bit, but I think in some ways it's changed for the better. In other ways, it's made it harder.
Sierra Nash:
My name is Sierra Nash. I've been an employment counselor for almost three years here at Easterseals. And I totally agree with Alex. This has presented some new challenges both good and bad.
Josh Anderson:
For folks who don't know kind of what an employment consultant does, you guys have some different kind of aspects to your job. Can you real quickly just kind of tell us what those are?
Sierra Nash:
Sure. So with our program, for starters we partner with adults with disabilities who are seeking meaningful employment opportunities. So our staff helps individuals identify their employment goals and create a plan to meet those personal goals. So some of those ways in which we meet their goals are going through something called discovery. That's where we go through and we assess their skills, their abilities, maybe their interests. We do some fun things like informational interviews, maybe we go do a job shadow. So a lot of those are very face-to-face-type things, and COVID has made that a little bit difficult these last few months. And then we moved some into something called job search and job development, and Alex is actually pretty strong in that department. If you want to talk about that, Alex.
Alex Buchman:
Yeah. So when an individual finally gets through discovery and kind of learned a little bit about what they want to do, maybe where are their skills are, maybe some interests, maybe what they've done in the past. I know particularly with individuals with traumatic brain injury, sometimes what they have done in the past they can no longer do. So we have to assess kind of where they want, what do they want to do now. And so once we started [inaudible 00:03:01] into a job search, we start working on how do we do appropriate interview prep? How do we even search for a job? It could be as simple as going online, turn on these different job websites. Maybe it's talking with family and friends to see, hey, get some more eyes out there because sometimes the best people that know yourself is those around you. So asking for help, getting advice from them on what do they think your strengths are? Maybe what are some of your weaknesses? And we use that to kind of find a job that really fits them perfectly.
Alex Buchman:
And it's one of those things that I try to stress is that the job search is a slow process, unfortunately, and the best thing to do is be patient because the last thing that I myself want to do is just throw someone into a job and they're not quite happy. Because if they're in that job but they're not happy with it, that job's going to suck. I mean, they're really not going to like it. And so when we do eventually find that perfect job, then we want to really build those supports there.
Josh Anderson:
And I know when I was a job coach, has it been… Well, Alex, have you been here six years? I guess about six years ago. It's such a face-to-face thing. Like you said, you need to be out in the community. You need to be kind of one on one with the individuals. But I know during this COVID you guys have had to move to more telehealth, more kind of remote stuff. So Sierra, can you start us off and tell us just kind of how do you even do that discovery piece remotely?
Sierra Nash:
Sure. So at first it was really shocking and somewhat difficult to try and do these discovery pieces over Zoom or even the phone. Some of the difficulties we have are not all of our consumers have access to internet or even good phone service. So it was kind of working around that. Discovery activities that I have been doing is I've been utilizing YouTube a lot. Other states have had YouTube channels where they basically video work for a day different types of jobs. So I had a consumer and I the other day we watched one about 911 dispatching, and so that was really cool and we kind of got to walk through that. I've watched several telemarketing videos with my consumers. That way they can kind of see what the job entails. And we've also done a lot of just conversations back and forth. We find that a lot of our consumers, they aren't as confident in themselves, so it needs to be strengthened before they go to the interviewing process.
Sierra Nash:
So just conversating with them, whether it's over the phone or Zoom, has really helped. And honestly, I think one of the better things coming from being over the phone is I have one consumer who is pretty closed off, and when they're face to face with me they're not really into it as much. But I tell you what, since we've been talking over the phone because I'm not face to face with them, now they tell me everything that they need support wise, they are more open about things, and I think it's because I'm not right there with them.
Josh Anderson:
And Alex, what about the job development phase? How has that worked doing everything remotely?
Alex Buchman:
So some of the benefits I've actually found with the job development part is when I'm doing the telehealth what I've been able to do is I do a lot of screen sharing with my clients. And so what I'll do is I will have a job application open or it will be maybe a job website like Indeed, and what we'll do is I'll show them how do I search for jobs for them so I can help them do it on their own. And it allows them to also be involved in the whole process. Because my biggest thing with working with someone in job development is I want them to be as independent in the job search as possible because I'm not always going to be there for them. And it could be a few years down the road and maybe they lose their job. Well, now they have the skills and the know how to do it on their own. And so doing this screen sharing kind of helps me walk through every step that I would normally do in person in my office or in their home.
Josh Anderson:
You guys kind of brought this up, but as things get back to some semblance of normal, whatever that might look like, do you see your team continuing to work remotely with some folks?
Alex Buchman:
Yeah, I think in some aspects we could, especially when it comes to the job search/job development aspect of it, because I know a lot of time is actually wasted in just traveling to someone's home where we could instead of driving half an hour a week and say, "Hey, let's just do a video call." We can get it scheduled right then. We kind of go on each, both the consumer's schedule and our own schedule, and see what works best. And it kind of helps open up more time that we can spend with someone who is in discovery or maybe needs more time focusing on job readiness with hygiene or behavior.
Sierra Nash:
Mm-hmm (affirmative).
Alex Buchman:
We can focus more time on that, whereas we were wasting a lot of time just traveling.
Sierra Nash:
Yeah. I definitely think that we're going to take some aspects and continue to do them. At this moment, I don't think COVID is going anywhere for a while, and so I think that some of the employers that we tend to use for those informational interviews or job shadows, they might be a little more nervous to allow us back in their doors right now just because they're already having to be at half or 75% capacity. So I think some of these things like these YouTube videos will still be very helpful in the coming months.
Alex Buchman:
Well, then I also know that some of our other fellow job coaches have also conducted some interviews using telehealth with employers and that has helped, especially when we were deep in the stay-at-home sanctions, that they were still able to get and out say, "Hey, let's do some job interviews", but it's not in person. So it's a little bit safer for not only the employer, but also the consumer and ourselves.
Sierra Nash:
Right.
Josh Anderson:
And I'm sure that's something that will probably continue, also. Well, Alex, Sierra, thank you so much for all the great work that you do here and thank you so much for coming on and just talking about kind of the changing environment in employment due to COVID. Thank you again.
Alex Buchman:
Thank you.
Sierra Nash:
Thanks.
Josh Anderson:
Listeners on today's show, we're super excited to have Michele Walker, owner of Bee Visual, here to tell us all about some exciting apps they've developed to help children learn social skills, develop self control, and complete daily routines. Michele, welcome to the show.
Michele Walker:
Thank you very much. It's great to be here.
Josh Anderson:
It's great to have you. We're really excited to talk about the technology, but before we start with that can you tell our listeners a little bit about yourself?
Michele Walker:
Sure. So I'm a mom of two kids. They are 16 and 20 now. I have a master's degree in applied educational psychology. I've worked in school systems as a guidance counselor in both middle and high school, and I've also worked as a counselor on a locked psychiatric unit for kids age three to 16.
Josh Anderson:
Wow. That's a very great background, especially for what we're going to be talking about today. And I'm sure that probably having the kids at home maybe taught you almost as much as working with folks in the professional sense. I know they do me because we have 19, 11, and 18 months. So a little bit of everything at home. Well, go ahead and tell us about Bee Visual.
Michele Walker:
Okay. Sure. So I created Bee Visual back in 2005 when my older son who is now 20 entered integrated preschool in our public school system at age three. He had been receiving 40 hours a week of in-home therapy through early intervention. He had communication issues with slow processing speed and limited verbal language output, and the services when we transitioned from early intervention to public school felt like we kind of hit a wall. The schoolteacher wasn't prepared to provide him with the appropriate supports that he needed to access the curriculum for his school day, and so I created a visual support for him to use in the classroom which later became Choiceworks. But it first started out just as a dry erase board with me laminating pictures of familiar people such as teachers that he would see throughout the day and placing them on a schedule and instructing the teacher in fact how to use it with him. So I had a physical product made after it was utilized in his classroom with him and several other students. Children's Hospital in Boston got involved and they vetted it out and we were all good to go, so I actually had it made in China as a physical product back in 2005 because there was no iPad. So what it did was it provided him the schedule for his day in visual form and it offered him choices for empowerment.
Michele Walker:
So for example, he was in an integrated classroom, couldn't make sense of all the other children and their needs in there. And one example I can think of is he was in the atrium and the entranceway and they were very loud and he just needed another exit, but communicating that in a heightened state of arousal isn't effective. So when they showed him the choices which are offered in Choiceworks app, it empowered him to make a choice and know that he had an out and gave him some control and with that is a more regulated kid and a better behaved kid. So that's how that got started.
Michele Walker:
I guess what I'm going to lead into a little bit is just to continue on and describe Choiceworks, which was the first product and then the first app. So we converted it into app form in about the end of 2011, and it had three boards originally. The schedule board is kind of what I just described. So you can put on there pictures of your daily tasks or what you need to get through in the school setting, which classes you need to attend, who you need to meet with, and when you get to go home. So the child sees a snapshot of their day and especially if they have slow processing, they can keep looking back at it as just a structured reminder that this is what my day is going to look like and this is how it's going to go, and this is when I get to go home.
Michele Walker:
A lot of things in school are verbal and they're transient so kids can't hold on to them, and this is just like a little extra sense of security that we're all on the same page. Like I get to go home at this time and if I get through these hard tasks, then my job here is complete. So it benefits everybody, really, and it takes the struggle away from the teacher or the adult and the student because the board is telling you what the schedule and the agenda is and, therefore, the adult and child don't have to get into a struggle and a negotiation process.
Michele Walker:
So then the waiting board was created to put something more concrete in place for the abstract concept of time, which is very difficult to understand as you're learning and waiting is a skill we all have to master, and knowing how long we have to wait really helps kids out. So for example, my son had a trampoline and only one kid was allowed on it at a time. So the waiting board was used to show my son and the other kids that were using it that it was so-and-so's turn on the trampoline and when the timer ends, right, because the timer is the agreed-upon time you get to use it, and then I get to use it for the same amount of time. Again, we eliminate the struggle and then offer some choices of things that the child that's waiting can do in the meantime. So I like to think of it as a fun contract. When we all are on the same page, things flow smoother and there's no surprises and it eliminates anxiety and it creates fairness, and it's just a system that works.
Michele Walker:
So there's another board that was initially with the physical product and then transferred over to the app form, and it's called the feelings board. And I created this because I was witnessing children, including my own son, get upset and not know what to do. Just getting emotionally overwhelmed, dysregulated, misunderstanding, not picking up on nonverbal cues. So my son would melt down and the solution for him was to take a break and just kind of regroup and reset versus a timeout versus a punishment, right, because he had slow processing speed, and we knew some other things that were going on neurologically and that he just needed to slow his brain down before he could rejoin the group or process kind of what just happened. The other kids, I saw them hit and lash out at innocent classmates, shove swings at their heads and stuff like that. And when they were given options, after identifying their anger they would choose things like get a hug because that's what they really wanted.
Michele Walker:
They were just really out of control with their own emotions and they just needed some grounding and to feel secure about that. Now, they can't verbalize that, but the choices on what used to be called the Choicewheels because they were actual spinning wheels at the bottom where the kid could select. Now they are two spots that pop up and they can have their choices and they can be anything they want because the app is fully customizable with pictures, videos, pre-loaded images, so it's really helpful.
Michele Walker:
And then finally, recently actually, within the last two years, we added the feeling scale and my younger son was experiencing extreme anxiety because he had just gone through a very intense trauma and he missed over 300 days of school. And when he was able to get back into school, there were environments that were better suited to him than others and pinpointing those environments like teachers and topics and peers, and times of day, enabled us to modify the ones that weren't working and keep track of the ones that were, and we could provide him with options like leaving the classroom and going to the adjustment counselor or going for a walk. The chart logs the feelings and the time of day. So maybe for example, if a teacher sees it's only in her class that the student is a level red, then we can uncover why and then we can change our approach. So that was a surprise board development that came out of life experience. And in fact, they all came out of life experience and need for my own kids.
Michele Walker:
And it's been a really true gift that both of them are part of the app. My younger son is actually the voice on the app, and actually all the images were designed for my now 20 year old. So the image of the boy on there is really him.
Josh Anderson:
Well, cool.
Michele Walker:
So it's all based on my family and kind of stemmed out of our needs. And we were really lucky and blessed to have it help so many other people and then be able to convert it to app form, make it more affordable, more customizable, more on the go, less, I don't know, making… Everybody has technology, so you don't really look any different looking at it. And that's where it stemmed from.
Josh Anderson:
Very cool. And Michele, what all platforms is Choiceworks available on?
Michele Walker:
So Choiceworks is available on iOS only, and the reason being is every year we look into the Android platform. Unfortunately, we're a small company. We prioritize clinical effectiveness and we also prioritize quality. The Apple platform has really enabled us to do that whereas Android doesn't offer that as of yet for us and the bandwidth is just too great. But that said, we look at it frequently and do hope to someday offer on that platform.
Josh Anderson:
Oh, for sure. And how much does Choiceworks cost?
Michele Walker:
So Choiceworks is $9.99. We also have another app called Choiceworks Calendar, and that was developed as kind of a next step for Choiceworks. So it takes a month view and it enables kids to look at the entire month. So for example if they have something coming up at the end of the month that they're really looking forward to, they can visually see how many days it is until that visual is happening. There's a countdown feature on it so they can press the countdown button and it will count the days down to that event. So let's say it's their birthday. It'll count from the current day to that day when their birthday party is going to occur, and that eliminates the repetitive asking of questions and it also teaches counting and it teaches the concept of months, weeks, and days. Right now, that app is only available on iPad, but we are about to release the iPhone version, which has been a long time coming and very excited about it. It's pretty cool. I have it on my phone now.
Michele Walker:
So we are weeks away, but really excited about it. It's been challenging to get so much information on a smaller screen, but we nailed it so pretty excited about it. And I think it's going to be really helpful for kids, especially going forward into this uncharted territory of what we are in education right now with kids perhaps going back in the fall on alternate schedules one week on and one week off, and they can really visually see their calendar versus just the other calendars that are offered out there, right? So they can see the whole month. They can tap on a day and see what that day brings, and it brings it right back to the month. It's really cool. And I hope people find it helpful and it keeps them on track a little bit better than they have been without it.
Josh Anderson:
Oh, for sure. And you kind of mentioned the strange times that we're in and everything. And I know my stepson was home from school and never had any idea what day it was even with classroom meetings and stuff. Just no clue. He may even know the date, but no idea whether it's Saturday through Monday. No clue whatsoever.
Michele Walker:
We have the same thing going on here. We have the same thing. It's challenging.
Josh Anderson:
And it's not just kids. I know I'm going through the same thing. I sometimes have no idea.
Michele Walker:
Agreed.
Josh Anderson:
Yeah. So I could see where that could be really helpful. And I've played around with them a little bit and I do like the visual, especially. You kind of mentioned it on the calendar how it's so much easier to be able to see that concept of time of I need to have this done by Friday. On Monday it seems like forever away and on Thursday it's breathing down your neck, so being able to see where Friday is or where the end of the month is, or like you said, where the birthday is, to really be able to look forward to that can really make a difference as you watch that time kind of go by. So it's very cool. And yeah, and the visual representation. Most calendar apps are pretty boring. They're words and text, and don't really [inaudible 00:22:28] a whole heck of a lot. So it's nice to be able to have those representations. And the Choiceworks calendar, how much does that app cost?
Michele Walker:
So it's $4.99, and then if you buy both apps we do offer a bundle for $11.99.
Josh Anderson:
Oh, nice. Now you talked a little bit about this, Michele, and kind of told me some of your family stories and everything, but can you tell me a story about someone that's been helped by the technology as opposed to your family was kind of the inspiration behind the technology, not just helped by it?
Michele Walker:
Yeah. So I'm fortunate to work with teachers in many different states and countries, and we are fortunate to receive feedback that just thrills us. And when I say us, it's me and my two sons, just really enjoy seeing how many people are helped through their struggles. It's come full circle and it's a real gift. So there's a teacher that I work closely with in Indiana and she actually did one of the demos for Choiceworks app, the school schedule demo. She has a student with Down syndrome that historically had struggled with transitions to lunch and recess. She wouldn't come in for recess and wouldn't go to lunch. And last year they got Choiceworks in place and the transitions weren't really going that well, but as soon as they put Choiceworks in place, she started nailing it. So the teacher would just hand her the iPad at the bell with no verbal prompt, and the student would swipe to the all done with recess, look at her next scheduled visual, and smile, and just said lunchtime. And then she headed straight to lunch and made her request to eat in the resource room with a specific teacher.
Michele Walker:
So she's making a little progress and we get little stories like that quite frequently, and it gives us chills. It makes us feel so good because it's such a simple thing to put in place and you get such a big reward from it and such a huge independence success from it, is just amazing.
Josh Anderson:
It really is. And it's great. Like you said, when you create something because of a personal need to be able to help and then find out how many other folks can really use that, how many other folks have went through the same thing, maybe in a different way, but being able to create something that can help them out as is always an amazing and great feeling.
Michele Walker:
It is.
Josh Anderson:
Michele, if our listeners want to find out more about Bee Visual and the Choicework apps, how would they do that?
Michele Walker:
I would suggest going to our website, which is beevisual.com and it's bee like the bug, B-E-E-V-I-S-U-A-L.com. On there, there is a link to our Facebook page which I'm pretty active on and include updates and videos from people, teachers, clinicians, and so forth that send us how they've used the app with their students and just ideas, and it's a sharing community so you can pick up tidbits. In fact, to be honest with you, I actually learned ways of using the app that I never would have come up with. So it's awesome. And so then I'll share that with people because we're all out there in the trenches and we're doing different things with the same tool. And one teacher converted it to a reading program, which I found fascinating because my oldest son is dyslexic, and so I was just blown away by it. So Facebook is where I'm probably the most active, but there will be links to Twitter and Instagram as well.
Josh Anderson:
Very excellent. We'll put a link over to beevisual.com over in our show notes. Michele, thank you so much for coming on today, talking about the amazing apps, how they came to be, and how they can help all kinds of individuals.
Michele Walker:
Thank you for having me.
Josh Anderson:
Do you have a question about assistive technology? Do you have a suggestion for someone we should interview on Assistive Technology Update? If you do, call our listener line at (317) 721-7124. Shoot us a note on Twitter at INDATA Project or check us out on Facebook. Are you looking for a transcript or show notes? Head on over to our website at www.eastersealstech.com. Assistive Technology Update is a proud member of the Accessibility Channel. For more shows like this plus so much more, head over to accessibilitychannel.com.
Josh Anderson:
The views expressed by our guests are not necessarily that of this host or the INDATA Project. This has been your Assistive Technology Update. I'm Josh Anderson with the INDATA Project at Easterseals Crossroads in Indianapolis, Indiana. Thank you so much for listening, and we'll see you next time.