Podcast: Play in new window | Download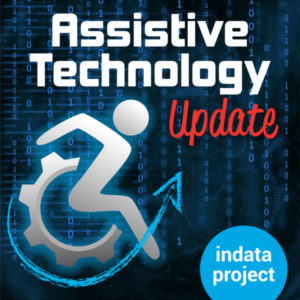 Your weekly dose of information that keeps you up to date on the latest developments in the field of technology designed to assist people with disabilities and special needs.
Show Notes:
Andy Brown – Co-Founder of Briometrix
—————— Transcript Starts Here ————————-
Andy Brown:
Hi, this is Andy Brown. And along with Eckhard Kemmerer and Natalie Verdon, I'm one of the co-founders of Briometrix. And this is your Assistive Technology Update.
Josh Anderson:
Hello and welcome to your Assistive Technology Update, a weekly dose of information that keeps you up to date on the latest developments in the field of technology designed to assist individuals with disabilities and special needs. I'm your host, Josh Anderson with the INDATA Project at Easterseals Crossroads in beautiful Indianapolis, Indiana.Josh Anderson:
Welcome to episode 476 of Assistive Technology Update. It's scheduled to be released on July 10th, 2020. On today's show. We're super excited to have Andy Brown from BrioMetrix on to talk about an exciting project that they're doing here in Indianapolis. We also have Amy Fuchs on from BridgingApps with an app worth mentioning, and a story about the unseen cognitive effects of COVID-19. Don't forget, if you ever want to reach out to us, you can drop us an email at tech@eastersealscrossroads.org. Now, let's go ahead and get on with the show.
Josh Anderson:
I found a really interesting story over at Forbes and it's called "The Cognitive Cost of COVID-19." It's by Nancy Doyle. And it really just talks about kind of some unforeseen things that kind of happened because of COVID-19. Not so much just the illness itself, but also the pandemic, the worry, the kind of change to workloads and just all the things that have changed over the last few months, which I know many of you have probably experienced in some way, shape or form. And this talks about two different things in these cognitive effects. Some of them, of course, are just the change in lifestyle, the fear of the unknown, other things like that, as well as actually some cognitive effects from being perhaps infected by the virus. It does say in here that there are new reports emerging that hallucinations and delirium can show up in severe cases of the virus, which can have some sustained effects on the brain. It also says that some recovered patients are reporting a long-tail impact on fatigue, concentration and mood. So, all these things can definitely affect the day-to-day work life.
Josh Anderson:
So, it kind of goes in and talks a little bit about how this can have effects on the staff, but it also gives you some different things you can do to kind of help recover performance. And, of course, the first thing it says is rest, rest and more rest. We really don't realize just how much we're affected by being on video calls and conference calls. Obviously, it's going to massively drain your brain energy, really kind of being on these. And I know a lot of folks who have experienced Zoom fatigue, online meeting fatigue and things. And it's amazing how much more of a drain it is on our senses to be able to do that, as opposed to just what we used to in the kind of face-to-face talking.
Josh Anderson:
Kind of gives the second thing as to name it. Just kind of name what it is. Just voicing what happens and talking through things can really make all the difference. So, really, as a leader, as a manager, as someone who oversees other staff, it's just very important to be able to talk about these things and get that fear kind of out of the way.
Josh Anderson:
And number three, of course, is the most important for this show, which says, "Use assistive technology and memory tools." So, AI assistance, diary management tools, mind mapping, project management software. Things we've talked about on this show a lot can really help folks out. And these are things that maybe they used to just do in their head, but now they kind of need to write it down or maybe sketch it out in order to keep all these things together. And really, it says the important thing is being able to externalize your short-term memory capacity because these are the things that are really affected by that stress. Think of PTSD. Think of ADHD. Think of these kind of things. Some of the effects of the pandemic, be it the virus itself or the situations surrounding the pandemic, can actually cause some different neurological disorders that really resemble some that of course we've all dealt with in the past.
Josh Anderson:
It'll be really interesting to kind of see what the long-term psychological effects of the pandemic really are. And I mean, we also have to remember we're not through it yet. Some things are opening up. Some things are maybe getting better. I know some things are rolling back a little bit also. So, just to make sure that we can all try to stay as healthy and happy as we can.
Josh Anderson:
So, we'll put a link to this over in the show notes. And we'll try to kind of keep an eye out for how this is affecting things. But I did really like that, as I'm reading along this, that one of the recommendations they have was to use assistive technology. So, it's always good to know that some folks are keeping that front of mind.
Amy Fuchs:
This is Amy Fuchs with BridgingApps, and this is an app worth mentioning. This week's featured app is called Venmo. Venmo is an app used to send, spend and receive money. Venmo can be linked with a user's bank, debit card or credit card to access funds. Money can be sent and requested to and from another Venmo user without fees. This app is free, but does offer some in-app purchases. This is a digital wallet, which allows users to quickly move money to other users.
Amy Fuchs:
This app is great for users who need to split costs with others. Venmo does have a social side to it with a notification feed showing activity between friends. This means, if the user allows, Venmo may display that $10 was sent between two of your friends to split a pizza.
Amy Fuchs:
When a user sends money, it's usually funded by a bank or card that the user has connected. Connecting a bank or card is not necessary, however, as a user can receive funds from another user. When a user receives that money, it goes into the user's Venmo account. To access the money in the real world, the user can move it to a connected account or apply for a Venmo card, which could be used at ATMs to withdraw cash.
Amy Fuchs:
We think that Venmo is a great app to use if you want contactless purchasing or just don't want to carry around a lot of cash and credit cards. Venmo is available for free at the iTunes store and Google Play stores and is compatible with iOS and Android devices. For more information on this app and others like it, visit bridgingapps.org.
Josh Anderson:
So, folks, today's guest is Andy Brown from BrioMetrix. Now, we've talked about BrioMetrix on the show back in January of 2018, just about some of the great technology that they create and provide to folks. But today, we're lucky to have Andy back on the show to talk about an exciting project that they're working on right here in Indianapolis. Andy, welcome to the show.
Andy Brown:
Good morning. Glad to be here.
Josh Anderson:
Yeah. It's great to talk to you. Now, before we get into talking about all the exciting things that you guys are doing, can you tell our listeners a little bit about yourself?
Andy Brown:
Well, my background is in import and export. And I have two co-founders with BrioMetrix, Natalie Verdon and Eckhard Kemmerer, who are based in Sydney, Australia. And we met through a separate project about eight years ago and it evolved eventually into BrioMetrix. My background is, like I said, sales, marketing, import/export, and I'm sort of a cycling geek. So, that sort of played into the wheelchair aspect a little bit of what we do.
Josh Anderson:
Definitely. I can see how that can kind of move into there. Well, Andy, what is BrioMetrix? And I know that might not be the easiest thing to completely define, but just tell us a little bit about the company.
Andy Brown:
Well, essentially, we have developed technologies in navigation, accessibility mapping, fitness, well-being, sport and rehabilitation for people in wheelchairs. We're focused on people in wheelchairs.
Josh Anderson:
Perfect. And can you talk just a little bit about what some of that technology is?
Andy Brown:
We initially were going to develop something that was like a Fitbit for wheelchairs. We found early on that, in some of our research related to chairs in general, that the Fitbit was just blowing up about six, eight years ago and we wanted to create something for people in chairs that could give them the same benefits. Fitbit just didn't work at a lot of levels. Steps don't equate to pushes or strokes and so we thought, "There's got to be a way to overcome this and create something specifically for the population out there that's so underserved."
Andy Brown:
So, we set out to develop that. And then that morphed into other technologies as it evolved that has allowed us to get into what we call effort mapping. We've been able to develop effort maps that can be overlayed on a city's GPS. And somebody, let's say, is going to the park for the week out with the family. If they're in a wheelchair, they can look through effort maps, see how difficult or how easy it would be to get from Point A to Point B and be able to roll to the shelter or what have you.
Andy Brown:
[inaudible 00:09:21] some of the other technologies. We can do ADA compliance for sidewalks. The 39 algorithms that we've developed cover about 60 moves in the chai' and it really reads everything that's going on in the chair for the person that is pushing it. Obviously, speed and that sort of thing we get. But our algorithms and a device, a logging device, allows us to pick up what goes on on the terrain, what the surface materials are, grade, cross slope, all sorts of aspects of [inaudible 00:09:59] that make it difficult for people to get through the built environment.
Josh Anderson:
And you kind of led right into my next question because we really had you on the show today to talk about an exciting project that you're working on right here in Indianapolis. Can you tell our listeners a little bit about this project?
Andy Brown:
We were fortunate enough back last fall. We were contacted by Ford. We had not established ourselves in the U.S. We had done several mapping jobs, effort mapping jobs with the City of Sydney and other municipalities in Australia, but we had not launched in the United States yet. Ford came to us, just called us out of the blue, and said, "Hey, we've got a project called The Indianapolis Challenge, Ford Indianapolis Challenge. And we wondered if you would like to submit for a grant or for participation." The way the program worked is it was pretty much open. They interviewed people. Ford, along with Marion County, interviewed the community. "How could we engage people at a more practical level? From a personal mobility network, how could we get more people involved?" And it was related mostly to transportation. And they asked us to participate.
Andy Brown:
There were about 150… I think, 150 to 200 participants. They narrowed it down to 12. And from 12, they narrowed it down to 2. And we were fortunate that the IndyGo and Inez Evans, they liked what we presented and they added us into the mix. And we were able to qualify. And they have given us a little bit of a budget. And we're going to go to work. We were going to go to work in May, but due to the virus of course everything got set back.
Andy Brown:
But we're going to do some mapping and some assessment around the 10 stops on the purple line, the new high-speed purple line that's coming up. And our goal is, of course, to make things more accessible for people in chairs or people with disabilities.
Josh Anderson:
Very nice, Andy. And to kind of get into that a little bit more, how's that going to work? Are you using volunteers, fitness tracker? Kind of what's the idea behind that, on how you're going to be able to map all that information?
Andy Brown:
Well, it's a combination of things. We've got a unique system, that we actually employ people in wheelchairs. And we have a logging device that can log what's going on in the chair and in the built environment around the chair. We pull a team together. We do some training with them. We attach the devices to the chairs. We then set out a daily goal. And we put together maps where people are going to roll. And we believe that the wheelchair is really the best tool for picking up all the nuances in the pavement and in sidewalks in the built environment. And we sent them out and we monitor everything.
Andy Brown:
They have our logging device attached to the chair, which is picking up everything that's going on on the sidewalks or the intersections, wherever they're rolling. And then they have a tablet that they can enter specific things into, criteria into. They have a video camera that's attached so that we get a comprehensive idea about what the sidewalk's like, what kind of impediments there might be, what kind of problems there are in getting from Point A to Point B.
Andy Brown:
We're going to map about a quarter mile out from 10 specific stops along the purple line that are more related to access to hospitals, to tourist sites, to cultural and government buildings so that people in wheelchairs have a better access to those spots and they can get there from the bus stop or they can get to the bus stop. One of the greatest things that holds people back, one of the biggest things that holds people in wheelchairs back, is the lack of sidewalks, connectivity. We try to cover that off so that the city then has a database of where some problems might be that they could get into and do some repairs or upgrades.
Josh Anderson:
No, that's great because I can see how that can speed along those kinds of projects. As opposed to trying to redo the sidewalks everywhere, go fix those problem areas so that folks actually have access, as opposed to waiting to do everything all at once.
Andy Brown:
Yeah. Mostly, we found they do it in smaller bites. The infrastructure in most cities in the U.S. and around world, especially sidewalks, is pretty bleak. And the funds just aren't there, the tax base just isn't there to fix everything at once. So, most cities take a bite of it every year, assign budget to that, and then fix as much or address as much of it as they can.
Josh Anderson:
Well, that's great. I know the red line, purple line. I know there's another line they're going to be building here in Indy, but I know that they're really trying to make sure that that's very accessible for everyone, and in particular individuals with disabilities because I know not just Indianapolis, but all cities, transportation's a huge barrier to individuals with any kind of disability. But, like you said, if you can't get your wheelchair to the bus stop, then, well, having accessible buses isn't going to help you.
Andy Brown:
Yeah, yeah. And they've done a great job. Mostly, they've done a great job of making the buses accessible with lifts and that sort of thing, but getting there is generally the problem.
Josh Anderson:
So, what exact phase are you in right now? I know you said that you were kind of set back a little bit by the pandemic, as we all kind of were in some way, shape or form, but what phase are you in right now in the project?
Andy Brown:
Well, as I said, the project was going to literally roll out the first part of May. I believe it was May 4th was our original date. And it's about a 10 to 12-day project. We've had to put that on hold and we're right now trying to… And, of course, in Australia, the same thing's true. We had projects on the calendar that have been put off until… I think the next couple of weeks, we're going to go back to work in a couple of areas.
Andy Brown:
But right now, we've got a meeting on the 30th. Lauren Day has been a great liaison and project manager in working with the City of Indianapolis. And we had a meeting with Lauren and some of the other principals and stakeholders on the 30th. And then we're going to determine what the start date will be.
Andy Brown:
We're hoping it's going to be early September, but we just want to make sure that obviously that everybody's comfortable with that. And, of course, working with Easterseals, who's been a tremendous contributor to this in the [inaudible 00:17:11] background and understanding the city. And I got to shout out.. Was it Ann Traub?
Josh Anderson:
Yes.
Andy Brown:
… and Keith Fox who were just integral in helping us put this thing together last fall.
Andy Brown:
As it evolves, we're hoping for September, first part of September. Then we'll have our 10 days there. And hopefully we'll be working with you guys and Wade and supplying some of the pilots, which is what we call our wheelchair people that go out and actually log in the miles.
Josh Anderson:
Excellent. Yeah. We're very happy to be able to be a part of it because, like I said, we know that a big barrier to independence here, and again pretty much everywhere, is just that transportation piece. And I love that you guys are taking it a step further. Because, again, a lot of people think, "Well, I made, the bus accessible and that's great. Now, anyone can kind of use it," but, again, if they can't get there, that's not going to help in any way, shape or form. And Andy, we may end up having to have you back on sometime after the project's kind of done just to see what kind of results and kind of what goes from there.
Andy Brown:
Well, we're excited. You mentioned the other line. I think it's the blue line that is coming up next.
Josh Anderson:
That's the other one, yep.
Andy Brown:
And we've talked a little bit about that. Of course, we need to see how this rolls out. And we're hoping that this rolls out as we anticipate it will and it's successful and we're able to provide the IndyGo and the city with some valuable information that works at multiple levels. And if that's the case, then we'd be able to be involved in the blue line as it evolves.
Josh Anderson:
Well, Andy, just kind of jumping back to BrioMetrix a little bit, are you guys working on anything new that you can tell us about?
Andy Brown:
Well, it seems that we're always working on something new. And currently, we're on the verge. We're doing some beta testing. We've had an app in development for a couple of years and we just have never been happy with it. We beta tested last year, decided to put it on the back burner for a while. And now, we're back at developing the app. We're hoping by fall, that we'll have the app in the market. Hopefully, a lot sooner than that.
Andy Brown:
But it will give you some fitness measures along with some location. It will be capable of helping you with mapping, linking to the effort maps. It will have a number of health and wellness-related aspects to it so that somebody in a chair can actually have accurate information rather than using something like a Fitbit that sort of does half the job for them. But hopefully, that app will be done by fall.
Andy Brown:
And then we're looking down the road to a wearable device, which has always been our goal. So, I don't want to put any time table on that because you just don't know. But we're excited about the app because that's going to furnish the city. It'll furnish the individual who has the app with a lot of health-related information, but it will also make available to the cities information on where that individual travels, where somebody in a wheelchair goes, what tourist areas or entertainment areas does somebody go to. And it will help the cities too, from an infrastructure standpoint, trying to understand where that person's going, where repairs really need to be made [inaudible 00:20:38] able to prioritize repairs. And if they know that, let's say, married people in wheelchairs happen to be going to a certain area for entertainment, for shopping, for what have you, and that area is one of the areas that they found that needs repair, then they could prioritize that. That's fairly simplistic, but it's giving you an idea of what's coming.
Josh Anderson:
Oh, definitely. And I don't think that's simplistic at all. I think that's a great thing and a great tool for municipalities as well as individuals to have that information kind of right at their fingertips.
Andy Brown:
Yeah. We're excited about the app. We've been looking forward to it for a long time and we're really in the last stages of beta testing. Hopefully, it'll be here by September at the latest. But hopefully, July, August.
Josh Anderson:
Andy, can you tell me a story about someone who's been helped by one of your devices, technologies, programs or really anything?
Andy Brown:
Well, I'll tell you two, not specific stories about individuals, but let me tell you a few things. It just sort of speaks to the sensitivity of the device and the kinds of things it can pick up. Health is an area we really want to get back to. We started out looking at fitness and health. We were morphed into the mapping aspect of it and navigation aspect of it because we found the device could do it and it was something that we could get involved in more easily. The health aspect of it takes a lot more development.
Andy Brown:
But two things to give you an idea of the sensitivity. One's the sensitivity. Early on, when we were checking the device, we worked with some Paralympians over time. And one of the things they found in Sydney while they were doing some testing at a track was… They'd attached the device to the chair and [inaudible 00:22:28] then had one of the sprinters out doing sprints. And the device was able to pick up the fact that the front wheels, at the last 10, 15 meters of this 100-meter sprint, the front wheels would come up off the ground, almost like we wheelie in a car, if you're familiar with that.
Josh Anderson:
Mm-hmm (affirmative).
Andy Brown:
Then as the person in the chair began pushing harder that last 10 meters, the wheels would come up. Well, that's not the most efficient way to… You're losing force. The part of the force that you're expending is pulling the front wheels up. So, they were able to relocate or reposition that person in the chair to where the same forces could be affected on the chair, but the front wheels stayed down so more force was driving the chair forward, not up. And that applies to what the device can do in general.
Andy Brown:
It applies to how sensitive it is and what it can do for people in chairs who have massive shoulder problems and stroke problems and the information that we can get back to OTs, PTs and healthcare providers related to what's going on in that chair. Currently, there's no way to do this other than to bring somebody in, in a chair, put them on rollers and then do testing. With our device, we'll be able to actually see what's going on out there so OTs, PTs and health care providers can be more accurate and understand better what's going on in the chair.
Andy Brown:
Another short one for a lot of people. The first job we did was with the City of Sydney. And they asked us to map the park by the Opera House, the iconic opera house in Sydney, because on January 1st they have a big fireworks display and they wanted to try and draw… or make it as accessible as possible. And that was really our first effort map. And they got thousands of hits on the site that they had never received. It really increased the number of hits once they advertised the fact that the routes were on the site.
Andy Brown:
And, again, it made the park, it made the event accessible for people who may not have ventured out before. They may have looked at it and said, "Man, that's going to be a mess. There's going to be a million people down there. I don't know how to get around anywhere." And it made the pathways truly visible. They could see how hard it would be to get from Point A to Point B. They could see where the parking was. They could see where all sorts of aspects of the event were and how hard it was going to be for me to be.
Andy Brown:
So, those are the kinds of things, one from a mapping perspective and another from a healthcare perspective, that the technologies allow us to get into. And we've got 39 algorithms, I think I said before. And it gives us a hint on to 60, pretty much 60 movements that go on on the chair. So, we really can analyze what's happening.
Josh Anderson:
I can see how those tools can be amazing help for folks. Well, Andy, if our listeners want to find out more about Briometrix and maybe even the program that you're working on here in Indy, how would they do that?
Andy Brown:
Well, they'd just go to the website at www.briometrix.com out there on the big worldwide web.
Josh Anderson:
Excellent. Well, we'll put a link to that over in the show notes so folks can check that out. Andy, thank you so much for coming on the show today, talking about BrioMetrix, about the programs you guys are in, and just all the things you do to help individuals just be more independent, kind of open up the whole world for them. So, thank you so much.
Andy Brown:
Thank you so much. We appreciate the time.
Josh Anderson:
Do you have a question about assistive technology? Do you have a suggestion for someone we should interview on Assistive Technology Update? If you do, call our listener line at 317-721-7124. Shoot us a note on Twitter at @INDATAproject or check us out on Facebook. Are you looking for a transcript or show notes? Head on over to our website at www.eastersealstech.com.
Josh Anderson:
Assistive Technology Update is a proud member of the accessibility channel. For more shows like this, plus so much more, head over to accessibilitychannel.com. The views expressed by our guests are not necessarily that of this host or the INDATA Project. This has been your Assistive Technology Update. I'm Josh Anderson with the INDATA Project at Easterseals Crossroads in Indianapolis, Indiana. Thank you so much for listening and we'll see you next time.