Podcast: Play in new window | Download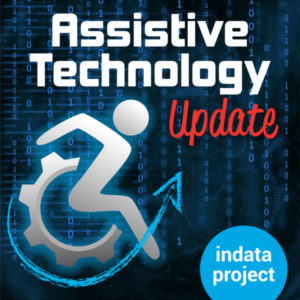 Your weekly dose of information that keeps you up to date on the latest developments in the field of technology designed to assist people with disabilities and special needs.
Show Notes:
Steven Dahl – Director of Learning Solutions – Strivven Media LLC
——————————
If you have an AT question, leave us a voice mail at: 317-721-7124 or email tech@eastersealscrossroads.org
Check out our web site: https://www.eastersealstech.com
Follow us on Twitter: @INDATAproject
Like us on Facebook: www.Facebook.com/INDATA
—————- Transcript Starts Here —————–
Steven Dahl:
Hi, I'm Steven Dahl, director of learning solutions for Strivven Media, and this is your Assistive Technology Update.
Josh Andersion:
Hello, and welcome to your Assistive Technology Update, a weekly dose of information that keeps you up to date on the latest developments in the field of technology designed to assist individuals with disabilities and special needs. I'm your host, Josh Anderson, with the End Data Project at Easter Seals Crossroads in beautiful Indianapolis, Indiana. Welcome to episode 478 of Assistive Technology Update. It's scheduled to be released on July 24th, 2020.
Josh Andersion:
On today's show, we're super excited to have Steve Dahl on from Strivven Media to talk about Virtual Job Shadow and some other accommodations they have available. We're also very excited that here in just a few days, on July 26th, we will be celebrating 30 years of the Americans With Disabilities Act, which is very cool. This also happens to be the 100th episode that I have hosted since Wade had to move on and leave the show. So thank you so much for listening to me for almost the past two years, because this is the hundredth time you have heard my voice on this show, but enough about all that, let's go ahead and get on with the show.
Josh Andersion:
As many of our listeners know, before entering the wild and wonderful world of assistive technology, I was a job coach. I assisted individuals with making resumes, searching for jobs, interview practice, and job shadows. It wasn't always easy to get businesses on board with allowing job shadows, and therefore, it was sometimes difficult to really take a look at a lot of jobs and find what might be best for the individual. Well, today we're lucky enough to have Stephen Dahl, director of learning solutions for Strivven Media, on to talk about a new solution to this issue called Virtual Job Shadow. Steven, welcome to Assistive Technology Update.
Steven Dahl:
Thanks for having me on the show.
Josh Andersion:
I'm really excited to get into talking about the technology, but before we do that, can you tell our listeners a little bit about yourself?
Steven Dahl:
My background includes being a classroom special education teacher at the high school level, and after that, I pursued administrative credentials, and I was a special education director in the state of Washington for 10 years, and then a regional special education director overseeing seven programs in Washington state that focused on the needs of students with academic and social emotional learning and vocational needs, K-12.
Josh Andersion:
Steve, it's amazing how many of the folks I talked to that come from that special education background and then just kind of branch out into finding new ways to help folks, so we're very glad that you come from that background and that you've kind of moved into this, but what we're really heavy on the show today is to talk about Virtual Job Shadow. So what is Virtual Job Shadow?
Steven Dahl:
Yeah, so the company, parent company is Strivven Media, and we have several products that support individuals of any need background or ability to access high quality, interactive career exploration tools and resources, and at the forefront of that is an amazing video catalog that includes over 300 videos depicting kind of a day in the life approach to professionals doing their job and giving each individual insight into what it might actually be like to be in that career pathway or in that specific career choice, and that's really the primary products that people know us by, is the Virtual Job Shadow, especially during COVID, as you might imagine. Some of the limitations that we have in terms of accessing job sites to do job shadows, this really allows each individual to develop insights into those career pathways, to see the day in the life sort of approach, and then also to make informed choices about whether they might like to pursue that pathway.
Steven Dahl:
The features inside of our three main products are VirtualJobShadow.com, which is for grades six through 12, Virtual Job Shadow Junior, which is for grades K through five, and it's developed with three specific grade bands, to K, one, two, three, and then four or five, and then a third resource is what we call the Life Pass course, and that's really a high school course, kind of an A to Z course on the career pathways and all the different kinds of things that would help a high school student, in one complete course, complete efficiently the career exploration process. Instead of taking over multiple years, it would be one specific standalone course. So that's kind of, in a nutshell, our three main products or deliverables.
Josh Andersion:
Stephen, how'd this all get started?
Steven Dahl:
Yeah, so Strivven Media was founded in 2012 by Ilya Gorelik and Kim Celentano, and Kim's background includes being an Emmy award winning film producer, television producer with experience at large networks, including ESPN and Fox Sports, and Ilya Gorelik's background in technology, and so it's a great combination of skill and expertise that has helped develop Strivven Media to the point is that today
Josh Andersion:
Let's dig a little bit more into the Virtual Job Shadow. I know you said there's a whole lot of videos. What are just some of the jobs that are available there in the Virtual Job Shadow videos?
Steven Dahl:
Well, first of all, the clear pathways is really the broadest stroke. We have students that can come in, or individuals can take an assessment of their interests, and that's a super simple way to get them dialed into maybe the career pathways they want to pursue. The clusters are everything from transportation logistics, agriculture, food and natural sciences, health science, arts communication, education, hospitality and tourism. There's 17 of them, so really to give them a fair shot at that, they take the interest survey first, then they would go to look at the career clusters, but depending how an instructor sets it up, they can actually let them play in the sandbox, so to speak, with 300 videos. They can really go through a lot of the video content, and with 300 different careers that can range everything from gaming and computer programming to manufacturing to human social services. 300 videos, I would have to catalog and read. The highest interest, not surprisingly, are the kinds of things that students really gravitate towards, which would be the gaming or computer generated skill field.
Josh Andersion:
I like the way that they can actually kind of job shadow, because if you think, "Well, I like playing video games, so maybe that's what I want to get into," but it's great to be able to see what actually goes into that, because it's not just sitting around playing video games all day. We all do that job, probably.
Steven Dahl:
Correct. It's highly technical, and that's one of the things in the platform, besides the interest survey, that we also have the ability to help students drill down into where they might actually see themselves working in terms of the environment they see themselves working in. So if they thought gaming was outside or working with their hands out and applied mechanics, it's not. It's much more in an office setting or in a desk setting, and so we take the O*NET Interest Profiler so that students can help discover their interests as well as the kinds of environments that they would like to work in, and the O*NET Work Importance Locator helps them identify their work values, and that's really important, as they're looking beyond just the amazing video depiction of that career.
Josh Andersion:
Steven, you said there's a junior version. Can you tell us kind of the differences in the junior version, because I sit there and think of elementary school kids, and you don't know what you want to be when you grow up. It's always a fireman or an astronaut or a policeman. How does the junior version work?
Steven Dahl:
Yeah, it's a good question. So basically, it's designed to be a digital learning odyssey and opening the worlds of possibilities for younger learners. So the emphasis is on connecting to academics that already exist in the schooling world of each student, imagining that they don't necessarily want to think about a career choice yet, but they do want to think of connections to their activities as learners in their day to day. So we make it entertaining with animated lessons, there's interactive games and activities included, a kid friendly version of the interest assessment so they can get a very good look at what their interests are. So it's about them, not just about the content and about career pathways.
Steven Dahl:
There's also access to the career central videos, so they do have access to the videos that VirtualJobShadow.com high school students have, but it's much more about the interactive journey that helps them understand connection to academics initially. It's a standards line curriculum, so teachers don't have to be concerned about this not aligning with whatever their academic standards are or how they support learning typically in their classroom. There's a curriculum grid that we have designed that helps if a system or a school building were adopting and they were trying to figure out what grade levels you would introduce content, we do have a roadmap for that. K-1 focuses on bigger concepts. Grades two and three, get into more of the health science, STEM, human services, a little more hard to access content, and then grades four and five are really hitting it full stride. All the career clusters are there for them to explore.
Steven Dahl:
So the difference, I would say, from the interface, is that it's much more interactive facilitated odyssey for the student with gaming and badges. For all that they complete, they always get a badge to signify their accomplishment, and that's not the case in the high school version, although there are many other opportunities to ratify the knowledge that students demonstrate in the VirtualJobShadow.com platform, but the junior platform is much more kid friendly, so to speak.
Josh Andersion:
Steven, we talked about elementary school kids, we talked about high school kids, but this is also really beneficial to individuals with disabilities. How does it help individuals with disabilities?
Steven Dahl:
Yeah, as my background would reflect, I'm really passionate about individuals with disabilities, whether they're in the K-12 system, whether they're 18 to 21 year olds who are staying in a vocational, community-based job preparation preemployment program. That was my background. In fact, my district office in prior work was actually in the community in an 18 to 21 old program supporting young adults with disabilities in job access. So what we do is by providing these resources, it allows those individuals, as well as youth and adults with disabilities to access career exploration tools and resources, it gives them insight into their pathway. So specifically for students with disabilities in the platform, the content is, to me, very customizable to the individual.
Steven Dahl:
So if a student has a particular interest or they have a disability that is going to direct them a certain direction as far as their career pathway, then they can go through the content and the platform and kind of winnow it down to their specific interests or their specific pathway that they would choose, and that's really important for students with disabilities, youth and adult with disabilities, because working with vocational rehabilitation professionals, it is all about matching the individualized plan for employment with the client or individual's strengths, passions, and really what they want to pour into, and I feel like that's where the platform shines, because it's not just a content delivery platform where individuals go and read a lot or they get prepared to take a test to become one of those. It's really about personalizing their own journey, and then having artifacts of that journey that they can share with others, whether it's with their family, their teachers, their vocational rehabilitation specialists, or employers. They can say, "I've been studying this and learning about this career for years through VirtualJobShadow.com, and this is now coming to fruition as I am applying to your company."
Steven Dahl:
So individuals with disabilities also … I would point out that in the platform, we have a number of tools to help support access. Just at the top, I would say screen readers compatibility with JAWS and NBDA screen readers. We have close captioning for all videos in English, and for the majority of videos in English and Spanish as well. Then we also, obviously, have Spanish and English translated transcripts so that it increases accessibility for individuals, and just the whole idea of being able to access a job shadow virtually is really compelling, visually, auditorily. You can go back and watch it 30 times, 50 times if you want, because individuals with disabilities may struggle at times with some of the nuances of an actual place-based job shadow experience. This just allows them to revisit and recapture, and also along with others, if they're working with professionals, they can go back and make sure that that is really, really what they want to do or pursue.
Josh Andersion:
Oh, most definitely, and I love that you guys did build the accessibility in there, and you brought up a good point, because for some folks, just being in that environment can cause some nerves or some anxiety and other things where you may not get all the information, but being able to go back and watch it over and over again, to make sure that's really what you want to do and really what you think it is. That's a great accommodation.
Steven Dahl:
One thing I would add, too, is the validation of knowledge if there's a need for, say, a professional or a teacher, obviously, to validate the level of content knowledge that an individual has. There are short quizzes on the careers, so you watch a video and people say, "Well, are they just watching video? Where's the accountability," or, "Where's the evidence of learning?" So there are different features in there. One is just a short quizzing on content that supports the learning. There's also a writing journal. So for those individuals that would want to reflect, or if the task was a little more structured by the professional to say, "I want you to actually put in this writing journal what it is about this career that stands out to you or makes you want to pursue it further."
Steven Dahl:
So there's some accountability, but there's also an opportunity to really engage in reflection about the career at a pace that is at the individuals level. So if they require more time or if they require more reflection time, or if because of their disability, they have a need to have scaffolded or supported writing, that could be done too. So those are kind of the things that allow someone to have a process rather than [inaudible 00:14:36]. Transition planning in the IEP, as you would know, is a multiyear process and focuses on interests, but also has to have some real substance to it, and I think a lot of times, where transition planning processes fall a little bit short is there's not as much evidence of the process. It's just more of an event near the end of the high school. Graduation's coming, we've got a transition plan in place, and I think that this really supports the system, not to mention the transition into the adult service model, where those individuals, those professionals are looking for what has been done before, how have you invested in your career exploration, and how can we help you now?
Josh Andersion:
It really keeps the individual engaged in the entire process, so it's not just someone writing reports for them or, like you said, writing an IEP and doing all these things. They're really involved, and that really makes it great.
Steven Dahl:
Yeah, yeah. It's a developmental process, so it's definitely not an event, and what we find is that individuals in, say, the high school setting, if you're a career technical education teacher, you think it's only designed for you because you're a career technical ed teacher. If you're a high school special education teacher and you think, "Wow, this is perfect for me because I'm individualizing for my student with an IEP, and I'm really getting after these job shadows that we could logistically never pull off," and so you really feel like you're getting insights into the student, they're getting insights into themselves and their career pathways. So those are kind of what draws them in, but there's certainly a lot more in the platforms once they get in there and find out just how robust it is.
Josh Andersion:
Well, Steven, I'd feel bad if I didn't talk a little bit about the career exploration course. Can you tell me maybe some of the modules or kind of the courses that are available in that?
Steven Dahl:
Absolutely. So the exciting part about this course is it as an aid is kind of an overview of … It's called Life Path for a reason. Essentially it includes all the major features of the platform, but in one course. So there's 17 modules, and if it's okay, I'll just read the titles, I think they're pretty self explanatory, but it's helpful to understand. Each of these is completed in about four to six hours. So module one is your strengths and interests, where each student can really explore their own interests and take a survey and reflect on that. Module two, exploring career clusters. This is really, like I said, kind of the funnel, the broadest picture of, "What are the career clusters and why are they important to know about?"
Steven Dahl:
Module three, postsecondary education options. In the platform students can, once they kind of winnow down into what career cluster, maybe in what career, they can quickly pivot into what postsecondary options would they want to explore, and that's really so vital for them to understand where this pathway leads them if they're going to commit to it. Career research, this is a great module on watching video clips and answering questions, reading research about the career and understanding how to do career research. Career exploration is another opportunity, module five, to dig into career clusters, pick, actually select career clusters and narrow it down further. Kind of, again, the funnel approach to get them down into more detailed things.
Steven Dahl:
Module six is goal setting. This is huge, because a lot of what we do, if it's just exploration and doesn't attach a goal or some kind of thing on the horizon, students are likely, like the rest of us, going to wander, and so getting a goal in our mind, at least initially, a proximal goal, helps them set the sails towards where they want to go. Module seven is soft skills. We find that more than anything else right now, soft skills, what we call life skills as well, are huge, because as we know, getting a job is often more about the hard skills, what kind of hard scientific or technical skills you have, but as far as keeping a job, well, that's about soft skills. So module seven focuses on that.
Steven Dahl:
Number eight, status relationship building, understanding just how that works in the world of work, and it might differ from, say, our commonplace friendships that we have and the relationships that we have that are not so formal. Number nine is workplace communication. This is really important, because a lot of what youth and individuals with disabilities struggle with is how to advocate or communicate in the workplace, and that's a vital component to being successful, and that's a part of that soft skill package. Workplace ethics, this is also very important for students to understand, because that is where often, the ethics they might develop in their personal life may not necessarily be appropriate, or the dominant approach wasn't inside a workplace.
Steven Dahl:
Career technology, module 11, this is definitely about using the technology to develop smart goals and gain some technical skills around the kinds of things they would need as a job seeker. Number 12 module is job search resources. This is really important. A lot of students, once they say, "Hey, I've got my career choice. I've got my pathway. I know if I'm going to college or not. I know all about the workplace ethics, but where do I get a job? How do I do this?", and I think that's really important. So we also have integration with indeed.com, which allows individuals to pivot right into actual job searching, which is so important, because it's just one click away instead of another thing they would have to learn later.
Steven Dahl:
Creating a resume, module 13. This is huge, and I think often, people look at it as an event rather than a product, but really, the resume is a reflection of your entire journey, and so I think the student gets a sense by creating their resume that it's kind of the highlight reel of their skills, abilities and interests. The cover letter, module 14, and we are soon to be adding a cover letter, I'll say, feature inside of our platform that allows teachers and students to go in and create their cover letter inside the platform. Again, very important, and now heading towards the job, module 15 is interview skills. So vital that individuals understand what's involved. "Why would I need to know more about how to interview?", and people understand that interviewed for jobs and sadly not got the job, there's often feedback that you can get about what you said, what you did, what you didn't say, what you didn't emphasize about your skills and abilities, and that section, module 15, is huge for students to start really honing in on, "What are interview skills and why does it matter?"
Steven Dahl:
The next to last one is a career portfolio. Like I mentioned earlier, the resume is a short version of that, but your entire body of work could be represented, and I think students now understand better that this talk about branding yourself and becoming someone that has an identity as an employee or a future contributor is really important. The last module is financial literacy. I think part of this is just really important content about how to not just be a consumer, but be a real steward of resources and to not be out in the world, just getting a job. Often, I think that's a huge component, but under all of that is financial literacy that would help you make a good choice. "Is that the kind of career that can support my lifestyle?" That's a really important point. I apologize for the length, but I do think it's a comprehensive resource, of course, that high schools are valuing.
Josh Andersion:
Oh yeah, it really is. Steven, where do you see Virtual Job Shadow and Strivven Media going in the future?
Steven Dahl:
Well, the future is very bright. As systems are challenged by their ability to work in more traditional methods, for example, with the pandemic, currently individuals are challenged to go to job sites or into employer situations where they might host apprentices or work-based learning situations, and that's really challenging for systems right now, both for the employers, for professionals and for K-12. So now we're seeing, "Okay, let's be innovative, let's think differently about this." So right now, Strivven Media has products that can really address that need, really meets the need of K-12, but also, we're getting a tremendous response from community-based nonprofits, from the vocational rehabilitation agencies and nonprofits, and so we're kind of seeing it's a through line, it's a continuum of needs rather than one specific site. It's not just K-5, it's every K-5. It's not just a high school, it's every high school.
Steven Dahl:
So what we've seen, too, is the transition from being more initially a career technical education product. Now it is far more diverse in its connection to the curriculum, regardless of what you teach. So whether its social studies, math, science, STEM, it doesn't really matter where you come at this as a teacher. It's really important that we're all seeing the value in pouring into the individual, and so the individual is the name of the game, and so Virtual Job Shadows's customizability …
Steven Dahl:
I didn't mention earlier, but I will now, the flex lessons is a component that we're really seeing a good response to. As we build content and tools inside the platform, we've also recognized that individuals or organizations want to build their own content. They're content developers themselves. So the platform now allows you to go in and build your own content inside the platform. So for example, if a teacher says, "I'm a high school special education teacher and I run transition programming for my high school." Well, then they can go in and build … With our lessons, they can modify the existing lessons that are in there, or they can build their own novel content. Really important, because then it really suits any system's needs.
Steven Dahl:
We have another example outside the K-12 system, but a nonprofit, and I won't name it by name, but it's a very large, in every state nonprofit, and they want to come in and support learners to become employable. Well, as they do this, they want to add their own content. So again, the flex lessons or the flexibility is where nonprofits or other community-based providers see our tools as meeting their mission. So it's a win, win, win, win, because the student wins, the system wins, the nonprofit wins, and we, of course, win because we're developing solutions for them.
Steven Dahl:
So those are examples, but I guess we're looking for partnerships as well, so I would add just on this call, especially for your audience, that we are always looking for the best ways to support the needs of individuals and for my background, especially those with disabilities, making universal design a priority and not kind of an afterthought, and I find that throughout our platform, but we are always looking for ways to improve it. So if people get in a platform and say, "Hey, would you consider or could you see yourself in your developmental pathway adding features?", absolutely. We are always looking for ways to meet those needs.
Josh Andersion:
Well, very good. Well, Steven, if folks want to find out more or maybe give you some feedback, what's the best way for them to do that?
Steven Dahl:
They can reach out to me personally at, and I'll just say it out loud, SDahl@strivven.com, which is SDahl@strivven.com, and if they want to check out the website, VirtualJobShadow.com is really the best avenue. I think that might be in your printed resources as well.
Josh Andersion:
Excellent. We'll make sure to put that down in the show notes. Steven Dahl, thank you so much for coming on today and telling us about Strivven Media, about everything you guys have with the Virtual Job Shadow, with the career course and everything that you guys have available for all learners and for individuals with disabilities.
Steven Dahl:
It's been my pleasure.
Josh Andersion:
Do you have a question about assistive technology? Do you have a suggestion for someone we should interview on Assistive Technology Update? If you do, call our listener line at (317) 721-7124. Shoot us a note on Twitter at End Data Project, or check us out on Facebook. Are you looking for a transcript or show notes? Head on over to our website at www.eastersealstech.com.
Josh Andersion:
Assistive Technology Update is a proud member of the Accessibility Channel. For more shows like this, plus so much more, head over to accessibilitychannel.com. The views expressed by our guests are not necessarily that of this host or the End Data Project. This has been your Assistive Technology Update. I'm Josh Anderson with the End Data Project at Easter Seals Crossroads in Indianapolis, Indiana. Thank you so much for listening, and we'll see you next time.