I have been thinking of ways to transform my bedroom into a more calming atmosphere.  More specifically, I have been thinking of different lighting solutions.  My friend told me about the Star and Galaxy Projector with LED Nebula Cloud.  I thought I would try it out and I have to say: it is very relaxing!
Setting the projector up is as simple as plugging it in, positioning it, and turning it on with its remote!  Whenever I turn on the Star and Galaxy Projector, my bedroom instantly transforms into an atmosphere nearly as calming as a sensory room.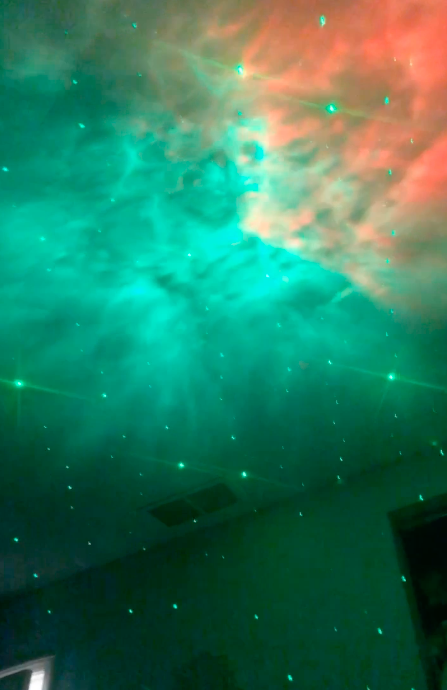 The projector is ultra-quiet, making it ideal to use as a night light for kiddos of all ages.  It can display both stars and nebula clouds across a variety of different settings.  You can have both stars and cloud effects working in unison or independently.  I have it looking towards my ceiling so that's where the "galaxy" shows up along with stars swirling around it; the stars are constantly moving around my walls, too.
Overview of the Star and Galaxy Projector with LED Nebula Cloud:
16 color modes available so you can choose your favorite color or just have it change colors
You can also adjust the projector's angle

4 different angles: 40º, 60º, 70º, 90º

There are also 3 brightness settings on the remote
The speed of the stars and/or cloud is also adjustable
Comes with user-friendly remote with easy-to-press buttons

Remote requires 2 AAA batteries (NOT included)

Measures 6.5 inches tall, 3.14 inches wide
The projector itself is available in multiple colors (white, sky blue, gray)
Check it out on Amazon to learn more!