Looking for an easier, quicker way to make your favorite pasta?  Check out the Fasta Pasta Microwave Pasta Cooker!
With the Fasta Pasta Microwave Pasta Cooker, you no longer have to wait for a big pot of water to boil.  With this microwave pasta cooker, you can prepare "perfect al dente" pasta with your microwave in minutes.  Prepping pasta this way helps save time, water, and energy!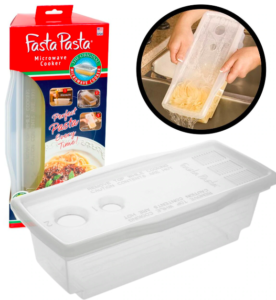 It features a patented reservoir design that ensures the pasta cooks evenly and doesn't stick to the container.  "The reservoir circulates the water, tumbling the pasta, and ensures perfect pasta every time."
Another huge hassle with cooking pasta is having to strain it.  This makes it easy to do that, too!  Simply place the lid on after microwaving to strain the pasta while it's still in the container.  It works for all shapes and sizes of pasta, including fresh and stuffed pasta.
Overview of the Fasta Pasta Microwave Pasta Cooker:
Create "perfect al dente pasta within minutes" conveniently in your microwave
Saves time, water, and energy
Cooks evenly without sticking
You can also cook soups, potatoes, rice, and vegetables
Top-rack dishwasher safe
BPA-free plastic
FDA approved
You can easily strain the pasta directly from the cooker itself
Comes with a cooking guide/chart for cooking times
Measures 12″L x 5.5″W x 3.5″H
Click here to learn more about the microwave pasta cooker!