Podcast: Play in new window | Download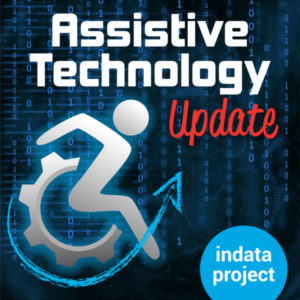 Your weekly dose of information that keeps you up to date on the latest developments in the field of technology designed to assist people with disabilities and special needs.
500th Episode Extravaganza!
Very Special Guests:
Wade Wingler – Vice President – Easterseals Crossroads
Danny Wayne Beemer – Assistant Executive Director/Low Vision Program Manager – The WILL Center
—————— Transcript Starts Here ———————–Wade Wingler:
Hi, this is Wade Wingler with the INDATA project at Easterseals Crossroads in Indiana. And this is your assistive technology update, a weekly dose of information that keeps you up to date on the latest developments in the field of technology, designed to assist people with disabilities and special needs. First off, have you ever wished that your iPhone had a larger screen, larger buttons or other large print features for low vision? Well, iPadIslam is planning to release a new application designed to convert your iPad into an iPhone. This app is reported to allow you to make voice calls, FaceTime calls, SMS messages, and more. Although a jail break is required, this may prove to be a very promising telepany tool for people who are visually impaired.
Wade Wingler:
Ever wish it didn't have to physically handle credit cards? Google has just announced a new service called Google Wallet that's going to take advantage of near field communications technology. That means that you'll be able to pay for your gas, your groceries, and gadgets with your cell phone. For some people with physical challenges, this may open up a new way to independently pay for everyday goods and services.
Wade Wingler:
Speaking of money, did you ever wonder how people with limited vision can tell a $1 bill from a $5 bill or a $10 bill with outside assistance? Well, there's a new iPhone application from the LookTel group that does just that. For $1 and 99 cents, you can download the money reader application that will quickly and accurately tell you if you're holding a $1 bill or a 20. According to LookTel this is just the first product in their plans. Imagine an application that you could use at the food court at the mall to determine the location of a Starbucks, a Burger King, or a Taco Bell. Object recognition is an up and coming technology and we look forward to more developments in this area.
Wade Wingler:
Want more? Find links to all this great new technology and check out our blog at Eastersealstech.com or follow us on Twitter at INDATAProject. until next time, this has been your assistive technology update.
Josh Anderson:
Hello and welcome to your assistive technology update, a weekly dose of information that keeps you up to date on the latest developments in the field of technology designed to assist individuals with disabilities and special needs. I'm your host, Josh Anderson with the INDATA project at Easterseals Crossroads in beautiful Indianapolis, Indiana. Welcome to episode 483 of assistive technology update it's scheduled to be released on August 28th, 2020. On today's show we're super excited to have David Dichter on to talk about the ATIA conference and how it's changed and gone virtual this year and without any further ado, let's go ahead and get onto the interview.
Josh Anderson:
So listeners, I said in the beginning of our show, today we celebrate a huge milestone. 500 Fridays ago, the first episode of AT update aired, and although it was less than three minutes long, it paved the way for the show that you're listening to today. In August of 2018 around show 378, I was blessed or lucky enough to take over the hosting duties as our former host moved on to a larger role in our organization. He was helpful in complimentary, but it was a huge, almost overwhelming task to fill this seat. But I literally wouldn't trade it for anything.
Josh Anderson:
For today's special 500th episode extravaganza. I'm pleased to welcome back Wade Wingler, our former host, and Danny Wayne Beamer, one of the architects of the show to talk about where it all started and other lessons learned from creating a podcast focused on assistive technology back in a day when there weren't about 5.2 million different podcasts out there. Wade and Danny, welcome to the show.
Danny Wayne Beamer:
Good morning and happy holidays to everybody. Wade, the word architect comes to mind because here's something that Wade and I, when we first talked about doing this, he comes down to Terra Haute to see me. And he goes, "Hey, Dan, I want to show you something." So we got to his car, he opens his truck and he's got this little mixer, it's a little two channel four channel mixer. And he's got a couple of mics and he goes, "Dan, since 1992 I've been working with you and helping you with assistive technology, with everything, every aspect. But I've been helping hundreds and thousands of other people, but I want to broaden this."
Danny Wayne Beamer:
I'm thinking, "Okay, this is going to be interesting." But, you look back and the dedication that, and Wade, I'm not blowing smoke at you, the dedication to put this show together, I think no one besides Josh knows how much coordination in advance, preparation to make this show work.
Josh Anderson:
It really does. And now that it's a little bit longer, it's even a little bit harder maybe then those first days. But I guess using that little two channel, that probably was a little bit tougher.
Wade Wingler:
You do with what you have everybody.
Josh Anderson:
Exactly. Exactly. Well guys, right before we get into really talking about the podcast a whole lot, can you both introduce yourselves and just tell our listeners who don't know you a little bit about yourselves?
Wade Wingler:
Yeah, you bet. So first of all, Merry Christmas and thank you for having me on your show, Josh Anderson.
Josh Anderson:
Still sounds weird.
Wade Wingler:
I know, right? My name is my name is Wade Wingler, and I used to do this show and spend a lot of time, and I'm super excited to be here and grateful for the time to come back to the studio and hang out with some of my friends.
Danny Wayne Beamer:
And to me, my name is Danny Wayne Beamer. I'm the assistant director of the Wabash Independent Living and Learning Center. But also the other side of my career is I've been working in radio and working on doing interviews for the radio stations in Terre Haute, Indiana for a number of years. And it is absolutely a pleasure to me to, to see this five hundredth episode, because number one, it's a gift to anybody listening.
Danny Wayne Beamer:
And number two, it's a passion that Josh, you and Wade have carried for 500 episodes and 500 conversations with people to make my life and other persons who are challenged in some way, a little bit clearer, a pathway that we can get on with our life and do what we want to do because we want to be out there sharing life with other people.
Josh Anderson:
Well, Danny, I'm going to start having you on every episode because that was just nice and I already feel uplifted and a whole lot better. Danny, you started mentioning it, but Wade I got to ask, before you filled up your trunk with the equipment, where did the idea come from for assistive technology update?
Wade Wingler:
I guess two things. One, I always wanted to be a disc jockey when I was a kid. So I had an eight track recorder and a Radio Shack Uni-Ball microphone, and a box of 45's from my dad's jukebox because he owned the pool hall and I thought it would be cool, but actually a podcast wasn't my first idea related to this. At the time that we started the show, I was the director of assistive technology, which is the job that Brian Norton has now, and is doing an amazing job with that.
Wade Wingler:
And it was at a time really before Google had taken off and before an internet search can find anything that you wanted. And I had an aha moment at a conference that, "My gosh, I have so many emails coming to me. And when I go to a conference, I get so much information about the field of assistive technology." And I wished that there was a more centralized and almost a weekly place where people who worked in the field could get access to this information. Because it wasn't as easy back then. And so I thought about an email list and I thought about a website and I thought about an RSS feed or those kinds of things.
Wade Wingler:
And actually toyed around with those ideas for a little bit and finally came up with, well, there's this thing that starting to happen called a podcast. And I wanted to be a disc jockey, right? So maybe those two things went together, but it was really because I was blessed to have so much, very good AT industry information just coming across my desk in one form or another. And I wanted to share it with everybody. And so, that's the genesis of the idea.
Josh Anderson:
Excellent. And you guys talked about showing up with a trunk load of goods. So Danny, when you guys started everything, what was the first steps?
Danny Wayne Beamer:
Oh, probably taking the knowledge that Wade Wingler has had in his head and organize it in 30 minutes structures. Reaching out to Disney, reaching out to developers, reaching out to internally to Easterseals because that's a tremendous resource that a lot of people maybe across the state just had not been introduced to.
Danny Wayne Beamer:
So, that was the other vision that I gathered from Wade was that he was going to do like a peacock of assistive technology. International, national, local, and individuals in the state of Indiana who had visions and had worked very hard. A gentleman in Lafayette Dave Schleckenbach was one of those people early on as well, but that was how I saw what he was going to do. And because of his passion and my radio saying, "Hey, this is a platform, this is a new venture for us just as the internet was and all these things." So, a peacock of assistive technology presentations, international, national, local, Indiana.
Wade Wingler:
You know, and that's, and that's kind of, I think that's not only true, but it's also representative of the AT community, right? Because it's an international effort. There are things happening all around the world for people with disabilities and technology. And until that stuff gets shared at a local level, it really isn't all that meaningful. Working for Easterseals where we make a difference every day in the lives of people with disabilities, we're looking for the places where the rubber meets the road. And I think this show has been a blessing and an opportunity to see how the world impacts lives here locally. So it's very tangible. It's pretty cool.
Josh Anderson:
Definitely, definitely. Well guys, in starting anything new there's challenges, there's hurdles, what were the main challenges and hurdles that you both hit trying to get this thing off the ground?
Wade Wingler:
So, I didn't know how to podcast, I didn't know audio engineering, but what I did know with some of the content. And so, Danny was one of those folks that I was able to lean on, not only for some of the technical stuff, but also how to conduct an interview and how to speak into a microphone and some of those basic things. And so for me, wanting to be a DJ does not make you a podcaster.
Danny Wayne Beamer:
And I think back about when Wade really did pull out that… He really had a mixer in the trunk of his car. And I went, "Oh."
Wade Wingler:
I still got it. In this cabinet over here.
Danny Wayne Beamer:
But audio and communicating and getting them to be comfortable because Wade, you could verify this, and Josh, you as well. You've got to make friends with these people and sound like they're your best friend for 30 minutes. And you've never met these people, many of them, before. You've only reached out to them through various communications.
Danny Wayne Beamer:
And the editing, I got to say this, I think the average person doesn't know this, but I bet both of you spent a lot of time editing the interviews together because of the technology. Maybe it wasn't as loud on their end because it was somebody in India or someone that just, like you said, Wade, it was a pioneer thing.
Wade Wingler:
Yeah. Well, and so there was a lot of technical stuff that we had to figure out and it took some time to get through that. But one of our challenges, I think, we decided early on that consistency mattered the most. And we had some pretty good advice from people who didn't know podcasting at the time. And they said, "Yep, make your audio quality good and yep make it sound good and make your logo's good and all those things. But really the most important thing is be consistent, be consistent, be consistent." Because most podcasts tend to drop out after seven to 10 episodes. Right?
Wade Wingler:
And they say once you get past 10 episodes, you're probably going to make it. And you might even make it to 500. Holy moly, I can't believe we're at 500 at this point, but we decided early on that we would choose consistency and quality of content over everything else. And I think that has been one of our driving principles that's made it go this far.
Danny Wayne Beamer:
And if I could add to that, I was playing around yesterday, actually getting ready for this interview and I did a couple of… There's a few places you can go to downcast and outcast. And I did assisted technology search and the top two were AT FAQ, which is another show that Josh, you're a part of, and this show, but just below that 2012, 2013, 2014, 2017. Nothing.
Josh Anderson:
And I've noticed it's went that way and you guys both brought up good points and just things that I've, I've learned from this too. And I was even going to ask Wade, "Hey, since you're on the show today, do you want to edit it and post it and do all that?" But I knew he was going to tell me no, or laugh at me.
Wade Wingler:
You don't want that, Josh. If you want it to go out, I'm not sure I know how to do that anymore.
Josh Anderson:
And I know when I first took it over, I would spend hours and hours trying to just make it meticulously perfect. And everything I was spending so much time and people sounded robotic by the time you're done. If you take out every um, every little bit like that. while it does take that, you do need it to sound human and so that people can actually listen to it and actually feel like you're a part of it.
Josh Anderson:
As you all heard from the very first episode, it was about three minutes of the news. When did you guys decide to start working those interviews in and really expand it to the format it's in now?
Wade Wingler:
I remember that the very first episode was very fast paced, very frenetic sounding. And we wanted to start with the news, but I thought, wouldn't it be cool if every once in a while we brought another voice in to give some breadth or depth to the show? And I was super excited. I think it was our first interview. I interviewed a guy named John Williams who had been a reporter for the New York Times or the Washington Post. I think the Washington Post. He is actually the man that coined the term assistive technology-
Danny Wayne Beamer:
Yes, I remember that.
Wade Wingler:
… In the 1980s. And he was either my first or one of my very first interviews. And it was just amazing. I thought, "Oh, we work in the field of assistive technology. It's a word that a lot of people get wrong at first, and he's the person who coined the term." And he actually gave me some very good advice, which I think I passed on to you, Josh, which is you can never tell the basics too much. Always assume that you have new audience or new readers every single episode. And you can never tell the basics too much because there's always somebody new. And for people who aren't new to your audience, they like to have the basics affirmed. And so we've made that one of our strategies, as well.
Danny Wayne Beamer:
Well, and in that same vein, another, I think, thing that Wade and I had talked about and Wade really pushed, was getting the word out because you can have the best ice cream sandwich in the world, but if nobody's going to taste it… But Wade, you and Josh both are carrying that international. Wade, the one thing that radio did not have was instant feedback, ratings, you know, Arbitron or Nielsen, but podcasting gives you instant feedback and Wade, you've instilled that in me, to say, "Look, Dan, I'm getting this type of feedback."
Wade Wingler:
Well, and we use that to drive some of the content. I know that Josh, you spend a great deal of your time, and thank you for all the time you spend on curating content and finding guests. But we also look to see, "Well, what are you guys listening to?" We have an amazing worldwide audience and we can tell oh, these topics tend to be a little more popular. And so we tend to gravitate toward those. That's not the only thing we do. We don't want to chase ratings all the time because we do want to provide news and insight and what's happening in the field of assistive technology, but you're right, Dan, it's like, "Well, that was a flop. Let's not do that again, but that one kind of works. So maybe we should do a little more of that."
Josh Anderson:
Oh, definitely. And that's a challenge going forward. Because some of the folks we interview or I guess I interview, I should say now, on the show aren't used to doing that. It's not something they normally do. They don't really get out there and in the public eye that much, they're the tinkers, the ones that are behind the scenes. And so, trying to pull them out of their shell, I know, can be a huge challenge. Well guys, let's say that you both have a time machine because it's 2020 and who knows, we still got a little bit of time left, that could happen too. But say you can go back to day one of the show. What's some advice that you would give each other, give yourselves, or maybe something you'd change just to maybe make the whole thing smoother?
Danny Wayne Beamer:
A better quality of microphones in the beginning because the mics you have now are absolutely stellar mics. I've been fortunate enough to be in the studio and man, those sound… And I'll tell you what, I've listened to thousands and thousands of audio books. If you don't have a good reader, you're done, but the quality, when you hear these interviews and hear the texture of it, that's just my audio side of it. Sorry. That's just the first thing that came to my mind.
Wade Wingler:
No, and I think that's important. We did invest over time and we've been so fortunate that we've gotten some resources to allow us to build out a pretty decent little studio to make that happen. I don't know. Half kidding, I think I would probably have found a replacement earlier in you, Josh, and said, "Hey, that guy is good. Bring him on the show. Get out of there." But really I think the advice would be consistency and stick to it. It's all about the content. It's about the audience. It's about getting meaningful stuff out there to folks and stick with that. And that's what we've done.
Josh Anderson:
Yeah, and I know that's something you taught me when I first did this and I even tell guests whenever they first come on that, "Hey, listen, I'm going to ask you these questions and I might talk in between and stuff. But I'm the first thing I cut out when I do editing." If it's too long and it doesn't fit in the show and it's not enough to maybe stretch across two, I just cut myself out because people hear me every week and I'm sure they get a little tired of that, but really it's about the technology, and I love learning about where the folks come from and why they do what they do.
Josh Anderson:
It's amazing the consistencies you see between that, and it's really just a great, great thing. Guys, let's say that you do have a chance to maybe give some advice. Let's say there's somebody out there that doesn't already have a podcast. What kind of advice would you give them besides just be consistent, Wade? Because I know that's the one thing and [crosstalk 00:17:32] consistently, you say be consistent, but, let's say somebody wants to start up a podcast about anything, helping folks with disabilities, or anything. What is some advice that you could give them as they start on that journey?
Wade Wingler:
I would think about how are you going to add value into the lives of your listeners? What information do you have that's unique that you can bring to them? As much as we all think that hanging out with our buddies is something that you could record and be famous and that has happened, there are some radio shows and some YouTubers who just hang out with their buddies and become famous to do that. Most people aren't, quite frankly, that interesting.
Wade Wingler:
So think about how are you going to add value? What would get you to listen to a show? What's a gap in your knowledge or your interest? And you're thinking, "I wish somebody would teach about this or share information about this." And really focus on how you're going to bring real quality content. Because hanging out with your buddies only lasts so long. So, thinking about adding value to people.
Danny Wayne Beamer:
I'd like to add something to this. If you're going to do a podcast and you just said it, Wade, I've listened to so many podcasts where about the first 22 minutes they're talking about their shoelaces. Get to the point. Please, get to the point. Respectfully. And I would also suggest that you do about five or six demos before you bring it to anybody's attention. And Wade, you and I have talked about this, hone your skills, whether it be production skills or whether it be conversation skills. And one last thing that I would say is, listen, listen, listen. Listen to what they're saying.
Josh Anderson:
Yeah. And I think that's wonderful, wonderful advice. Wade, while I do have you actually here physically in the studio, which is amazing.
Wade Wingler:
So cool.
Josh Anderson:
Because I haven't had that since, I don't even want to think about how long, four and a half years ago it feels like, but maybe February. Do you miss it?
Wade Wingler:
The studio?
Josh Anderson:
No.
Wade Wingler:
The show?
Josh Anderson:
The show. Being the host.
Wade Wingler:
Yeah, I do. Before my role changed here, it was probably the favorite part of my job. Just because, like Danny said, it's about relationships, about getting to know people. Sometimes you get information before the rest of the world. Occasionally Microsoft or Apple will call us and say, "Hey, we've got something we want to share." And having that inside scoop, but really, having a relationship and having such an amazing audience that does talk back to us and does let us know what's going on and listens and is dedicated to us. I really do miss it.
Wade Wingler:
That being said, when you and I had the conversation and your eyes popped wide open, and I said, "Josh, I want you to take the show." It made it easier for me. And I don't miss it as much knowing the fact that now I'm a listener and I'm a fan of yours and what you're doing here. So, that part makes it easier. But I miss it a little bit.
Josh Anderson:
Well, good. I'm very glad. Glad you're a listener. Glad that you like it. And yeah, you're right. It's amazing that… Because I'll do the little news stories before an interview sometimes, and the next week I'll have that company reach out to me and say, "Hey, we heard you mentioned this on the podcast. Could we be an interview?" And it's excellent. Because a lot of times finding interviews is maybe the hardest part, not so much just finding the technology that's out there, but who do I contact? A contact form on a website, doesn't always get you to the right person. Or maybe there isn't one or we don't know who to contact. So it can be very hard.
Josh Anderson:
But also listener feedback. You guys both brought that up. Some of my favorite interviews are ones that someone just reached out me and said, "Hey, I listen to your show and this is an app, a program, something that I use all the time, makes a huge difference in my life." And I get to reach out to the folks and not only talk to them about it, but say, "Hey, I'm talking to you because someone that uses what you made, it really changed their life and just makes them happy and makes me happy to be able to be a part of all that.
Wade Wingler:
All about the stories.
Josh Anderson:
It is.
Danny Wayne Beamer:
And Josh, something that maybe some people listening don't know this, but you're in the trenches every day and you're working with people every day, helping them through Easterseals and helping them continue working, helping them solve problems. And then you can turn it around it and re-emphasize that on this show.
Josh Anderson:
And it works both ways. Sometimes I learn about stuff here on the show that I'm like, "Oh wow." I share it with my team because maybe we were using something to help a lot of folks and it's no longer available, it doesn't work as well, very expensive, so on and so forth. And hey, here's something that may work for some of those individuals or here's something else to try. Here's another tool for that toolbox and especially in assistive technology or anything technology, it changes just so often. Every day, it's something new and trying to keep up on it is almost impossible.
Josh Anderson:
So yeah, just having that resource out there and my other hope is that other listeners that maybe we never hear from or anything like that, find something that helps them. Just really and truly hear it. And especially for folks, disability affects everyone so differently. And if you don't know what's out there, you really don't know what you can accomplish and what you can really do regardless of disability, just all these different tools and different things. And Wade, like you said, the reason you originally started is there wasn't a Google to go find it. And even if you go Google assistive technology, you don't always get the best or most up-to-date information.
Wade Wingler:
Yeah, absolutely. There's so much out there and it's important stuff.
Danny Wayne Beamer:
And I had several friends that were following different blogs, so probably five or six years ago and they just, they stopped all of them except the assistive technology one that comes out of Easterseals because that was the one with credibility. And that's something that's real important, is credibility of what you're doing. And Wade, you were a very strong backbone for that, of bringing assistive technology to Indiana and Wade, you did an assistive technology conference.
Wade Wingler:
We did for a number of years, we had a little conference here where we had hundreds of people show up and we had an expo hall and we had training sessions and those kinds of things. And it was a really great opportunity to bring the information physically here to central Indiana at that time. And that was another reason that when the funding and the opportunity went away to continue that conference, we even threw more energy behind the podcast at that time. And it helped us realize that bringing information here to central Indiana is good. And we wish we could do that again. But getting some of that same information out to the world in podcast format was useful as well.
Josh Anderson:
Well guys, I could sit here and talk to you straight until, well, New Year's, I guess, if I really wanted to, but I realize you both also have other things to do and all that. Denny, before we do finish up today, how could our folks find out more about you and the programming that you do?
Danny Wayne Beamer:
Absolutely. Thank you. The Wabash Independent Living and Learning Center in Terre Haute, Indiana covers six Indiana counties. It's theWILLcenter.O-R-G. And we have some great resources here. A lot of very talented people work out of this organization to help people with a variety of things from wheelchair ramps to helping them with their medication, a variety of things. So please, theWILLcenter.O-R-G or follow us on Facebook. WILL CTR. Thank you.
Josh Anderson:
Well, guys, I really want to thank you both for coming on the show today, taking this trip down memory lane, but really I do want to thank all of our listeners just for tuning in all of these 500 episodes. And even for our brand new listeners who maybe this is the first time, but really just helping us spread the word about assistive technology, because without them, I'm really just talking to myself in a big closet. So, guys thank you so much for coming on the show and taking this time. And both of you were a huge help to me as I took this over. Danny, you were my first interview and gave me a lot of great constructive criticism, feedback, and those kind of things as we were doing it. And it was intimidating. Still, some days it is, especially when Wade starts an email with a, "Hey, I listened to the show."
Josh Anderson:
I pucker up a little bit while I'm thinking about what are the next words going to be, but usually, it's very complimentary, which makes it very nice, but guys, thank you so much for starting the show for this great resource for folks and allowing me to, I guess, take care of your baby in your stead, too.
Wade Wingler:
So Josh, I'm going to jump in here at the end and once again thank you for what you're doing, but I'm also going to challenge the audience and thank the audience because without the audience, we don't really have a show, but literally, Josh is sitting in a 10 by 10 room by himself most of the time. Encourage him, send him a voicemail, reach out to the listener line and just say, "We love the show. You're helping me." Because I think that's helpful stuff. And we get some of that, but it's really helpful. So what I encourage the audience to, especially… Today's Christmas guys, right?
Wade Wingler:
Pick up the phone, call the listener line (317) 721-7124. Pick up your phone and give Josh an attaboy. Because he's working really hard. He's doing an amazing job and I can't wait until I get to come back here at episode 1,000 and we get to interview him on what the second 500 episodes were like.
Josh Anderson:
Once again, I do want to thank you for listening to these 500 episodes. Can't wait to share the next 500 with you, have a wonderful Christmas and holiday season, and we'll see you here next week.
Josh Anderson:
Do you have a question about assistive technology? Do you have a suggestion for someone we should interview on assistive technology update? If you do, call our listener line at (317) 721-7124. Shoot us a note on Twitter at INDATAProject or check us out on Facebook. Are you looking for a transcript or show notes? Head on over to our website at www.eastersealstech.com.
Josh Anderson:
Assistive technology update is a proud member of the accessibility channel for more shows like this, plus so much more head over to accessibilitychannel.com. The views expressed by our guests are not necessarily that of this host or the INDATA project. This has been your assistive technology update. I'm Josh Anderson, with the INDATA project at Easterseals Crossroads in Indianapolis, Indiana. Thank you so much for listening. And we'll see you next time.