Several individuals with arthritis, muscular dystrophy, spinal cord injuries, and more can find it hard to button (or unbutton) clothes.  Vive Health offers an affordable, low-tech solution with their Button Hook.
With the Button Hook, individuals can easily button or unbutton their clothes.  It features a slim wire loop made of durable steel which easily slides in buttonholes without damaging clothing.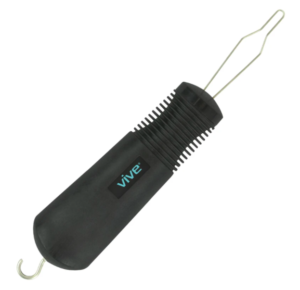 In addition to its slim wire loop that maneuvers around any button, it also features a wide handle making it easier to hold.
Here's how you use the Button Hook:
First, slide the wire through the buttonhole from the front to the back. Gently maneuver the button through the center of the wire loop and slide to the narrow end to lock in place. Gently pull through the buttonhole and slide outward to release.
Overview of the Button Hook:
Great for individuals with limited dexterity, arthritis or carpal tunnel
Use with buttons of any size
The slim wire loop is made with smooth, durable steel to easily slide in buttonholes without damaging clothing
Wide ergonomic handle provides greater control when securing buttons
Handle features a grip made of nonslip composite material
A narrow steel hook on the other end to help you easily zip jackets and clothing items
Click
here
to learn more.
Button Aid and Zipper Pull with Soft Grip:
Another available product that can help you button your clothes is the Button Aid and Zipper Pull with Soft Grip Handle.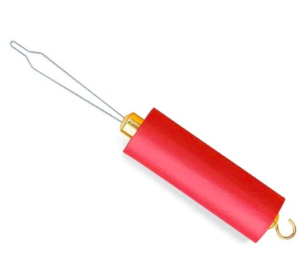 Like the Button Hook, this features a wire hook on one end and a hook on the other for zipping.  This buttoning aid features a soft foam grip handle, making it more comfortable for individuals with arthritis.
Other features include:
Formed wire button hook pulls buttons easily through the buttonhole
Brass hook at the other end easily pulls zipper tabs
The handle grip measures 4 inches long and has a 1 1/4 inch diameter
Button Aid and Zipper Pull measures 8 3/4 inches long
Click here to learn more.