Looking for a fun, interactive app to help teach STEM subjects (Science, Technology, Engineering, and Mathematics)?  Check out the Smart Tales Interactive Books app!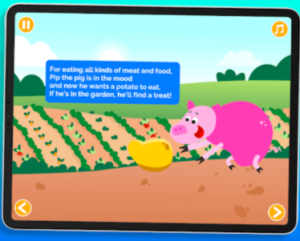 Before diving further into the app, here's more about the importance of STEM:
"STEM stands for Science, Technology, Engineering and Mathematics. These are the most important subjects for developing logical reasoning and problem solving skills.
With the stories and games in Smart Tales, these vital skills can grow naturally.
At the base of STEM subjects is curiosity and passion for rules. This leads children, in an orderly way, to the discovery of new, ingenious solutions."
Smart Tales is a "rich library of interactive stories and animations that teaches STEM subjects to children ages 3 and up."  Throughout the app, you'll dive into a whole library of adventures and tales based in a range of exciting places (the jungle, farm, space, and more!)
Each Smart Tale contains many interactive and animated storybook pages.  The child, led by a voiceover, can interact with the animations with a single touch and discover a world full of magic and fun!  Each story is dotted with games for kiddos that change every time they play; this lets them enjoy the stories in an active way.
Overview of Smart Tales:
50+ original stories written by speech therapists and teachers
Over 500 animated pages created by artists who are experts in children's entertainment
300+ educational games developed by speech therapists and educators
Available on Google Play and iOS devices
New content every month
Stories and games available offline, anytime, anywhere!
And so much more
Click here to learn more about this app!