A few years ago, we wrote about the Orbit Reader 20, which is a refreshable Braille display that makes books readily available (like a Kindle.)  Orbit Research, the company behind the device, now offers the Orbit Reader 20 Plus.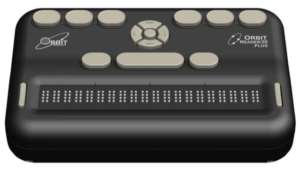 According to LS&S Products, the newer model consists of the same features as the standard model, PLUS some additional enhancements.  The device is a unique 3-in-1 electronic Braille device that serves as a self-contained notetaker, Braille display, and book reader.
Unlike the original model, the Plus features a calendar, clock/alarm, and a calculator app built into the display.  It also consists of a "new motherboard, faster processing, and more memory, in addition to on-board Braille translation to translate any text file."
Overview of the Orbit Reader 20 Plus
A 3-in-1 electronic device:

Book reader mode – Read your favorite books and files from SD Card
Notetaker mode – Take notes and edit files
Braille display mode – Connects to computers and mobile devices over USB and Bluetooth 

20 eight-dot refreshable Braille cells
Unique signage-quality Braille
Use as a standalone device or connect it to a computer or mobile device
Works with all popular screen readers on macOS, Windows, iOS, Android, Fire OS, Chrome OS, and Linux

Read and send messages and emails
Browse the internet
Control your smartphone or computer

Easily switch between modes
Full-featured, high-quality Perkins-style 8-key Braille keyboard
Cursor pad with 4-way arrows and select keys for easy navigation
Panning control rocker keys at each end of the display
Fast-charging, long-life battery
Compact, lightweight, and portable

Weighs 0.96 lb.
Measures 6.6″ x 4.3″ x 1.25″
Click here to learn more about this revolutionary device!