If you're looking for a way to learn and practice Braille, check out BrailleBuzz!  BrailleBuzz is a fun instructional tool for young Braille learners.
This bumblebee-shaped toy features tactile buttons with Braille letters and numbers on them.  According to its description on American Printing House's website, this toy "encourages practice with Braille characters and phonics, similarly to a variety of audio-based toys that teach print writing."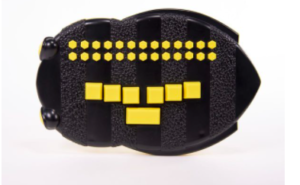 Here's more information from the website:
"BrailleBuzz resembles a cartoon bumblebee, encouraging little ones with audio feedback.  A friendly recorded human voice and fun sounds are paired with a Perkins-style Braille keyboard, designed with little hands in mind."
In other words, the keys read their respective characters aloud, making it easy for individuals with low to no vision to learn Braille.
There are three modes of play:
Phonics Mode: fun sound and letter associations are made
Keyboard Mode: all key combinations are announced with dot numbers
Letters Mode: dot number announcement reinforces the relationship between reading letters and writing on the keyboard
Overview of BrailleBuzz:
For young learners (ages 2 to 5 years of age)
Develops finger dexterity and Braille keyboarding
Helps develop emergent phonics and listening skills
The given letter is heard when the correct combination of dot/keys are pressed
Honeycomb buttons with Braille on them speak letters whenever they are pushed
Weighs 2 pounds
Measures: 12.6″ x 14.35 x 4.95 inches
Click here to learn more about BrailleBuzz!