If you are in the market for a new desktop video magnifier, the Low Vision Store offers many different options!  One example of their available video magnifiers is the Mezzo Focus 16.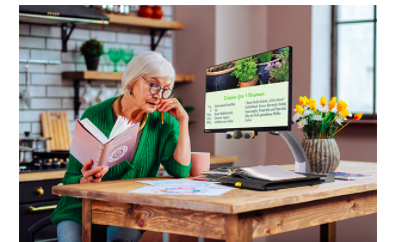 According to the Low Vision Store's description:
"Whether you choose to use the mezzo as a compact desktop video magnifier, or as a classic reading system with an XY-table, the mezzo performs with crystal clear, sharp, high-resolution pictures even at the highest magnification levels."
It features FullHD cameras to enlarge your reading material with the "best" picture quality, minimum picture noise, and reduced reflection of glossy surfaces.  It will also reduce shadows whenever you're handwriting!
The Mezzo Focus 16's smaller size and sleek footprint make it a great unit for individuals wanting a full-size desktop video magnifier at a competitive price.  Because it weighs only 11.5 pounds, users can easily transfer it from room to room.
Overview of Mezzo Focus 16:
High resolution LED desktop video magnifier
Focus 16 model's flat-screen measures 16 inches
Magnification can range from 1.6X to 32X
The Focus camera uses Low Vision High Definition (LVHD) technology to offer a FullHD high-resolution image with no shadowing or blurring
Simple 3-button operation offers focus magnification, six color selections including full color, and brightness controls with additional windowing and line marking
The Focus 16 model weighs 11.5 pounds, making it easy to transfer the CCTV from room to room
Available with or without the optional replaceable battery
Click here to learn more about this compact desktop video magnifier!