Simpl Technology electronics are "simple solutions designed for common everyday problems" experienced by many people aging in place.  One of their available products is their SMPL Motion Alert Kit.
Their Motion Alert Kit is a "simple and expandable monitoring solution."  The starter kit includes both a pager as well as a motion sensor to help give you peace of mind by alerting you if someone wanders outside, gets out of bed, etc.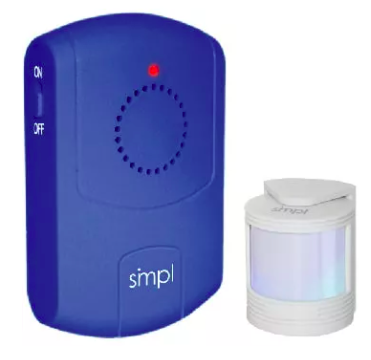 It is simple to install and use the motion alert kit.  The devices (pager and motion sensor) are paired right out of the box and do not require internet, Bluetooth, wiring, or additional fees!
Install sensor(s) in any room, area, or hallway.  The pager will alert you if the sensors detect movement (within 20 feet of the sensor).
The kit comes with:
Optional installation hardware
Motion sensor (with battery in it)
Bracket
Portable alarm (pager)
Belt clip
User guide
Overview of SMPL Motion Alert Kit:
The pager will alert you with sound and vibrating flashing alerts if the motion sensor detects any motion

Clip pager on a belt
You can also place it in your pocket or on your desk/table
It is also wall-mountable

Works up to 250 feet away from the sensor
The system works right out of the box and can be set up in minutes

No WiFi, no monthly fee, and no wiring

Live technical support if you need assistance
Click here to learn more!