Podcast: Play in new window | Download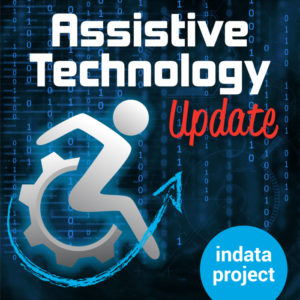 Your weekly dose of information that keeps you up to date on the latest developments in the field of technology designed to assist people with disabilities and special needs.
Special Guests:
Pat Rogan – Co-Director, Work to Include Coalition
Bonnie Bomer – Advocacy Specialist, Indiana Disability Rights
Phone: (800) 622 4845
——————————
If you have an AT question, leave us a voice mail at: 317-721-7124 or email tech@eastersealscrossroads.org
Check out our web site:
http://www.eastersealstech.com
Follow us on Twitter: @INDATAproject
Like us on Facebook:
www.Facebook.com/INDATA
——- Transcript Starts Here ——
Pat Rogan:
Hi, this is Pat Rogan and I'm a professor in the School of Ed at IUPUI in the area of special education. I'm the co-director of the Indiana Work to Include Coalition with Susan Rinne.
Bonnie Bomer:
Hi, this is Bonnie Bomer and I am a disability rights advocate. I work with Indiana Discipline Ability Rights, where I've been employed for about 17 years. I am also a team leader for the Indiana Work to Include Coalition, and I'm focused in the Indianapolis area. I also have a disability. I am legally blind, and I am a guide dog user. And this is your Assistive Technology Update.
Josh Anderson:
Hello and welcome to your Assistive Technology Update. A weekly dose of information that keeps you up to date on the latest developments in the field of technology designed to assist individuals with disabilities and special needs.
Josh Anderson:
I'm your host, Josh Anderson, with the INDATA Project at Easterseals Crossroads in beautiful Indianapolis, Indiana. Welcome to episode 510 of Assistive Technology Update. It is scheduled to be released on March 5th, 2021.
Josh Anderson:
On today's show, we're super excited to have two special guests. Bonnie Bomer and Pat Rogan from the Work to Include Coalition are on to talk about inclusion, disability, and a few other things. Don't forget, if you have an idea for someone who would make a great guest on our show, please reach out to us. You can send us an email at tech@eastersealscrossroads.org, or shoot us a line on Twitter @INDATAproject. Now, let's go ahead and get on with the show.
Josh Anderson:
Do you find yourself with a little bit more time on your hands? Maybe you're really busy and only have a little bit of time to listen to podcasts? Or maybe listening to this has you thinking? What about this? What about that? Well, if you're short on time, or if you have questions about Assistive Technology, we have other podcasts that might just fit your needs.
Josh Anderson:
The first one is Accessibility Minute. This one minute long podcast gives you a little taste of Assistive Technology, and really wets your whistle to have you go out and find out more about a piece of technology and how it might help those you work with, yourself, or maybe a friend or family member.
Josh Anderson:
If you happen to have questions about Assistive Technology, we have Assistive Technology Frequently Asked Questions or ATFAQ. The show is hosted by Brian Norton, and features yours truly along with Belva Smith and Tracy Castillo, as we all talk about Assistive Technology with questions that come in from email, phone calls, and other means.
Josh Anderson:
We also don't always know the answer, so it's very important that we have listeners that can help us out with some of those questions. Because while we like to think every once in a while that we may know everything, we're proven wrong almost daily on that one.
Josh Anderson:
If you're looking for more podcasts to listen to, if you're short on time and need a really quick podcast, or if you have questions about assistive technology, make sure to check out Accessibility Minute and Assistive Technology Frequently Asked Questions wherever you get your podcasts.
Josh Anderson:
Employment is a major passion of mine. When I first started here at Easterseals Crossroads, I was a job coach or an employment consultant or an employment specialist. Really, the title doesn't matter. Anyway, I assisted individuals with disabilities in finding and maintaining gainful employment. It was during that time that I learned about assistive technology, and how it can really open doors and help overcome barriers.
Josh Anderson:
And I then moved to our clinical AT program, and I guess the rest is really history. Well, our guests today share that same passion for a fully inclusive workplace. Our guests today are Pat Rogan and Bonnie Bomer from Indiana Work to Include Coalition. They're here to talk about employment disability, and breaking down some of those barriers, one employer at a time. Pat, Bonnie, welcome to the show.
Bonnie Bomer:
Thank you.
Pat Rogan:
Thank you, Josh.
Josh Anderson:
I am really excited to get to talk about this and get the word out about it, but let's start off by learning a little bit about each of you and your backgrounds. Bonnie, could you start us off? Tell us a little bit about yourself and your background.
Bonnie Bomer:
Okay. I am a senior individual with a disability. I'm legally blind. I have been legally blind all my life. I have a bachelor's degree in Social Work in Spanish, [Spanish 00:04:23]. I also have a master's degree in Public Administration. I got that at U of M-Dearborn in the year 2000. Still paying for that sucker. And wanted to go into more of the management of nonprofit organizations, but I got lucky.
Bonnie Bomer:
I stumbled into a job, at Michigan Disability Rights … Or Michigan Protection and Advocacy is actually the name of the agency. At MPAS, I learned a lot about disability, advocacy, disability rights. And it flamed a love in me for advocacy that exists to this day. I'm now on my, actually, 20th year of being an advocate. And it's something that I am passionate about.
Bonnie Bomer:
I believe that people with disabilities have a lot to offer employers in terms of creativity, of enthusiasm, and motivation. This is an area that has become my focus over the years, and an area that I firmly believe that we have a lot to give and to receive. I am involved with Indiana Work to Include, as I said before. And I operate or help organize the team that works here at Indianapolis.
Bonnie Bomer:
I'm also a guide dog user, and I have my guide dog who is curled up in her little bed right now, because it's cold. Her name is Fiesta. That's a little bit about me. I do advocacy also for servicing guide dog access issues. Overall, I am the purple dragon lady. And I can explain that sometime if you want.
Josh Anderson:
And we'll probably get into that. I can definitely attest from back in the days when we had conferences and actually saw each other in person, I would see Bonnie at a lot of conferences. She's a great presenter and a great advocate for folks. Pat, what about you?
Pat Rogan:
Well, like you, Josh, I share your passion about employment for individuals with disabilities. My background is as a public school special ed teacher, teaching students with high-support needs, those considered to have a significant impact of disability.
Pat Rogan:
I became the transition coordinator for the school district where I worked, and that shed light on the disjointed and outdated adult service delivery system. I went back for my doctorate in rehabilitation psychology and special education, and have worked at Syracuse University and Indiana University here in Indianapolis.
Pat Rogan:
And my focus continues to be on inclusive education, transition from school to work in adult life, integrated employment, organizational change, helping people move from segregated facilities to employment in the community. And systems change, taking that larger lens on moving state systems towards better policies and funding, to support competitive, integrated employment.
Josh Anderson:
Excellent. We're going to talk about a lot more of those things that you brought up, but I think it's really important to start off with a basic definition that gets overlooked and really misinterpreted a lot. Could you tell me, what is inclusion?
Pat Rogan:
From my perspective, inclusion means that an individual lives a typical lifestyle. Whether it means attending the same school as their brothers and sisters, and having so-called typical or non-labeled kids as peers in those environments. Whether it means working in regular jobs in the community or having typical living opportunities and options in the community. It's being with people without disabilities in natural proportions.
Bonnie Bomer:
From my perspective, inclusion is just being treated the way you would expect to treat other people, the way you would want to be treated yourself. And you have been included. I have been in general education. That's where I got all my education. We didn't have assistive technology when I went to school. It was 1958 when I started, so it was before special ed services even existed.
Bonnie Bomer:
And I had to learn some of it the tough way, some of it with my mom getting into other people's faces. And sometimes, even nowadays, me getting in other people's faces, but we had to catch up to now. That's how I went through my freshman year and actually all four years in college.
Bonnie Bomer:
Basically, I advocated for the Americans with Disabilities Act, and went to Washington DC and did the Capitol Hill stomp to try to encourage people to bring this into legislation. To me, inclusion is just being a part of the world and contributing like everyone else.
Josh Anderson:
And I couldn't agree more. I just want to make sure we definitely started off, because so many people … I don't know. I think they misinterpret that. Of … Well, even in a workplace. "Well, I did hire a couple of folks with a disability of some sort. And they work over there on that line all by themselves, segregated."
Bonnie Bomer:
Yeah.
Josh Anderson:
And people are like, "But I'm including them." And it's like, no, you're really not. That's not really full inclusion. And I know that's the main goal, which brings me into … What is the Work to Include Coalition?
Pat Rogan:
Well, we're really excited that Indiana joined over 35 States in our efforts to advance employment for people with disabilities. And that national effort and movement right now is called Employment First, which means that employment in the general workforce is the first and preferred option for individuals with disabilities who receive assistance from publicly funded systems.
Pat Rogan:
That is, in a nutshell, employment. Meaning real jobs and real wages. As you're aware, in Indiana and nationally, people with disabilities are unemployed and underemployed at higher rates than the general population. In fact, Indiana ranks 34 for employment of people with intellectual and developmental disabilities.
Pat Rogan:
And as you know, also with COVID, it has hit especially hard on people with disabilities. So, a group of advocates, including self-advocates in Indiana, pushed for Employment First legislation in 2017. And that passed. The Employment First Act requires our state agencies to implement Employment First policies to advance competitive integrated employment.
Pat Rogan:
Susan Rinne and I approached our Governor's Council for People with Disabilities for some funding support to roll out this initiative in our state. And we've called it the Work to Include Coalition. Now, just as a quick aside, the Employment First Act required the Indiana Commission on Rehab Services to develop a plan with recommendations.
Pat Rogan:
And we can talk about that later, but we launched our Work to Include Coalition by hosting 11 town halls around Indiana. And they were vibrant conversations with individuals with disabilities, family members, service providers, employers and others, sharing the barriers to employment that they faced and recommendations for addressing those barriers.
Pat Rogan:
We still have those teams around our state. They're led by individuals with disabilities. In some cases, shared also by family members. And Bonnie is one of those team leaders in Indianapolis.
Josh Anderson:
Well, let's dig a little bit more. What were some of those recommendations that you got from all those meetings?
Pat Rogan:
Well, those recommendations actually have fed the actual rehabilitation commission plan for Employment First. They are that people need reliable, affordable, and accessible transportation to get to and from jobs. They need information about benefits, benefits planning and assistance, so that they can work and maintain their benefits.
Pat Rogan:
They need employers to hire individuals with disabilities, and to know how to provide workplace accommodations, reasonable accommodations. We need to promote better, smoother school to adult life transition policies and practices.
Pat Rogan:
We need to align our government, our state policies and funding, to promote employment outcomes. We need to increase quality employment services among our service providers, and make sure they're supported to enact best practices. Ultimately, we need data to benchmark the progress that we've made.
Josh Anderson:
Well, you talked about a lot of different things there. Unfortunately, I don't think we can dig into completely all of them. But Pat … And, Bonnie, this is also for you … What's probably the most important thing that businesses should know when looking to hire individuals with disabilities?
Bonnie Bomer:
This is Bonnie. I think one of the most important things to know is that those things you refer to as reasonable accommodations are changes in the job, or in policy sometimes, that allow a person with disabilities to even out playing field. And to be able to perform the job, lead central functions of the job, for which they have to be qualified.
Bonnie Bomer:
One of the important parts of those accommodations is the fact that most of them are relatively low cost, under $500. That information is from the Job Accommodation Network. You can look that one up on the internet. It's my favorite resource outside of Pat Rogan and our employment attorney at IDR.
Bonnie Bomer:
The Job Accommodation Network is my favorite resource, because I can look up a type of disability and see what types of accommodations would allow a person to do a specific type of job. Like I said, a lot of those accommodations are fairly low priced and they're not hard to implement.
Bonnie Bomer:
For example, if a person is using a wheelchair and they need a raised desk, that can be just something as simple as putting raisers to change the height of the desk. It can be an electronic thing, but it also can be something as simple as putting something under the legs of the desk to make it higher. There are a lot of opportunities for discussion, and invention, and this creativity in how to address those accommodations.
Josh Anderson:
Kind of along those same lines, some businesses may want to attract individuals with disabilities to be able to apply, but may have a hard time doing that. What can businesses do to make their employment more open to individuals with all different abilities?
Pat Rogan:
Well, it starts from the recruitment and outreach process being very proactive. Reaching out to service providers, hosting job fairs, being very intentional. And many businesses now have HR individuals focused on equity, diversity, and inclusion in the workplace. We want to make sure that ability or disability is a factor in that larger diversity initiative.
Pat Rogan:
So, that proactive outreach, that intentionality and recruitment, is really key. And then, it begins with every step of that process. Including the job descriptions, including the accessibility of job applications, including the interview process and the onboarding being very open and communicative around individual needs for accommodations and supports.
Pat Rogan:
Making that just be routine in the conversation. Being open and receptive to the feedback of employees with disabilities in terms of their experiences, once they are hired and working. And really just having a workplace culture and climate that celebrates the unique gifts and talents of each of the employees.
Josh Anderson:
Bonnie, I want to talk to you a little bit, because you're not only a member of the coalition, but as you said, you've seen a lot of these things firsthand. Can you tell us a little bit about your experience in the job market as an individual with a disability?
Bonnie Bomer:
I sure can. I remember in the mid-seventies, after I had gotten my bachelor's degree, I was struggling to find a job. And, okay, this probably isn't the best way to handle it. But I went into the employment office and said that I believed they were discriminating against me based on my blindness, and that they needed to get me a job.
Bonnie Bomer:
And they found me a job. I guess, probably not the friendliest way to do it, but I had been working for a while trying to find a job. And I was very frustrated. I remember going to job interviews in which the interviewer focused on my disability and not on my ability. I made sure to talk about my strengths and the things that I had to offer employers.
Bonnie Bomer:
I could not avoid disclosure, or could not avoid talking about my disability, because I'd walk into an interview with a cane or nowadays with a guide dog. And it was pretty obvious there was something going on there. So, I learned to use the technology that's out there. I learned to use very early days of the ARTIC Speech, when it was very robotic speech.
Bonnie Bomer:
And I learned to use closed circuit televisions to enlarge print. I learned to advocate for myself and for others with employers, and explain, "Yeah. I can do this." I just might do it a little differently than you do. Maybe I can't take handwritten cases notes during an interview with a client, but I can write those notes down, or tape record them, or put them into a little … At one point I had a speaking … It was a device that I could type into that would speak.
Bonnie Bomer:
And I just looked for ways to do things that were a little different. I currently use a laptop with an attached docking station and I have a large screen monitor. I have a keyboard that is bright. It's actually black and it's got bright yellow keys on it. And it's low … It's a high contrast keyboard, is what it is, for people with low vision.
Bonnie Bomer:
I used different types of closed circuit television systems, handheld ones, magnifiers. I've used low-tech devices, calculators that talk, and things like that. A lot of the things that I use are fairly high-tech, because right now I use a combination of JAWS screen reader technology, along with large-print technology to read my computer screen.
Bonnie Bomer:
I have computer glasses, I have reading glasses. I have glasses for distance. I have to remember which is which, which is why they're different colors. My favorite ones are the purple ones. I have purple hair, by the way. I did that for COVID.
Bonnie Bomer:
When that's over, the purple hair might change, it might not. But at any rate, it's basically … I use a lot of humor in dealing with life in general. And I use my natural gift for gab. I basically use my talents, which are advocacy and finding ways to help people find creative solutions to problems.
Josh Anderson:
And that's good. I'm glad to use that gift of gab, Bonnie. You said it very well there. Because I know, even as a job coach in AT and everything … Many times when a business hires someone with a disability, and maybe they had some reservations beforehand or some other things … When that person's successful, I've had the question "Well, where do I get another person who's blind?"
Josh Anderson:
And it's like, well, everyone who is blind isn't the exact same. It's just like everything else. But using that gift of gab, and just showing that just because that's one aspect of my life, doesn't mean I can't be successful. I think that advocacy can really help those employers with that little bit of fear they have. Or that little bit of just unknown.
Josh Anderson:
Because for some of them, it is unknown. But I know you talked about them focusing on the disability. And when I was a job coach and actually had to sit in some job interviews, I would have the individual conducting the interview look at me the entire time. And I'm not the one being interviewed. I'm here in case you need any follow-up. Please talk to the individual.
Josh Anderson:
And it's funny, because we'd leave the interview and the person I was working with would even turn to me and say, "They looked at you the whole time didn't they?" Yep. Yep. They sure did. Or maybe my favorite was the talking louder, so that the individual with a visual impairment could hear them. And it's like, no.
Bonnie Bomer:
Yeah, it's like, the ears work fine. The eyes are the problem here. And the other thing, my one favorite thing is going into a restaurant with someone who's sighted, and having the server turn to my sighted friend and say, "What does she want?"
Bonnie Bomer:
And, "I don't know what she wants, but I'll tell you what I want." It's being forthright with not only, you have a disability. You own it. You say, "Yeah, this is part of me. This is part of who I am, but it's not all of who I am."
Josh Anderson:
Exactly. It would be the same as if somebody just took your purple hair as who you are. It's …
Bonnie Bomer:
Certainly, with my sight dog it happens.
Josh Anderson:
Yeah.
Bonnie Bomer:
People come up and will start petting my dog. And I'm like, excuse me. These are my … This dog is my eyes. This is how I get around. Distracting her does not help me function. And even at work, you have to explain to your coworkers, "This is my guide dog. She helps me with mobility. She's not here to play with you." But she will, if I gave her a chance.
Josh Anderson:
Because at heart, she is still a dog. And I know that's a hard part, but definitely being able to be an advocate, and explain that to folks who … The word ignorance unfortunately carries a lot of bad connotations, but really, it just means you don't know what you don't know.
Josh Anderson:
And being able to get that word out and get that information out can help so many people in the long run. Along those same lines, what can all of us really do to ensure that we're part of an inclusive workspace?
Pat Rogan:
Well, from my opinion, there's so many individuals who consider themselves non-disabled, who have never had interactions with, friendships with people who identify as having a disability. And that's the place to start. Just drop the barriers in order to drop the stigma and stereotypes and the attitudes and the ableism.
Pat Rogan:
That's one place to begin, is to open your minds and your hearts to get to know a wider circle of individuals in our communities. I think that applies to anyone who has been marginalized in our communities. And then, it's just acting as a coworker in any supportive way that you would with anyone. To, again, have that supportive, inclusive workplace culture and climate.
Bonnie Bomer:
And there are no ways … Because people have a tendency to look at me, and they see my guide dog and they think, "Oh, I better not say anything. I might embarrass this …" And you're not going to embarrass me. I've heard all kinds of questions. My favorite one was, "Is that one of them blind dogs?"
Bonnie Bomer:
And I went, "I hope not." I think she can see. That's her job. But I encourage people to ask questions. If you don't know, ask. If I don't want assistance, I'll say, "No, thank you." If I do, I'll say, "Yes, please help me in this particular way," and will explain how I need help.
Bonnie Bomer:
But I think it's being willing to communicate, on both sides. On the part of the person with disabilities, on the part of folks who don't have to experience disabilities. It's just basically common sense, common courtesy type of things.
Josh Anderson:
And I think that's wonderful advice. If our listeners want to find out more about the Work to Include Coalition and the great work that you're both doing … What's the best way for them to do that?
Pat Rogan:
Go to www.worktoinclude.org. And we'd love to have you join the coalition, and receive our many social media posts, and our monthly newsletter, and to benefit from all the resources on our website.
Josh Anderson:
Excellent. Well, Pat, Bonnie, I can't thank you enough for coming on the show and telling us all about Work to Include. And there's so much more that you all do. Hopefully, folks can check out the website and get more information.
Josh Anderson:
And, Bonnie, also thank you for sharing your personal journey with AT and with Work to Include, as an advocate, as well as somebody who kind of benefited from it as well. Thank you both so much.
Pat Rogan:
Thank you, Josh.
Bonnie Bomer:
Thank you.
Josh Anderson:
Do you have a question about Assistive Technology? Do you have a suggestion for someone we should interview on Assistive Technology Update? If you do, call our listener line at 317-721-7124, shoot us a note on Twitter @INDATAproject, or check us out on Facebook.
Josh Anderson:
Are you looking for a transcript or show notes? Head on over to our website at www.eastersealstech.com. Assistive Technology Update is a proud member of the Accessibility Channel. For more shows like this, plus so much more, head over to accessibilitychannel.com.
Josh Anderson:
The views expressed by our guests are not necessarily that of this host or the INDATA Project. This has been your Assistive Technology Update. I'm Josh Anderson with the INDATA Project at Easterseals Crossroads in Indianapolis, Indiana. Thank you so much for listening.