If you're looking for a digital version of a whiteboard to help teach your student(s), check out Vico SmartBoard.  Vico SmartBoard is an iPad app for teachers looking to tutor their students.
Further, Vico is a platform that provides "learning in a lively, intuitive way" as if the teacher and student are in the same room.  Here's more from the developer of the app:
"Vico Communications has set to provide a lifelike experience in distance education. We want to preserve traditional human touch approach within a modern technological environment.  No matter where the teacher and student are located, they can work together as if they were in the same room sitting close to one another, utilizing just an iPad tablet. The tablet works as a blackboard for the teacher and as a notebook for the student.

The format is familiar to both teacher and student, making our service more accessible to consumers than existing business meeting oriented tools."
Just like a traditional whiteboard, a teacher can call a student to the board.  Students can then respond with either an oral or written answer.  "In the case of an oral answer, the video stream of the speaker is broadcast. The speaker, at his/her own discretion, can replace the broadcast of his/her face with the display of his workbook or notebook, where he can give written explanations to the answer."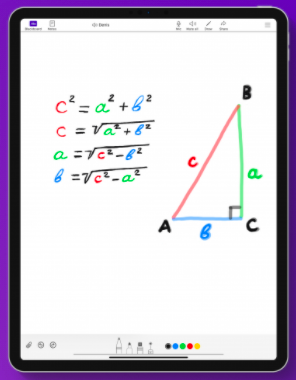 In regards to a written report, the student gains access to the teacher's board and can write on it, as if it were in a real classroom.  The app features a common whiteboard space as well as an area for individuals to make personal notes.  Every area of the app supports drawing with an Apple Pencil or finger.
Overview of the Vico SmartBoard App:
Simple one window interface for speaker (teacher) and participant (student)
Voice communication
Voice activity indication
Drawing board
Notebook for notes and assignments
Ability to check student notebooks by the teacher online
Publishing an assignment in the form of PDF or an image on the board and in a notebook
Ability to call the student to the board
Draw with your finger or Apple Pencil
Export classwork results as PDF
And much more!
Click here to learn more about the Vico SmartBoard app!