Individuals with muscular dystrophy, spinal cord injuries, and more may lose the ability to feed themselves.  If you or a loved one is looking for a way to eat independently, check out the Obi Feeding Robot!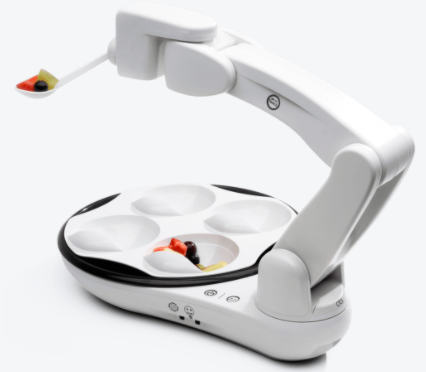 Obi is a "first of its kind, revolutionary dining device for individuals who lack upper extremity function."  With the touch of a switch, users can easily choose between four compartments of food and command when the food is captured and delivered to the mouth.
Here is the company's mission:
"Our mission is to provide everyone access to independence and social inclusivity.  We strive to produce life-changing moments for our diners. Everyday, we work to achieve the most gratifying and robust product possible, while facilitating an exceptional customer experience."
Overview of Obi Feeding Robot:
Graceful, life-like motions, moves smoother than a human arm which helps avoid unwanted splashes and drips
Automated multi-directional food capture, portion control, spoon wiping, and food repositioning keep food transfer efficient
Quickly and intuitively select a food delivery location from thousands of possibilities within a large volume of space
Six Degrees of Freedom (motors) enable intuitive gestures
Can be controlled by any part of the body that can activate a switch

Compatible with any switch that utilizes a 3.5mm headphone jack adapter

Pressure switches
Pad switches
Microlight switches
Pillow switches
Sip and puff

Weighs only 7 pounds so you can transport it wherever you go
Latex-free, elastic over-mold helps keep the device stationary during meals
3-4 hours of use per charge
Reusable plate and spoon are made from food-safe, BPA-free, dishwasher safe material
And so much more!
Click here to learn more about the Obi Feeding Robot!