Are you or a loved one in the market for a new portable video magnifier? Check out the CloverBook LITE HD Video Magnifier.  This touchscreen video magnifier is a lightweight, foldable, and "extremely portable" video magnifier.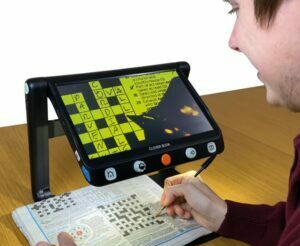 The CloverBook LITE boasts a large 12.5" Full HD screen making it an ideal solution for individuals with low vision.  It comes equipped with an integrated, foldable stand so you can simply place it on a table or desk, unfold the unit to begin using it.  Additionally, it features traditional tactile buttons or knobs to adjust magnification or contrast, or users can use touchscreen gestures to operate the device "seamlessly."
Users can use this full HD video magnifier to read a book, newspaper, look at photos, and so much more.  There is plenty of space between the screen and the stand so users can also enjoy writing, painting, and other crafts.
According to its description:
With it's large, tactile buttons and touchscreen capabilities, it's the perfect blend of a traditional desktop magnifier and a modern portable device all wrapped into one complete package."
This full HD video magnifier is an ideal solution for users who want a simple, large screen magnifier that folds down into a portable, space-saving device.
CloverBook LITE Overview:
12.5 inch full HD video magnifier with 1080p matte touchscreen with 4K camera resolution
Magnifies from 1x-60x
Lightweight, portable, foldable so you can carry it with you wherever you go
Continuous use up to three hours and comes with a use a rechargeable/replaceable battery
users can operate the device via traditional tactile controls or touchscreen gestures
Live panning feature allows users to explore live zoomed images without moving the device
Simply fold out the integrated stand to provide a proper angle for reading and writing
Click here to learn more!