Many individuals have a hard time regulating their body temperature; some people are always freezing, while others can overheat easily.  I wrote about the original Embr Wave back in 2018.  It is a wearable scientifically proven to help you feel cooler or warmer in minutes!  The same company now offers a newer model: introducing the Embr Wave 2!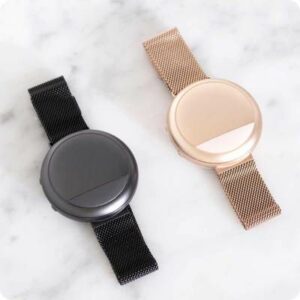 According to its description, this second-generation Wave uses temperature sensations to help you find "relief, gain comfort, and give you more control over your life."  
Here's more about the technology behind the wearable:
The Wave uses a compact thermoelectric heat pump to create a series of cool or warm sensations that you feel on your inner wrist. You control the temperature level and set the duration from 5 – 60 minutes, based on your needs…
Overview of the Embr Wave 2
The Embr Wave 2 comes with a redesigned experience at every level.  Newer features include:
A sleeker, lighter, and smaller design means "a more comfortable fit you'll want to take with you everywhere"
More advanced thermal technology allows the Wave 2 to "deliver the most powerful cooling of any wearable on the market"
A completely new app and new features help wearers understand and optimize their thermal wellness
Available in black and rose gold
Click here to learn more about this wearable!