We originally wrote about Reminder Rosie several years ago.  Now, there is an all-new model: introducing Reminder Rosie 2!  Reminder Rosie 2 is an alarm clock that doubles as a voice reminder assistant.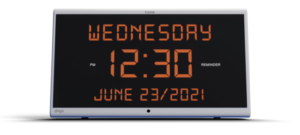 Reminder Rosie 2 boasts an "extra-large display" with 2-inch LED numbers, making it ideal for individuals with low vision.  With Reminder Rosie 2, you can personalize reminders to take medications, go to doctor's appointments, and even attend plans with friends!
You can easily set up reminders using voice prompts; to wake Rosie up, simply say "Wake up Rosie." In addition to setting reminders, you can also ask questions like, "What day is it?" or "Tell me today's reminders." After a task is accomplished, press down on the device to stop the reminder. Or you can also just state, "Reminder off."
Overview of Reminder Rosie 2:
An alarm clock with an extra-large display that allows users to record up to 25 personalized voice messages
Does not require WiFi
No costly recurring monthly charges
Responds to simple voice commands like, "What day is it?" "What are today's reminders?" and more!
Easy to configure with verbal prompts for setup and recording messages
Plugs into any outlet, but also features battery back up of 3 AAA batteries in case of a power outage
Large 2-inch amber digits are visible day or night at any angle
3 brightness settings: High, low, and off
Available in 5 different languages: English, Spanish, French, German, and Italian
The alarm function features 4 alarm sounds and a 9-minute snooze
3 volume settings: high (up to 120dB), mid, and low
Measures: 11.8″L x 3.8″W x 6.65″H
Click here to learn more!