Are you looking for some effective pain relief without medications? TENS (Transcutaneous Electrical Nerve Stimulation) therapy units are one potential solution for nerve-related pain conditions. There are dozens of available TENS unit options, one being the Vive EMS TENS Unit from Vive Health.
Vive Health's EMS TENS Unit helps "relieve tired, sore muscles, fatigue, and tension with at-home electrotherapy." It can be beneficial for individuals who experience sciatica, tendonitis, bursitis, arthritis, and more.
Before diving into further detail on this particular unit, let's first cover how TENS units work:
"TENS machines work by sending stimulating pulses across the surface of the skin and along the nerve strands. These stimulating pulses help prevent pain signals from reaching the brain…"
If you want to learn more about how TENS devices work, click here.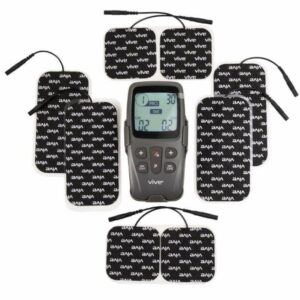 Vive Health's EMS TENS Unit is ideal for use on the neck, shoulder, hip, back, arms, and legs. It features eight EMS (Electrical Muscle Stimulation) modes, nine TENS modes, and five massage modes.
This particular device is unique as it utilizes both TENS and EMS technologies. EMS is predominantly used to prevent, or reduce muscle atrophy. It also helps by "increasing blood flow to muscles, increasing range of motion, increasing muscle strength, as well as enhancing muscle endurance."
Both TENS and EMS methods have been proven to be effective pain therapy options to help ease the effects of acute or chronic pain.
This EMS TENS Unit is both compact and portable, making it easy for users to transport it in their pocket, purse or briefcase. It also includes a belt clip for hands-free use, so users can walk around with it at home, school, wherever they go!
It comes with self-adhering, pre-gelled electrode pads that are repositionable and flexible so they contour the body for "optimal relief."
Overview of the EMS TENS Unit:
A portable device that may help relieve tired, sore muscles, fatigue, and tension that can be used comfortably at home, work, and more
Can help manage chronic pain due to sciatica, bursitis, tendonitis, carpal tunnel, arthritis, and more
22 therapy modes ideal for use on the neck, shoulder, hip, back, arms, and legs.  More specifically, it features:

8 EMS modes
9 TENS modes
5 massage modes

40 intensity levels; users can easily adjust the intensity of each channel during the therapy session for customizable relief
So compact and portable users can carry it with them in their pockets, purses, and briefcases
The device measures 5.5" by 3" by 2"
Self-adhering, pre-gelled electrode pads are repositionable and flexible to contour to the body for optimal relief
Ready to use out of the box. Comes with:

Vive EMS TENS Unit
8 reusable electrode pads (which should last for at least 20 sessions each)
2 lead wires
Belt clip
3 AAA batteries
Click here to learn more!