Fat Brain Toys is a company on a mission to "enrich families and provide a smarter way to play by inspiring creativity and sparking curiosity."  One of their available products is their Dimpl Pops.  Dimpl Pops is a fun bubble-popping fidget toy made out of squishy silicone.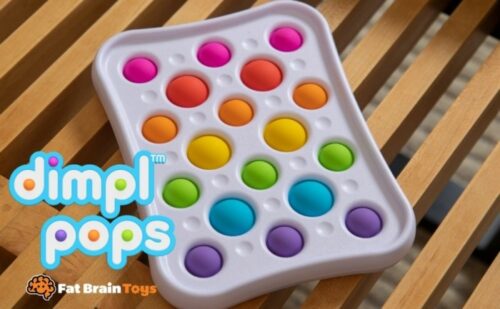 Here's more from the website's description:
"The squishy silicone is fascinating for the fingers.  Young, old – no matter who you are – your fingers just can't stop!  Experience the joy of Dimpl in its purest form with Dimpl Pops."
The toy features 18 Dimpl bubbles in two different sizes, all built into a strong, high-quality plastic frame.  
Overview of Dimpl Pops:
High-quality, durable board of 18 Dimpl bubbles to poke and pop

18 bubbles in 2 different sizes in a rainbow of colors

Encourages:

Fine motor skills

Sensory learning

Calmness

Perfect for all ages – ideal for travel, relaxing at home, sensory discovery, and learning

Includes one Dimpl Pops board

Plastic frame made from high-quality ABS plastic frame

Bubbles made of 100% food-grade silicone

Board measures 8.75 x 6.75 x 1 inches

BPA-free, fully safety tested

Hand washable
Click here to learn more!