Ben Perkins was born and raised in Indianapolis, Indiana. He attended Broad Ripple High School. After high school, he went to live with his dad in Texas and started working at Texas Motors as a parts delivery pick-up driver. He then moved back to Indiana and went to C1 truck driving school and became an over-the-road truck driver.
Years later, a family tragedy occurred and Ben had difficulty returning to work due to anxiety. He then gained weight, which inhibited his ability to walk long distances. He found himself unable to return to work.
Due to his weight, he is unable to walk long distances and is dependent on a scooter to get around. The vehicle he had was on its last leg and he was not able to get a scooter in that vehicle.
In July 2020, a nurse at Eskenazi Hospital told him about the Alternative Financing Program through the INDATA Project at Easterseals Crossroads so he could obtain a vehicle that could fit his scooter. He could not afford the vehicle he needed on his own and due to his credit score wasn't able to get a traditional loan.
INDATA provides low-interest, extended-term financial loans to qualified individuals through the alternative financing program (AFP). AFP loans are for assistive technology devices including, but not limited to, hearing aids, augmentative communication devices, Braille equipment, computers and environmental control units. As of 2016, our loans can also now be used for accessible vehicles and home modifications.
This program is for Indiana residents who have a documented disability and who need assistive technology. If the person with the disability is under 18 years of age, then the legal guardian must complete the application process.
Interested individuals may obtain an AFP loan application from the INDATA Project at Easterseals Crossroads by calling 888-466-1314. Individuals must provide disability documentation and understand this process is for a potential loan — not a grant or other type of financial assistance.
Ben reached out to find out more details about the program and then applied to get a vehicle with the low-interest bank loan. He ended up being approved for that loan and getting a Fort Transit Connect, which fits his scooter perfectly. He used a portable ramp to get the scooter up and realized that it was pretty challenging for him to fold up the ramp and get it into the vehicle with the scooter. He then started to research automatic lifts. He reached out to Superior Van and Mobility and they were able to advise him on automatic lifts that would fit his vehicle.
In January 2021, Ben reached out to us again and asked if he would be able to get another loan for the lift. He was thrilled to learn that he could apply for the loan and that the loans could be combined into one loan so he only had one payment.
Once the loan was approved, Superior Van and Mobility installed a Bruno Joey Scooter Lift and STAR Financial (our lending partner) sent the payment to Superior Van and Mobility. Ben then makes his payments each month to STAR Financial. Ben said another benefit of taking the loan is that he is able to increase his credit score by making payments on time. He has continued to watch his credit score go up and up since getting the loan.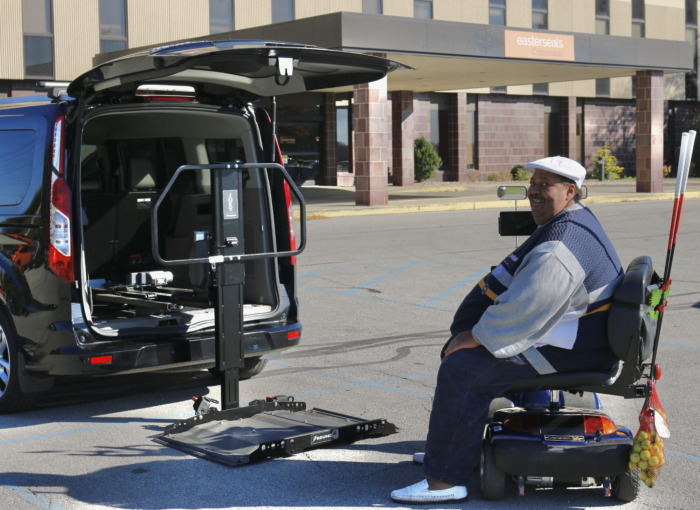 The Joey Scooter Lift is a platform-style scooter lift and is controlled with one button. Ben is able to just drive his scooter onto the platform and press the IN button to retract the scooter into his van and then the OUT button when he is ready to get his scooter out of the vehicle.
Now that Ben has accessible transportation, he is able to perform his daily tasks. His priority now is to get his anxiety controlled and focus on his health and losing weight. He would eventually like to get back to work when his is physically able to. He is able to use his van and lift to go to the gym where he likes to swim or go to a driving range to hit golf balls for exercise. He is also able to get to doctors' appointments and run errands now that he has a fully accessible setup with the van and the lift system.
Ben said, "I was so surprised that this program even existed. It was such an easy process. Everyone was so nice and courteous. This program is so helpful for people who don't have a down payment for a vehicle or have lower credit scores. It was such a stress-free process and was really a heaven-sent program for me."