If you or a loved one have low vision and are looking for a way to watch television, check out Vision Buddy!  According to Vision Buddy's website, it is the "world's first tv-focused assistive device for the visually impaired."
To use the device, plug the Vision Buddy Streamer into an existing cable box, streamer, or any other provider to watch your favorite television programs with enhanced image quality.  You can easily zoom in or out to "enjoy a movie theater experience right in your living room!"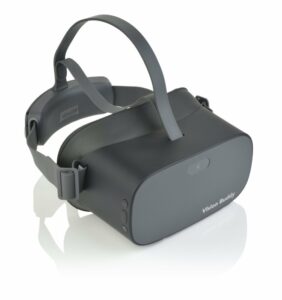 In addition to helping individuals with visual impairments watch television, the device can help users perform other tasks such as reading, operating a microwave, and more.  With the click of a button, users can switch to magnification/camera mode and see their surrounding environment.
Overview of Vision Buddy:
World's first personal television watching system for individuals with visual impairments
Helps users regain their independence by helping with daily tasks such as adjusting the thermostat, operating a microwave, reading medication labels, and more
Features built-in OCR so it can read text aloud from books, newspapers, magazines, etc.
Comes with:

Vision Buddy Headset
Vision Buddy HDMI Streamer
External battery
Charger and HDMI cable
User guide
Click here to learn more!