Since releasing the first generation of AirPods back in 2016, Apple has released some newer models. Apple's AirPods Pro are a "higher-end version of its existing AirPods with a unique design, noise cancellation technology, and better sound."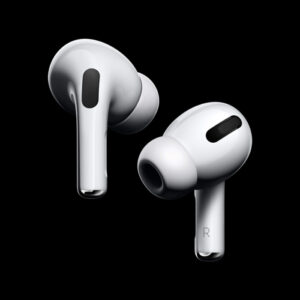 Users can choose from three sizes of soft, flexible silicone tips that click into place. These internally tapered tips conform to your ear shape, keeping AirPods Pro secure.
Further, the AirPods Pro feature Active Noise Cancellation technology. According to Apple's website:
"AirPods Pro are the only in-ear headphones with Active Noise Cancellation that continuously adapts to the geometry of your ear and the fit of the ear tips — blocking out the world so you can focus on what you're listening to…"
Overview of Apple's AirPods Pro:
The outward-facing microphone detects external sound, then earphones counter it with equal anti-noise, canceling the external sound before you hear it
An inward-facing microphone listens inside your ear for unwanted sound, which is also eliminated with anti-noise
Want to hear what's happening around you? Just press and hold the force sensor on the stem to move between Active Noise Cancellation and Transparency mode
With the MagSafe Charging Case, AirPods deliver more than 24 hours of battery life
Earphones will send a notification to your iPhone letting you know it's time to charge
Visit Apple's website to learn more!