Over the years we've written about different phones available for individuals with visual impairments, such as the BlindShell phone.  Another available option is RealSAM Pocket, which is a "revolutionary voice-operated smartphone for people who are blind or visually impaired."
According to the phone's website, RealSAM Pocket "takes away the stress of figuring out complicated phone interfaces when you can't see or can't see well enough what's on the screen."  The device enables users to communicate with friends and loved ones by phone or text by simply using their voice.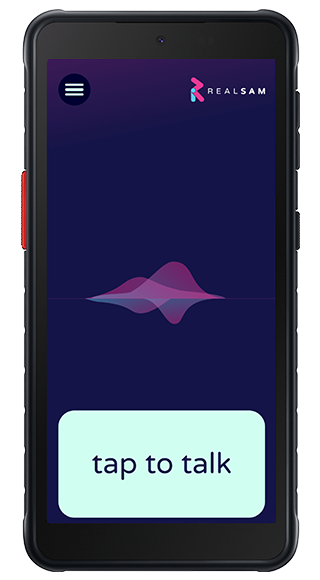 Here's more from the product's website:
"RealSAM Pocket is a voice-controlled smart device that is designed to be simple to use and of enormous value to people living with low vision and blindness. We install our software on a Samsung mobile phone, and it completely takes over the phone. More than just a phone for the blind, you can use your voice to make phone calls, search for and stream audio books, read today's newspapers, get navigation or sight assistance, and much, much more…"
Overview of RealSAM Pocket:
With RealSAM Pocket, users can:

Make and receive calls
Send and receive messages
Add contacts by voice
Use video magnifier
Stream podcasts, books, radio, and newspapers
Read text with OCR
Get assistance from sighted volunteers with Be My Eyes
Learn about their environment with location services
Stay on top of their appointments and tasks with smart reminders
Enjoy information tools such as global time and weather

The device is already set up; all you need to do is connect your device to WiFi or insert a SIM card
Comes with a bumper case and screen protector attached
Also comes with a SIM card tool so you can easily insert a SIM card
Simple to use: simply tap the screen and ask for what you want using natural speech
Click here to learn more!