Bluebee Pals are interactive plush learning tools that connect to iOS and Android devices via Bluetooth.  The toy's patented technology allows the stuffed animal's mouth and head to move while reading stories, teaching using educational games, learning a language, and singing songs.  The companion app is free to use and you can use it with or without a Bluebee Pal.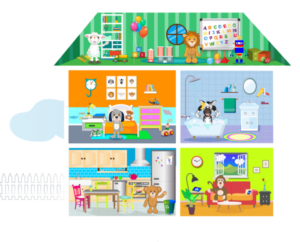 According to Laura Jiencke, the CEO/Founder of Bluebee Pals:
"It's not screen time that should concern parents but the quality of digital content. It's imperative that parents are a participant not a bystander in their child's life skills and education. Bluebee Pals Interactive educational plush tools are a great supplement to re-enforce academics learned at school to continue in home settings…"
While using the app, children can learn about different daily living activities such as bathing, brushing teeth, and washing hands.  The app features four rooms with specific tasks:
The living room where you can tap on objects to hear their names

The kitchen where you can eat a meal or have a snack

The bedroom where your Bluebee takes off their shoes and goes to sleep

The bathroom where your Bluebee Pal takes a shower, dries off, brushes their teeth, and more
There is also a playroom full of educational games including ABCs, puzzles, robot building, racing cars, matching colors, and more.  
Overview of Bluebee Pals app:
Ideal for toddlers, preschoolers, early childhood, and individuals with special needs
Helps children understand the necessary steps to complete a task in a fun, sequential way
Reward children after completing a task with a fun mini-game
No time limits or frustration if you can't complete a task quickly enough
Ability to record your voice or child's voice and play it back
Helps children learn basic ABCs including their alphabet and sight words
Click here to learn more!