If you're looking for a way to scan documents using only your phone, check out SwiftScan!  Using your phone's camera, SwiftScan can scan and extract text from virtually any document.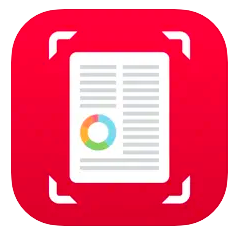 With SwiftScan, you can scan documents, QR codes, barcodes, labels, whiteboards, business cards, sketchbooks, and much more.  According to the App Store, it is the "best mobile scanner app for documents and QR codes."  While using the app, you can create free, high-quality PDF or JPG scans with just one tap.  You can also send files via email or as a fax, and upload them to iCloud, Dropbox, Evernote, and more.
Overview of SwiftScan:
Home screen widget provides instant access to scan, search, or view recent documents
Scan premium quality PDFs or JPGs with 200 dpi and higher
Lightning fast: automatic edge detection and scanning
You can send your documents as a fax right from SwiftScan
Upload documents to iCloud, Dropbox, Evernote, Google Drive, and other cloud services
Enhance your scans by applying color, grayscale or black-and-white filters with automatic optimization
Scan single and multi-page documents
One-tap email and print workflows
Extract the text of your scans to copy, search, lookup, etc.
Edit documents: move, rotate, add, or delete pages
Click here to learn more!