Freeform is an app that helps users organize and visually lay out content on a flexible canvas.  It allows users to see, share, and collaborate all in one place without worrying about layouts or page sizes.  
Bob Borchers, Apple's vice president of Worldwide Product Marketing, said:
"Freeform opens up endless possibilities for iPhone, iPad, and Mac users to visually collaborate.  With an infinite canvas, support for uploading a wide range of files, iCloud integration, and collaboration capabilities, Freeform creates a shared space for brainstorming that users can take anywhere…"
The app offers a variety of brush styles and color options to sketch ideas, add comments, and draw diagrams.  Users can draw anywhere on the canvas using their fingers or with an Apple Pencil.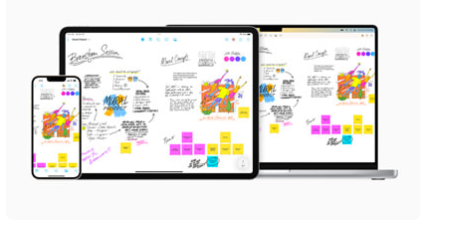 Freeform supports a wide range of files, including photos, video, audio, documents, PDFs, links to websites and map location links, sticky notes, shapes, diagrams, and more.  You can even insert an image or scanned doc directly into the board using the iPhone or iPad camera.  
Overview of Freeform:
Choose from a variety of brush styles and colors
Add images, audio, video, PDFs, websites, sticky notes, and more anywhere on the Freeform board
Ideal for creating a digital pinboard, collecting research for a school project, or even gathering inspiration for your home renovation
Create diagrams with a library of over 700 shapes and alignment guides to help make your document look just the way you'd like
Scan paper documents with a built-in document scanner to archive documents and even annotate them directly on the board
Invite your friends or colleagues into your board for real-time collaboration. Freeform brings people together into a shared space for creativity, whether you're at your desk or on the go. Easily invite others via email, link, or Messages
Brainstorm together with up to 100 collaborators on the same board
Click here to learn more!
Watch our Tech Tip on Freeform here.