If you're looking for a fun, educational app for your kiddos, check out Lingokids.  Lingokids is an app that weaves modern life skills into academics and interactive games, songs, and activities.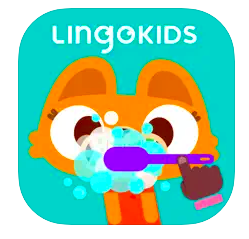 The app uses something called the Playlearning Method.  With the Playlearning Method:
"Your kids can play, learn, and thrive with a methodology that embraces how they naturally discover their world, helping to shape them into confident, curious, life-long learners. Kids have more motivation and focus when they're engaged and entertained, so they're more comfortable exploring new things…"
In addition to teaching academics, the app also includes activities that introduce emotional regulation, positive communication, meditation, and caring for the planet!
Overview of Lingokids:
Explore 1200+ learning activities with more 650+ objectives across subjects—including math, reading and literacy, science, engineering, technology, art, music, and more
Reading and Literacy: Kids can evolve their letter recognition, writing, phonics, and more
Math and Engineering: Kids can strengthen knowledge in key areas like counting, addition, subtraction, and problem-solving skills
Science and Technology: Kids can explore key scientific principles from biology, chemistry, physics, and more, plus prepare for technical advancement with coding, robotics, etc.
Music and Art: Kids can create their own music and make digital drawings with paints and colors
Social-Emotional: Kids can learn about emotions, empathy, mindfulness, and more
History and Geography: Kids can increase global awareness as they explore museum artifacts, ancient civilizations, continents, and countries
Physical Activity: Songs and videos encourage kids to dance, stretch, and practice yoga and meditation
In the Parents Area, parents can access progress reports for up to 4 children, browse curriculum topics, get tips, and access community forums. Track your child's progress and celebrate successes
Click here to learn more!