According to Mayo Clinic, aphasia is a disorder that affects how individuals communicate.  It can impact the way they write and understand both spoken and written language.
Here's more from Mayo Clinic's website:
"Aphasia usually happens suddenly after a stroke or a head injury. But it can also come on gradually from a slow-growing brain tumor or a disease that causes progressive, permanent damage (degenerative). The severity of aphasia depends on a number of things, including the cause and the extent of the brain damage…"
Naming Therapy is an app that can help with aphasia.  It helps individuals who can't find the right words to learn strategies to communicate their thoughts or needs.  It uses "tried and true" treatment approaches to help people with word-finding problems to:
Think of the word
Describe its attributes
Say the name
Improve word retrieval
According to the app developer, Tactus Therapy, "Research shows that using this app as part of Language Therapy 4-in-1 for just 20 minutes a day for 4 weeks can significantly improve chronic aphasia."  Users can add their own words and pictures to work on the words that matter the most to them, or use the hundreds of everyday words included in the app in English, Spanish, German, and French.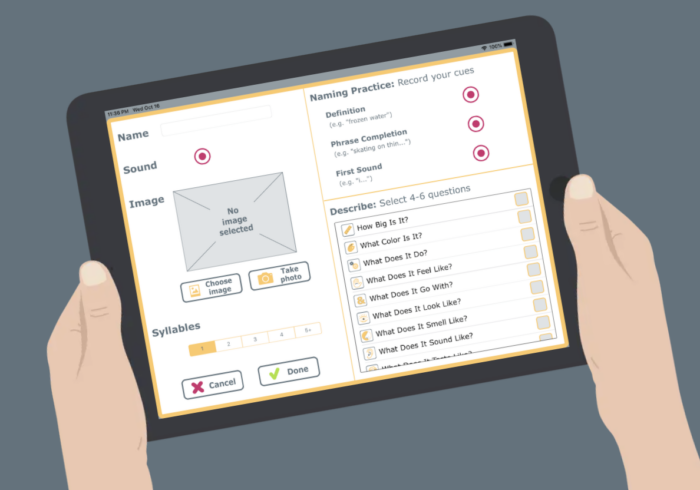 Naming Therapy features 4 different parts:
Naming Practice: 400+ pictured nouns with an evidence-based cueing hierarchy and optional self-scoring, with the option to add your own photos and cues. The app records which cue was used to get the correct answer and produces a score report for email. Use different cues within Naming Practice to target confrontation naming, responsive naming, phrase completion, repetition, and oral reading.
Describe: 580+ pictures with 4-6 semantic & 4 phonemic question prompts for semantic feature analysis, phonological components analysis, and expanding expression skills. You can add your own words and select from 25 prompts to go with them. Icons representing questions prompting for information about the appearance, category, function, shape, size, color, taste, location and more surround each picture. Target sound knowledge by hearing prompts for first and last sound, rhyming words, and syllables.
Naming Test: a set presentation of 30 pictures with scoring and a report. This is a non-standardized test intended for screening a person's ability to name common items. It contains common and less common items of the categories contained in this app.
Flashcards: 700+ clear, full-color pictures including verbs and adjectives; touch to hear the spoken word or see the printed word with the ability to add your own pictures. Use the verb pictures to create sentences or implement response elaboration training.
Overview of Naming Therapy:
Real recorded male voice provides a neutral accent in 5 languages with slow, natural speech for "easy comprehension"
Limit words by syllable length just to practice the short ones or target the longer ones – perfect for apraxia
Database controls let you turn each word on or off within the app, so you can customize even further
Tapping is the only motion required; no dragging, pinching, or swiping necessary for new users and those with motor impairment
No in-app purchases and no collection or sharing of private information
Click here to learn more!