As I mentioned on Tuesday, Help Tech is a world leader in the design and manufacture of Braille devices.  The company offers a variety of different Braille displays, keyboards, and more.  The other day I wrote about the Activator Braille Display; another available Braille display from Help Tech is the Braille Star 80! 
According to Help Tech's website, this device is the "optimized Braille system for every workplace, equipped with 80 piezoelectric Braille elements."  In combination with a PC keyboard, users can use the Braille Star 80 even without a computer to write notes.  You can connect a PC keyboard directly onto the Braille Star 80.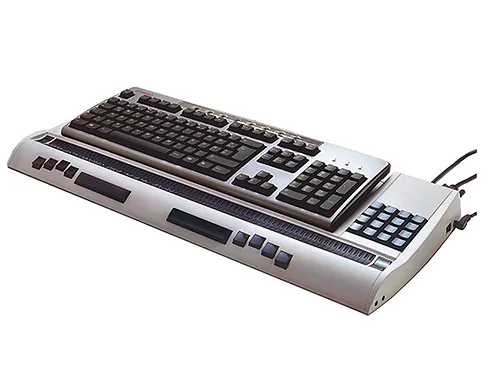 If you want to connect it to a PC, you can easily do so via USB or the serial port.  In addition to a 16-key pad, the device features 8 function keys.  These are ergonomically arranged for Braille input.
Another neat feature is that the display can be used with different screen reading programs in order to work on various operating systems, including Windows as well as Linux, and DOS.
Overview of Braille Star 80:
80 concave Braille elements with cursor routing
Freely assignable 16-key pad
Internal notetaker function so you can take notes independently of a PC
Easy data transfer: via HTCom from Braille to the PC and vice versa
Simultaneous connection with 2 PCs, manually switchable
4MB of internal text memory
Small distance between the Braille output and PC keyboard
Available in blue and silver gray
And more!
Click here to learn more!