Loan Library COVID-19 Update:
We understand your assistive technology (AT) needs may have changed due to the COVID-19 pandemic. The INDATA Project at Easterseals Crossroads is working to be as responsive to those needs as possible and will continue to provide equipment loans to Hoosiers in need.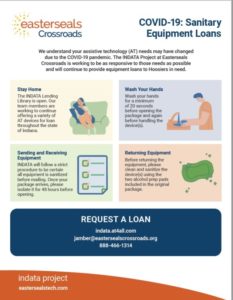 Loan Library
Easterseals Crossroads has an assistive technology loan library. We offer a variety of assistive technology devices for people to borrow throughout the state of Indiana. These short-term loans assist people in making informed decisions about the assistive technology they might use at work, school or home. Equipment includes devices for persons with visual, cognitive, hearing, mobility, learning and other impairments.
All loans are initiated by the completion of an online AT loan application through our online loan library (AT4ALL).
Click here to access our online loan library.
Watch the video below for steps on setting up an account in the online loan library.
Device Demonstrations
Before someone purchases an automobile, they typically take the car for a "test drive." That is often very challenging when it comes to assistive technology. Your local office supply store or pharmacy does not typically carry assistive technology devices. So in order to help people in Indiana with assistive technology purchasing decisions, we offer device demonstrations of more than 2,500 assistive technology devices.
Examples include demonstrations of assistive devices for people with hearing impairments, learning disabilities, vision impairments, autism and for those who are aging.
Demos are scheduled so each participant spends 20-30 minutes with an assistive technology professional to learn the basic features of the assistive device.
Personal Story
Meet Rebecca Ramsey, a client who received a demonstration of a screen magnifier. Hear about her experience of being able to try out her device.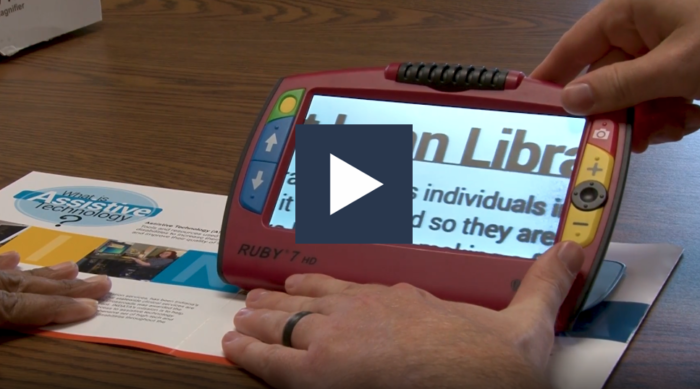 Contact Us
For more information about device demonstration and our loan library, please contact Justin Amber, assistive technology equipment loan specialist, at jamber@eastersealscrossroads.org or 317-466-2013.