I have terrible circulation in my legs so in the winter I'm always trying to find ways to keep my toes warm! Looking for a way to warm up your cold toes in this wintry weather? Check out the ThermaCell Rechargeable Heated Insoles!
The ThermaCell Heated Insoles are a rechargeable foot warmer operated by a wireless remote. To use, simply slide them inside your shoes or boots and select your ideal temperature on the remote control.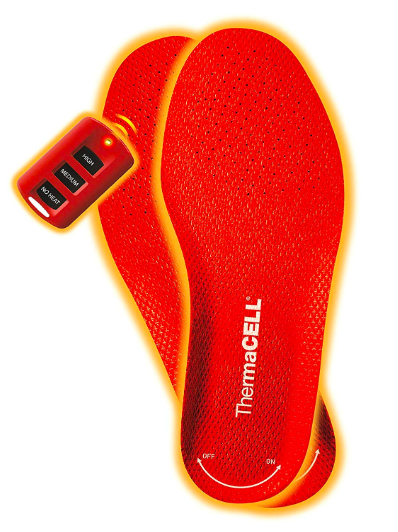 According to its description, the insoles "use high-tech wireless thermal technology". This means there are no wires, extension cords, Velcro straps or battery strap brackets mounted to your ankle or shoe!
Features of the ThermaCell Rechargeable Heated Insoles:
Rechargeable lithium ion polymer batteries are embedded inside the insoles
Three temperature settings:

No heat
Medium (100 degrees)
High (111 degrees)

Can be recharged up to 500 times using the included charger
Provide up to 2500 hours of toasty feet
And much more!