Device Lending Library
Easterseals Crossroads operates an assistive technology lending library for persons with disabilities and their families,  as well as service providers, employers, or other interested parties.
Device loans help persons make informed decisions about the assistive technology they might use at work, school, home or play. Devices include equipment for persons with visual, cognitive, hearing, mobility, learning, and other needs.
All device loans are for 30 days and initiated by completing an online AT loan application through our online loan library (AT4ALL).
Click here to access our online lending library.
Watch the video below for steps on setting up an account in the online lending library.
Sanitary Device Lending
We understand your assistive technology (AT) needs may have changed due to COVID-19. The INDATA Project at Easterseals Crossroads is working to be as responsive to those needs and will continue to provide equipment loans to Hoosiers in need. See the flyer below to learn more about how we are keeping you safe by providing Sanitary Equipment Loans.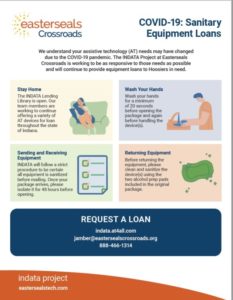 Contact Information:
Contact 317-466-2013 or tech@eastersealscrossroads.org to schedule your device demonstration now.