Reutilized Equipment
INDATA operates an equipment reutilization program in which we accept CCTVs, video magnifiers and other assistive technology devices. These items are sanitized, repaired and given to individuals with disabilities in Indiana for free. There are some items we are unable to accept such as: power wheelchairs, stair lifts, dental equipment, CPAPs or other respiratory equipment, medical equipment, prosthetics, hearing aids and hospital beds. However, those items can be listed on our free online classified system for assistive technology. Click here to access the equipment exchange site.
Reutilized Computers
Donated computers are received from donors, wiped of all previous data, refurbished and provided at no charge to individuals with disabilities who live in Indiana and have no other means of obtaining a computer. At this time, we are not taking printers, copiers or fax machines unless accompanied with a computer donation. We can then donate it to a recycling company on your behalf.
Easterseals Crossroads is a Microsoft Registered Refurbisher. This allows us to provide authentic Microsoft Windows and Office software on the computers we provide.
Personal Story
Learn about the process a computer goes through at the INDATA Depot, and hear from a client who received a laptop through the program.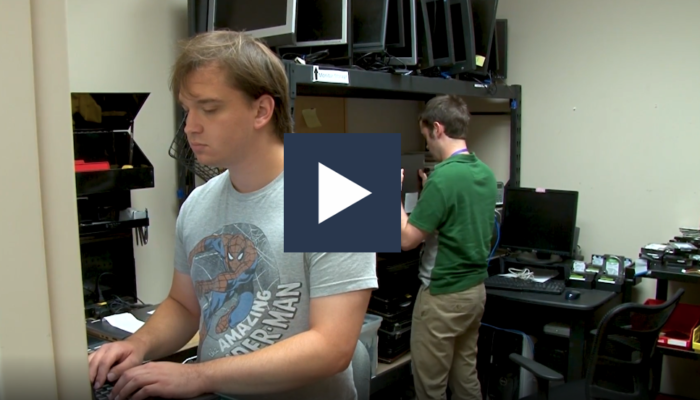 Got a Question?
Check out our Frequently Asked Questions about the INDATA Depot!
Additional Resources
Here are some popular learning and resource links:
Comcast Internet Essentials Tutorials
Goodwill Community Foundation Learn Free Tutorials:
Free eBooks at Project Gutenberg, Top 100
Free Online Courses:
K12 Tutorials at Khan Academy
Math answers and more from WolframAlpha.
Local Public Libraries – Digital and Online Services:
Contact Us
Do you have equipment to donate? If so, contact Tracy Castillo, INDATA Program Manager, at tcastillo@eastersealscrossroads.org or 317-466-2013. We accept walk-in donations or can arrange pickups.