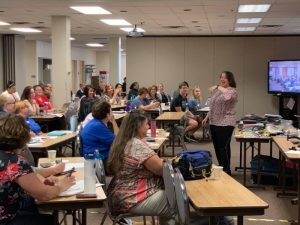 The INDATA Project hosts free trainings on various aspects of assistive technology.
These trainings are typically held at our Indianapolis facility and streamed live via the internet. Some trainings will be ONLINE ONLY.
Continuing Education Units (CEUs) are available for online attendees.
Upcoming 2023 Full Day Trainings
(Registration is required. Registration links will be found here a month prior to the event.)
July 27, 2023: AT 101 & Tools for Everyday Living (online only)
September 7 & September 8: Assistive Technology for Individuals with Autism (in-person and online)
Join Our Mailing List
Be the first to know about our future trainings and when registration opens by joining our mailing list!
Resources
Contact Us
For more information on full-day trainings or to recommend a topic, contact Nikol Prieto, community outreach coordinator, at nprieto@eastersealscrossroads.org or 317-466-2013.