Podcast: Play in new window | Download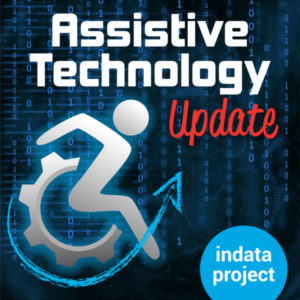 Your weekly dose of information that keeps you up to date on the latest developments in the field of technology designed to assist people with disabilities and special needs.
Donna Meltzer – CEO of NACDD – One Vote Now
eSSENTIAL Accessibility/PixelMEDIA Story:
https://prn.to/33OoDbu
——————————
If you have an AT question, leave us a voice mail at: 317-721-7124 or email tech@eastersealscrossroads.org
Check out our web site:
http://www.eastersealstech.com
Follow us on Twitter: @INDATAproject
Like us on Facebook:
www.Facebook.com/INDATA——————–Transcript
Starts Here —————————-Donna Metzler:
Hi, this is Donna Meltzer, and I am the CEO of the National Association of Councils on Developmental Disabilities, and this is your Assistive Technology Update.
Josh Anderson:
Hello, and welcome to your Assistive Technology Update, a weekly dose of information that keeps you up to date on the latest developments in the field of technology, designed to assist individuals with disabilities and special needs. I'm your host, Josh Anderson, with The INDATA Project at Easterseals Crossroads in beautiful Indianapolis, Indiana.
Josh Anderson:
Welcome to Episode 481 of Assistive Technology Update. It's scheduled to be released on August 14th, 2020. With a big election coming up in just a few months, we are super excited to have Donna Meltzer on to talk about One Vote Now and some of the resources it has available to help, well, really anyone with voting, but also folks with intellectual and developmental disabilities. We've got a story about how website accessibility is becoming more and more important, especially in online shopping. Do you have a question for our show or maybe somebody that we could have on as a guest? Don't forget that you can always email us at Tech@ Eastersealscrossroads.org. Call our Listener Line at (317) 721-7124 or drop us a line on Twitter, @INDATAproject. Now let's go ahead and get on with the show.
Josh Anderson:
The pandemic, stay-at-home orders, and really, the fear of getting ourselves or a loved one sick. Many folks have turned to online shopping. During this huge shift to online shopping, many folks have figured out that some websites and some shopping sites are maybe not quite as accessible as the others. For those companies looking for your dollars and to peddle their wares online, this can be a twofold problem. First of all, they could open themselves up to lawsuits or other problems in the legal system, but also, if you're not accessible, then those that can't access your website can't shop your store.
Josh Anderson:
So I found a news release, and it's titled Essential Accessibility and Pixel Media Partner to Improve Web Accessibility for Digital Commerce. And the story is about two companies, the first one, Essential Accessibility, which it describes as the pioneering accessibility as a service provider. Says it empowers organizations to offer fully accessible and compliant digital experiences. So essentially, it's a company that helps other companies offer a fully accessible experience.
Josh Anderson:
So they partnered with Pixel Media, which is a digital commerce agency dedicated to helping lifestyle brands launch, manage, and grow their eCommerce business on Salesforce. So it really seems like a great kind of marriage here, because Pixel, it looks like, is a company that's completely made to help smaller lifestyle brands kind of in increase their digital footprint. So make sure that they are able to offer their items online. And then them partnering with this Essential Accessibility will help to make sure that these smaller companies can make their sites completely accessible, because you really have to think. If you leave anyone off of your sites, well, they're not going to be able to spend their money with you. And really, that's the whole reason to have the site.
Josh Anderson:
The story doesn't go into a whole lot of detail, and really, the only reason that I wanted to talk about it here on the show today is I think this is something we're going to see a lot more in the future, especially as folks realize that a lot of items can be bought online. Also, there's a chance that some of those brick-and-mortar stores won't come back when things get back to some semblance of normal, and we may have to make sure that we're still able to get everything that we want online. But just how a business that does not build a ramp automatically precludes anyone that uses a wheelchair to ambulate, anyone that makes a website that's inaccessible automatically precludes anyone who cannot use that website from shopping on their store. We'll put a link to that story over in our show notes.
Josh Anderson:
Voting is one of the most powerful tools and important rights that we have. It gives everyone in America a voice and allows them to vote for whom they think is the best to represent them in government. But navigating all the ins and outs of voting can be difficult, especially for someone with a disability. Well, our guest today is Donna Meltzer, CEO of the National Association of Councils on Developmental Disabilities, and she's here to talk about a tool that they've created, called One Vote Now, and how it can help navigate the challenges of voting.
Josh Anderson:
Donna, welcome to the show.
Donna Metzler:
Thank you. It's a pleasure to be here.
Josh Anderson:
I am very excited to talk about One Vote Now and the NACDD, but first, could you tell our listeners a little bit about yourself and your background?
Donna Metzler:
Absolutely. I'm delighted to. I have been the CEO of NACDD for just about eight years, and I have worked within the disability community for roughly 30 years, a little bit more. I am a native Washingtonian, so Capitol Hill was in my back yard, and I somehow think that gave me a bug to want to do some policy work.
Donna Metzler:
I started my career on the Hill and then worked with a number of different nonprofit associations in the disability space and have really enjoyed, over these years, working on great policy, like the Americans with Disabilities Act, which we are currently celebrating the 30th anniversary of. And the Family and Medical Leave Act and Civil Rights Act and numerous other pieces of policy that really work to support the full independence and inclusion of people with all disabilities to live their best life, really, in the community.
Josh Anderson:
I think before we get into talking about One Vote Now, we should learn a little bit about the NACDD. So can you tell us a little bit about your organization?
Donna Metzler:
Yeah, I sure can. And in fact, we're very excited. This is actually the year that we are celebrating the 50th anniversary of the inclusion of the DD councils in our federal statute, which is called The Developmental Disabilities Assistance and Bill of Rights Act, The DD Act for short. That was a beautiful piece of legislation that was crafted over 50 years ago as a way to really help people with intellectual and developmental disabilities to live in the community.
Donna Metzler:
You know, back in earlier times, people with IDD were traditionally either kept at home, kind of hidden from society, or lived in institutions, which we came to realize was a really bad choice. So over the course of a number of years, beginning in the early 1960s, with the support of president John F. Kennedy, we began the movement of really looking at how communities could improve their systems. And when I say systems, I mean things like education, employment, transportation, housing, all the things that really kind of are those underpinnings of your life and how you can operate and live in the community.
Donna Metzler:
And so in 1970, it was determined that these entities and every state and territory of our US should have what is called the DD Council. And the Council is a body of individuals, primarily individuals who have a developmental disability or maybe are a close family member of, and they had a really important role. The DD councils are charged with advising the governor and the state legislature on how to make their communities better. It's a very unique role. I really don't know another entity like it, where people are basically able to say to the governor, who appoints them to serve on the council, by the way. These people get to say, "Hey, here's what's working right in our community and here's what's not going so right."
Donna Metzler:
And they have federal funding that our national organization secures from them through the Congressional Appropriations Process. But then they can share that money out into the community through a series of identified projects. And those are projects that really delve deep into communities and address some of those systemic issues, like where should people live that is safe and accommodating? Is there transportation? Do you have a metro system or a bus system or walkable streets so that people can get to their job or to school or to the shopping center? Again, all of those things that make up a good, strong, healthy life, the way we all want to live our lives.
Donna Metzler:
So our national organization has been around almost as long as we've been included as DD Councils and to this federal statute. We're here in Washington, DC so that we can have oversight of all of the work that our councils do, to work with Capitol Hill to secure those appropriations and work on other federal policies that support people with intellectual and developmental disabilities. And we worked with many of the federal agencies, as well as other programs, other national organizations in the disability space. We're part of one big happy family here, where we all do a lot of work together to advocate and to lift up those voices of people with intellectual and developmental disabilities.
Josh Anderson:
That is very cool, and I think talking about your organization, talking about the ADA and everything, really highlights how important our elected officials are. So Donna, the real reason we had you here: Tell us about One Vote Now.
Donna Metzler:
Yeah, I'd love to. Thank you for that opportunity. So NACDD came up with the concept around 2014. Really just thinking about all of the struggles that people with disabilities in general, but people with intellectual and developmental disabilities more specifically, encounter in the elections process. Something that's very important to us is the whole concept around civic engagement, understanding your rights. And certainly, the right to vote is something that is very inherent, very important in our country. We hear a lot right now going around in our country, where there are communities that are feeling voter suppression and dealing with a lot of issues.
Donna Metzler:
We also notice here … Speaking of big anniversaries, it's the 100th anniversary of women having the right to vote. And so we started looking at all of these issues and really understanding that our member council, along with some of the other national organizations in the disability community, were busy developing a lot of really good tools. Tools and resources that could really help people, particularly those with IDD and other professionals, allies, families, those who spend time with people with IDD, could really find useful in navigating this great opportunity to vote.
Donna Metzler:
And what we thought is what we really need is this one place where people could get great information. So our website is unique in that we call it a curated website. So many organizations have websites, and many of them even have websites on voting and voting in disability. Ours is a little bit different, in that what we do is we partner with lots of other organizations, and we asked for everybody's input and their great resources. And we curate that. We put the best available tools and resources on our website, so that ideally, what people with IDD and others have is a one-stop shop. One place where they can go and find all of the information that they need to know.
Donna Metzler:
So on our website, we have good, basic, solid, basic information that people need, like how do I register to vote? Last week was National Disability Voter Registration Week, and so we had a big push and we joined with REV UP and other organizations that are really out there promoting the idea that people with disabilities need to get registered. Let's do it early. Let's do it in the summer and be ready. So we really promoted that on our website last week. So we have great information about how do I register? Where can I go to do that? What do I need to know about doing that? What do I need to know about my state? Is there a primary? Obviously, now at this time of year, we're pretty much done, I think, as of last week. I could be wrong, but I think that we have finished all of the primaries, at this point.
Donna Metzler:
But some people need information on how do I go to my primary? What do I need to know? Do I have to be registered with a particular party in my state? States have very different regulations about that. Some states have caucuses very early in the presidential voting years, as early as January, February. So we keep calendars and we make sure people have information about what they need to know about timelines, deadlines, information about their state.
Donna Metzler:
But then what we really get into is some of these resources about how do I participate? What should I do? If I am a person with an intellectual or developmental disability, there might be things I'm worrying about. What if my poll is not accessible? Who do I call? What are my rights? What do I need to do if somebody turns me away when I get to the poll? Or we heard stories a few weeks back, I guess from the primary in the state of Georgia, where there were people waiting on line all day, only to be turned away at the end of the day because the poll closed. Or that particular polling station never opened.
Donna Metzler:
So we provide all kinds of resources and tools and really help people to navigate information. A lot of plain language information for people with intellectual disabilities who need help understanding. How do I make big decisions? If I'm going to vote for members of my local school board, what does that mean? What do I need to do about that? How do I learn information about that so that I can do what I need to do and exercise my right to vote?
Josh Anderson:
Well, that's excellent. You give them all that information. I know personally, that's always the hardest part of voting, is when you get to those last couple ones. It's like, "Well, I didn't research the school board," or "I didn't research the local county clerk," or just whatever kind of ones come out there. So it's so hard to just kind of pick one. You feel like you're uninformed and not quite doing it right.
Donna Metzler:
Yeah, that's absolutely right, and I think that impacts everyone. I remember in the 2018 election, I had a young staffer working on my team at my office, a college graduate. And she came to me one day and she said, "You know, I feel a little embarrassed about this, but I'm looking at the ballot, the sample ballot that I got in my mail, and there is a referendum that I'm reading this language on. And I know I'm going to have to choose whether I support it or not." She said, "I've read it over and over and I still don't understand what it says. Can you explain it to me?" And I read it and I said, "Oh, I understand why you can't understand it. It's not written in plain language."
Donna Metzler:
And so this is a really important issue, and again, not just for people with intellectual developmental disabilities, but for all people. This kind of information can be very useful to understand. But we believe very strongly in our website that we need to make everything understandable for folks. If it needs to be a document that can be translated, whether it's to plain language. And for the audience to understand that, it means simple language, very straightforward, no jargons, no acronyms. Just really saying something in the shortest, simplest way that it can be said.
Donna Metzler:
But we also use, sometimes, icons, photographs, depictions, so that all people can understand what it is that's expected of them and how to read through something and understand, "Oh, I need to choose a yes or a no on that, and what do I need to do?" But more importantly, as well, is that … You mentioned school board people and what do I need to know about that? We hope that when people read that kind of information on our site, one of the things that we're hoping that it will lead to is doing that homework piece before election day. So meaning if I'm going to choose to vote for people to serve on the school board, what do I need to know about them? Where can I get that information so that I know who I'm going to vote for? Maybe I want to learn more about each candidate and to know: Do they have a position on special ed? Do they have a position on …
Donna Metzler:
Right now, we're in the middle of a pandemic. We know schools are really struggling, in particular with how they are educating students with disabilities when they are not in the classroom and everybody is learning from home. So those are opportunities to do homework and to ask the candidates in advance: What are you doing to support students with disabilities? So if that's something important to you, we give that opportunity, through the tools on our website, to learn how to ask good questions, where to write to a candidate, how to get good information. And I do want to just expressly make sure that our audience here understands that this is very, very much non-partisan. We do not in any way, shape, or form, try to lead a person who's looking to determine who to vote for, to a particular candidate. We want to make sure that they just understand all of the information about how they can make their decisions and their own choices.
Josh Anderson:
And that's really great to hear, because I know, especially, it seems, in today's day and age, everything's partisan in some way, shape, or form. So that's nice to be able to get that information in a way where you can make those informed decisions, especially. And not to harp on those local ones, but it's amazing. I think maybe the pandemic kind of showed us even more just how much the decisions of those people at the real local levels really change our lives every day. Not just the big president and congress that we hear about all the time. So I love that you're giving them that kind of tool.
Josh Anderson:
And does it also help them with … I know that mail-in voting and those kinds of things are a big conversation this year. Can One Vote Now help individuals figure out how to sign up for that or be able to do that?
Donna Metzler:
Yeah, thank you so much for bringing that up. You're right; it is a big conversation right now, and yes, there is information on One Vote Now to learn about what does it mean to provide a mail-in ballot? How do I register for that and make sure that one will come to me? And it's open dialogue, as well, through some videos and other interviews that we have posted on One Vote Now or certainly will be sharing over the coming months leading up to the election, about what does it mean to vote by mail? Mail-in ballots are one thing, and what your state allows, versus say, an absentee ballot, which is counted post-election, versus going to the polls. Something that we, as a national organization at NACDD promote, is that we want states to provide all options.
Donna Metzler:
Not everybody feels the same way about a mail-in ballot. What we do want people to understand is that it can be done safely. It can be done securely. However, some people really feel a need to be at the polls, and we want people to have that option if it can be available to them, if it is accessible for them. So many different things come up, in terms of voting, for people with disabilities, from physical access. Can I get in the door to my polling place? I should be able to. We should have accessibility for all in our nation, but we know that sometimes there are barriers that exist. Transportation getting to the polls. That's one problem. Once inside, are you able to get through your process of getting through the registration table and being able to fill out your ballot? Are you able to do that independently or do you need some support? Are you able to do that in a private manner? We're all entitled to vote privately and not have somebody else guide us or see what our choices are, if that's not what we want.
Donna Metzler:
Even small things that we don't always think about. Last time that I voted, in 2018 for the midterms, we had gone back, where I live, to filling in the little circles on a piece of paper, which means you need to be able to hold a pencil and to be able to do that. So some people may need supports in doing that, but even after I filled out my ballot, then I needed to go to another table where there is a machine that you put your, your ballot into and it makes a copy of it and you are able to kind of watch that process. In fact, you're supposed to watch the process as your ballot goes through.
Donna Metzler:
Not everybody has the physical ability to do that. There was on a Facebook Live interview that's up on our One Vote Now site last week, with Emily Kranking of NACDD. And she, as a woman with cerebral palsy, was saying that's very difficult for her, because balance is an issue and she needs to use either a walker or a cane and sort of have multiple things, perhaps, in her hand. And needing to get the ballot to even slide through that machine can be an issue. And so we just caution people, but we want people to have options. Some people feel a little leery about the mail-in ballot. We want people to know it is safe. It is accessible.
Donna Metzler:
But then again, we don't know what goes on in people's homes. Will they be able to maneuver that ballot on their own if they have issues with filling it out from an accessible point of view? Is somebody looking over their shoulder and saying, "Oh no, no, you need to vote for." We're not there. We don't have eyes everywhere. We know some of those issues can be addressed in a positive manner, in a public polling place. But then as I said, some of the issues of being in the physical polling place can be much more difficult for some people who really should be voting for home.
Donna Metzler:
So the bottom line is we promote options. We would love to see states offer both opportunities, so that people can choose which is best for them.
Josh Anderson:
Donna, you may have told me this, but when was One Vote Now started?
Donna Metzler:
We initially launched One Vote Now in 2014. It's gone through a couple of upgrades since then. This year, we did a big relaunch, just a couple of weeks ago. We have been very fortunate. Through a grant opportunity from the Craig Newmark Foundation, we were able to hire a group called [Frontward 00:23:51] Strategies, which has been working with us to upgrade our site, update the site, really make it much more user friendly, and really get a lot of interactive opportunities available on the site. So we just went through this really nice relaunch and got some word out to the press, just the way I hope that this podcast today will help a lot of people to learn about our site and want to engage in it, to use it.
Donna Metzler:
And I also invite your listeners to send us materials. If you have really good vetted materials that you think would be valuable for people with IDD to have available on the site, we'd love to see them. So on the site, you can send. There's information about how to send us your materials, and we would love to take a look at that, and if it's appropriate, we would post it on our site.
Josh Anderson:
And Donna, if folks do want to get to the site or find out more about NACDD, what's the best way for them to do that?
Donna Metzler:
Absolutely. So the site is One Vote Now, and it is Onevotenow.org. So One Vote Now, just kind of strange together as one word. Onevotenow.org is that site, and NACDD's website is www.NACDD.org. And of course, the two sites are linked together, as well.
Josh Anderson:
I love it when you make it easy. Well, I think this is an amazing resource, especially this year, as voting is probably going to look a lot different than it ever has. And not only that, but it seems like there's probably going to be changes, probably pretty much up until election day. So I love that there's a resource here, especially for individuals with intellectual and developmental disabilities, but really, for any of us who are just wondering where we're supposed to vote at this year or when are we allowed to vote? How early? How late? And all those kinds of things. So I love that you have this tool available for everyone.
Donna Metzler:
Well, thank you. Yeah, we do strive to make it a really good site on voting in general. You're absolutely right. While we have specifically tooled it for people with intellectual and developmental disabilities, it is an excellent resource and site of great trusted information for anybody who's interested in voting.
Josh Anderson:
Well, excellent. Donna, thank you so much for coming on the show, for telling us all about this great resource. And to all our listeners out there, make sure that you go check out the website, but more importantly, make sure that you go out and vote and have your voice heard. So Donna, thank you so much.
Donna Metzler:
It's been my pleasure, Josh. Thank you for having me on the show today.
Josh Anderson:
Do you have a question about assistive technology? Do you have a suggestion for someone we should interview on Assistive Technology Update? If you do, call our Listener Line at (317) 721-7124. Shoot us a note on Twitter @INDATAproject or check us out on Facebook.
Josh Anderson:
Are you looking for a transcript or show notes? Head on over to our website at www.eastersealstech.com. Assistive Technology Update is a proud member of The Accessibility Channel. For more shows like this, plus so much more, head over to Accessibilitychannel.com.
Josh Anderson:
The views expressed by our guests are not necessarily that of this host or the INDATA Project. This has been your Assistive Technology Update. I'm Josh Anderson with the INDATA Project at Easterseals Crossroads in Indianapolis, Indiana. Thank you so much for listening and we'll see you next time.