Podcast: Play in new window | Download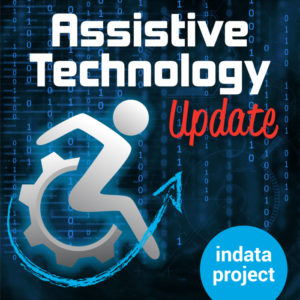 Your weekly dose of information that keeps you up to date on the latest developments in the field of technology designed to assist people with disabilities and special needs.
Special Guests:
TechOWL – Part of the Institute on Disabilities at Temple University
Alanna C. Raffel – OT and ATP with TechOWL
Kim Singleton – Senior Director of Assistive Technology Programs
Tom DiAgostino – Outreach and Training Coordinator
Our website: www.techowlpa.org
3D print catalog and open-source files that anyone can use: https://techowlpa.org/maker-catalog/
TikTok: https://www.tiktok.com/@techowlpa?lang=en
Instagram: https://www.instagram.com/techowlpa/?hl=en
Facebook: https://www.facebook.com/TechOWLpa
YouTube: https://www.youtube.com/channel/UCwkdhxu1llx4KZ9EFfx9-xw
Twitter: https://twitter.com/techowlpa
Find your local Tech Act: www.eastersealstech.com/states
INDATA Full Day Training: Job Accommodation Bootcamp
Registration and more information: https://bit.ly/3qBRBXc
Info on all of our Full Day Trainings: https://bit.ly/3472bK7
Making your site accessible story: https://bit.ly/3tEp8BM
——————————
If you have an AT question, leave us a voice mail at: 317-721-7124 or email tech@eastersealscrossroads.org
Check out our web site: http://www.eastersealstech.com
Follow us on Twitter: @INDATAproject
Like us on Facebook: www.Facebook.com/INDATA
——- Transcript Starts Here ——
Alanna Raffel:
Hi, this is Alanna Raffel and I'm the occupational therapist and assistive technology specialist at TechOWL.
Tom DiAgostino:
Hi, this is Tom and I am the outreach and training coordinator at TechOWL.
Kim Singleton:
Hi, my name's Kim Singleton and I'm the senior director of assistive technology at TechOWL. This is your assistive technology update.
Josh Anderson:
Hello, and welcome to your Assistive Technology Update, a weekly dose of information that keeps you up to date on the latest developments in the field of technology designed to assist individuals with disabilities and special needs. I'm your host, Josh Anderson with the INDATA Project at Easterseals Crossroads in beautiful Indianapolis, Indiana. Welcome to episode 557 of Assistive Technology Update. It's scheduled to be released on January 28th, 2022.
Josh Anderson:
On today's show we're super excited to have the folks from TechOWL, a part of the Institute of Disabilities at Temple University, on to talk about their very successful TikTok videos and how those are helping open up the world of accessibility to folks who may or may not have known about these amazing devices. We also have a quick story about making your website more accessible to individuals with disabilities and some extra information on finding your local tech act. We thank you so much for listening and let's go ahead and get on with the show.
Josh Anderson:
We indeed are very excited to announce that our next full day training will be coming up on Thursday, February 17th from 9 AM, till 2 PM Eastern. This online training is called Job Accommodation Bootcamp, and we will have some great presentations about reasonable accommodations, a panel discussion with different consumers talking about their experiences with job accommodations and then I'll be talking in the afternoon about the whole job accommodation process. I'll put a link down in the show notes so that you can register and I look forward to seeing you, at least virtually, there.
Josh Anderson:
Listeners, as you know, this podcast is part of the INDATA Project, which is the AT Act provider here in Indiana. Our special guests today are from TechOWL, which is the AT Act provider for Pennsylvania. While we all love getting on here and talking about the amazing things we do.
Josh Anderson:
For those of you living in the United States, there's a tech act project right around the corner from you. Every state and territory has their own tech act project. Many of them do some of the same things, such as have devices available for demonstration and loan, have different projects to get the word out about technology. They may have low interest loan programs or other programs that can really assist folks in really getting their hands on and learning about assistive technology. So I put a link down in the show notes to eastersealstech.com/states. All you have to do is click on this link and it will bring you to a page from the AT3 Center. Here, there are two drop downs. The first dropdown will let you decide which kind of program it is that you're looking for.
Josh Anderson:
The second dropdown, lets you pick your state. You click on this and it brings you all the information pertinent to that program in your state, contact information, phone numbers, emails, and anything you might need to be able to get in contact with your local state AT Act provider. These are amazing resources that are available to everyone in the United States and everyone has their own local provider that can provide that to you. So again, we will put that link down in the show notes and it's eastersealstech.com/states that will actually let you find the program in your state to assist you of your assistive technology needs.
Josh Anderson:
So I have just one quick story today and it's from over at mytotalretail.com. It's titled "Seven Ways to Make Your eCommerce Site More Accessible to Consumers with Disabilities" driven by Jonathan Avila. It just outlines some of the things that as a retailer or really is anyone making a website with different forms and things really needs to make sure that these things are there in order to make it accessible to customers, because we know the more customers that you can get on your site, the more purchases they'll make, the more money you make and everybody ends up winning in the end.
Josh Anderson:
So if you're looking to really make your website accessible, this is a great place to start. Just some things to think about that if you're not familiar with AT and accessibility, you're probably not even going to know about.
Josh Anderson:
So I'll just go through the seven real quick. Again, It's a good starting point. There's always a lot of places that'll check your accessibility and things like that, that you can use to really make sure you're being inclusive. But this goes above and beyond what ADA makes you do and really and truthfully can just make it to where, again, folks can actually use your site. So it starts off with number one, alternative tech, so alt text, so this is that tech that's behind the images and things so the screen readers can read them. Accurate form labels, this is probably where I see things fall apart more than anything just because it'll say form box or something else, but it doesn't tell you where you actually are or what it is looking for, so that's always very important.
Josh Anderson:
Color contrast, of course that's very important, light blue print on a dark blue background, or vice versa, really doesn't work very well. Number four, it has clear error messages. This seems to have gotten better lately, but I run into this problem sometimes where you fill out a bunch of information and it says information's missing. But maybe it doesn't highlight it or it doesn't tell you, hey, the phone number's not in the right format or, hey, you didn't put the date correctly or, hey, this is missing. It just says error and brings you back to where you have to go through each field to figure out what's going on.
Josh Anderson:
Number five, it says be no mouse friendly. There are a lot of people out there that don't realize you can control the whole computer and never touch a mouse. You can use your voice or you can use the keyboard or other things like that. But really it just says be no mouse friendly, make sure that people can just not click, scroll and do those things with just the mouse. Make sure they can use it in another way. Fix automated captions, so a lot of folks do rely on artificial intelligence to create captions. As we all know, these can be well sometimes just downright funny. But if you do have product videos and stuff like that, make sure that you are going through and fixing those captions.
Josh Anderson:
Number seven, it says make reviews inclusive. So this just means make sure that if individuals can purchase the things on your site that they can leave reviews too. Again, that's going to bring more business back. Individuals with disabilities want to write reviews, just like anyone else. When they get a really good product or if something isn't exactly like they thought, they want to put that information on there.
Josh Anderson:
So I'll put a link to this story over in the show notes. Again, if you're trying to make your website a little bit more inclusive, this is a great place to start, because again, remember the more folks that can access your site, the more folks that can buy your products, the more money you end up making in the long run. And if you're not marketing your goods and services to everyone of every ability, then you're really missing out on a huge share of the market.
Josh Anderson:
So listeners, as I probably told you before, this show is part of INDATA, which is the Indiana Assistive Technology Act provider. Now every state and territory across the US has such a program. While they all look a little different, they have two main goals, get the word out about AT and get AT in the hands of the folks who can use it. Here at INDATA, we help get the word out through things like this podcast.
Josh Anderson:
Well, our guests today are from TechOWL and they've found another way to get the word out using TikTok and they're going viral with some of their videos. Well, they've been kind enough to come on the show today and tell us all about it. Alanna, Kim, Tom, welcome to the show.
Kim Singleton:
Hi. Thanks for having us.
Josh Anderson:
I am really excited to get into talking about tech Al and with great things you guys are doing on TikTok. But before we do that, could you tell our listeners a little bit about yourselves?
Kim Singleton:
I am the senior director of assistive technology programs at TechOWL, which is housed at the Institute on Disabilities at Temple University. I started my career as a speech pathologist. I was a practicing speech language pathologist for over 35 years. Then, as I always say, I decided to get up off the floor working with young children and sit in a big girl chair and came to Temple to do this important and exciting work.
Alanna Raffel:
I have sort of a similar-ish background to Kim. This is all Alanna. I am an occupational therapist and I worked in lots of different settings as an OT. During that time, I was really seeking out something that allowed me to make a broader impact in a more macro level way. So I spent a lot of time the eight or nine in years as a practicing OT trying to figure out what that looked like, and it turns out, it looks like this, helping people get things they need and being able to participate more independently and safely. It's what I was looking for when I was a clinical therapist. So here I am at TechOWL now.
Tom DiAgostino:
Hi, so I have a very different background from my colleagues. So I am the outreach and training coordinator. My professional background is very much in social work and Spanish translation. But I have a personal and familial connection to disabilities, and so I kind of brought my personal life and familial life into the workplace and it's been a really beautiful connection for me to be able to have that interpersonal connection and impact that I've always done as a social worker and now connecting it to something that has set intimate and personal to my life as well, as my family.
Josh Anderson:
Awesome. I always love hearing about the backgrounds and how people get into this and how they really get there. It's amazing, those are three of probably the more common stories I hear, having the personal or the family connection. Then of course, speech language pathologists, occupational therapists, and getting in there. But we're very glad that you all did join TechOWL. Now tell me a little bit more in depth, what exactly is TechOWL?
Kim Singleton:
Well, TechOWL is Pennsylvania's assistive technology act program. Like you said, there's one in every state and territory and TechOWL is the one in Pennsylvania. So we serve all ages of all disabilities, helping them get the tools and technology that we need to live our best lives.
Josh Anderson:
Just for our listeners out there, because you don't know how many people I talk to from different states who don't know that they even have a tech project there, what are some of the services that TechOWL offers?
Kim Singleton:
Probably the one that is the most used is our statewide lending library. So we scour for the very best and latest assistive technology we can find and we get it and then we allow people to borrow it. We ship things to folks' homes and then support them over, now, mostly over Zoom and then help folks explore and try out, and ultimately get tools and tech and gadgets that they need.
Josh Anderson:
Awesome. Like I said, I just had to bring that up because I've actually talked to folks lately who have asked, "Hey, can I get things from your loan library?" It's like, well, there's one in your state too, I promise.
Kim Singleton:
Right.
Josh Anderson:
Just so you know, they were not from Pennsylvania. So you guys are getting the word out very well, because they were definitely not from there. Well, let's talk about TikTok. So tell me a little bit about your videos that you guys have been putting on there.
Alanna Raffel:
I'll kick this off. So I joined the TechOWL team about a year ago, a little over a year ago now, in the middle of the pandemic, actually. I had been spending part of that time scrolling through Tiktok and seeing how much great content there was, especially related to disability. I was wowed at how well it captured my interests, which is both a cool and scary thing. But my whole Tiktok feed was about curly hair and disability, basically. So when I joined the team, Tom, who's our awesome outreach coordinator and works on all the social media, I said to him, "Hey, do you think Kim will let us do this? Do you think we could start a TikTok?" He was like, "Yeah, I bet she would let us." So we just started it. It's one of those things you just have to try things and experiment and that's basically what we've been doing for a year now. So yeah, Tom, is that how you remember it happening?
Tom DiAgostino:
Yeah, totally. It was very much like Alanna joined the team and coming from my perspective, I have been here for almost three years, and there's been so much change since I even started. But when Alanna came, she just has so many amazing, new and innovative ideas. So it's like a breath of fresh air for someone to suggest something as simple as, "Hey, there's this social media platform, why aren't we on it?" And Kim and I were both like, "Yeah."
Josh Anderson:
Awesome. Awesome. I know it's really hard to talk about, especially Tiktok being visual thing, and we're going to talk about it on an audio interview, but what is some of the information that you're able to put out there on TikTok?
Tom DiAgostino:
I think first is our main mission is to just educate people about assistive technology, period. I think that's the connecting theme through all of our Tiktoks. Some of our Tiktoks are about our 3D printing program, our fabrication making DIY-ing assistive technology, which is a program that we provide in Pennsylvania. Sometimes it's just literally demoing different assistive devices that we have in the office, that we have in our library, that we use in our personal lives. Sometimes we do a little bit of disability justice talking about potentially ableist trends or things in our world that we experience that have a purpose and informing a general public that something like a tactile paver serves multiple people, not just having that kind of there. There's a purpose for that and that purpose is founded in the ADA and disabilities.
Josh Anderson:
That's great because I think there's so many people out there that don't realize why these things are out there or the importance that they hold. You just get used to them being and you never really think of why they were put there, or as you said, the difference they really make to that person who really to use them.
Josh Anderson:
Have you guys found any challenges with getting the message out there on TikTok? This is horrible, I'm going to show how bad I am at social media. I think there's like a limit on how long videos can be. I probably should have known that walking in here, but were there any challenges with being able to get the message out there on Tiktok?
Alanna Raffel:
So originally there was a one minute limit and ow I think it's three minutes. But we try to keep our videos to about 20 seconds anyway. Which I know sounds pretty quick, but it's a fun challenge I think for us to try to get out that pertinent information quickly, which in some ways makes it more accessible, getting that quick burst of information without having to watch like an hour long video or webinar about something can be really accessible for people, so that's a challenge. There are also some accessibility challenges with TikTok. It's not necessarily perfect accessibility. You have to do your own captions. I put descriptions, a visual description in the comments of the videos, because it's not enough time to do a good audio description for blind folks who are using the app. So we put that in the comments. So we've found ways around the accessibility issues. It's certainly not perfect and we're constantly trying to improve and make it better, but that's actually part of the process too, talking about that. There was a time early in Tiktok, our Tiktok use, that there were no captions at all, so we were part of trying to encourage TikTok to use automatic caption. So that whole experience is part of it as well in being transparent about our attempts to make our media accessible.
Josh Anderson:
Nice. Along those same lines, talking about making it more accessible to everything, what kinds of response and feedback have you received from your videos?
Kim Singleton:
Well I'll address this quickly because they won't brag on themselves. But we do have over 180,000 followers on TikTok. That is pushed over into Instagram and now Facebook where those platforms are growing too. So that's pretty impressive after just over a year to have that many followers. I think just one of the things, I scroll through the comments sometimes of our TikTok channel and I'm amazed at the conversations that are sparked, not between us and the viewer, but between viewers that really can contribute to a cultural shift, a positive cultural shift, around disability, which is very fun and exciting. That's just one point of significance, I think. I'm sure that Tom and Alanna can speak to others.
Alanna Raffel:
For sure. We were just saying this morning, it's so fun to see people educating each other about these different things. It gives people an opportunity to say, "Hey, actually, I use this device and it's made my life much better," just different ways of educating each other about ways that assistive technology and accessibility generally has changed their lives. One thing that will never me is on a video of one of our colleagues, Katherine, made a video of bone connection headphones and someone commented something like, "Oh my God, I didn't know this existed. I think you just changed my life." That's, to me, the best thing, we just want to get the word out there and help people know what exists and what's out there. That was so much like looking back on my career as a clinical traditional OT is like, oh yeah, I wish more people knew about all of these is great things, sometimes simple things or things you might think are common sense, but just saying it out loud and showing people about it can change lives, so that's kind of amazing.
Josh Anderson:
Now guy's getting back, you also, and this is kind how I found out about it because as you know, even though we're all in tech accident, we get to talk to each other all the time, you had one video that went viral and get a ton of views. Can you tell me what that one is about?
Alanna Raffel:
Yeah. I'll share about that a little bit and Tom, feel free to jump in. So this actually came from, I forget, oh, I think it was a video we had made of a 3D printed bottle opener. It's like this little device, like a really quick print, super simple. It was a video, I think that's what it started from of me just opening a water bottle with that little device. A ton of people, this was earlier on, and a ton of people commented ableist things. For example, "Oh, just use your hands." I can go into it. But some things I wasn't thrilled about, although interestingly, of course, all those ableist comments always get your video much more views, because it starts to get people talking. So you know what, sometimes that gets a video out to the people that need it.
Alanna Raffel:
But anyway, we're talking about that during our morning meeting. I shared with everyone I was a little discouraged and what should we do and should we address it? We had a really nice guy conversation with the whole team talking about how to address comments like that and how to explain to people who might not need certain devices that someone else might need it.
Alanna Raffel:
So we created a video just briefly explaining if you see something in a store or a new video, or anything that you think to yourself, "I don't really understand why that exists," like pre-cut vegetables. Someone might think, "I don't really understand why that exists," but that you can pause and think to yourself, oh, maybe it's for someone who is disabled or is an older adult and needs extra help or a child, or anything and that, by the way, we all experience disability if we live long enough, and all of those things about disability. I think that kind of made an impact on people just taking a moment to pause think, "Hang on a sec. Let me think here if this thing that I saw and thought was silly, maybe it's not silly for everybody." So that was a nice moment where we felt like these conversations we've been having made an impact on people.
Kim Singleton:
And that video got like over eight million views, I believe.
Alanna Raffel:
Yeah, almost nine million, I think, which is wild and makes us really happy to think about the impact that can have.
Josh Anderson:
Oh yeah. It can have a huge impact. That's probably the first time I've ever heard anyone talk about the good that comes from, I don't know, people trolling your feed and putting those comments in there. But I never even thought about how that could lead you to be like, hey, think of got it this way. I think, especially in our jobs, we get a little, jaded is not the right word, but you get so used to not knowing all these things, but knowing that these things are out there and that you can actually go and find them. And so many folks with and without disabilities have no idea any of these things exist.
Josh Anderson:
So I love that you attacked that. But more than that, I love that so many people watched it. Yeah, I can only imagine the impact that makes because, like you said, in a long enough timeline all of us experience some sort of disability, be it temporary, be it progressive, be it permanent. So just knowing those tools are out there, and for friends, family, anyone you encounter, being able to get the word out there, I guess that's why we're all in the tech AT, so I don't have to say the word out there 100 times. But, I do know that we can definitely do that. So I love that has almost nine million views already. That is absolutely awesome.
Tom DiAgostino:
A unique aspect about TikTok, and now Instagram, versus other social media platforms is that when someone comments or interacts with that post, the algorithm pushes that video out. So yeah, we had a couple of viral videos and I feel like viral is a term in social media that people think, and it's like this like mystery, like, oh my God, how do I make this video go viral? Really, it happens to just be the platform itself makes it easier for other people to see that video. Whereas, Facebook and Twitter, even, it's almost like I have felt in because I've worked in social media now with TechOWL for three years, it's almost like sometimes it's only the people that follow you and that know about you from a mysterious way that they can see your content where there's no broader audience.
Tom DiAgostino:
I feel like TikTok, the beautiful aspect of TikTok for us and how it's bled into all of our outreach, is that the algorithm and the platform itself allows for such a broader audience to follow us and to find us just because people will comment or like, or share our post. It's that For You page, or that general page, that just keeps auto-populating us into the world of social media. So that's been a huge aspect of why we've been able to broaden our reach. It's not necessarily because the work that we do is incredible, yes, but also this platform has allowed us to engage more people. So it's demystified this understanding of virality on social media.
Alanna Raffel:
Yeah. I feel like maybe also important is that we are the state AT Act program for Pennsylvania, so if you see something in out videos that we've 3D printed and we say something like, "If you're in Pennsylvania, reach out and we can send you this for free," of course, we can only do that for Pennsylvanians, but we have a ton of other resources and connections that we share with people who don't live in our state. We connect people to their, like you said, your state has an AT Act program or Makers Making Change, which is where we get so many of our 3D print files and they can do more widespread outreach beyond obviously Pennsylvania. They're based in Canada.
Alanna Raffel:
So yes, we want everyone to follow us and learn from our videos and other. We can do certain things for Pennsylvania residents, but we're happy to educate everyone and pass along information that would help everyone.
Josh Anderson:
Well guys, if our listeners want to find out more about TechOWL or check out your Tiktoks and other things, how can they do that?
Tom DiAgostino:
Okay. So our handle is very consistent across every platform. You can follow us on any social media platform, honestly, with the handle @tech owl, T-E-C-H O-W-L PA, TechOWL PA. Our popular channels are definitely Tiktok, Instagram, Facebook. Twitter, for people who want to follow us on our LinkedIn, they can. As well, we have a YouTube channel where we have a lot of different videos and demonstrations that we've been doing for years now. But yeah, so follow us anywhere.
Kim Singleton:
And our Website is also techowlpa.org.
Josh Anderson:
Kim, Alanna, Tom, thank you all so much for coming on today, for telling us some of the amazing things you guys do at TechOWL, but especially for this just whole new way of reaching out and getting the word out. I can't wait to keep checking out the videos and just seeing the amazing things that you guys do, so thank you so much again for coming.
Kim Singleton:
Thanks for having us.
Alanna Raffel:
Yeah, thank you.
Tom DiAgostino:
Thank you.
Josh Anderson:
Do you have a question about assistive technology? Do you have a suggestion for someone we should interview on an Assistive Technology Update? If so, call our listener line at (317) 721-7124. Send us an email at tech@eastersealscrossroads.org, or shoot us a note on Twitter and INDATA Project.
Josh Anderson:
Our captions and transcripts for the show are sponsored by the Indiana Telephone Relay Access Corporation, or INTRAC. You can find out more about INTRAC at relayindiana.com.
Josh Anderson:
A special thanks to Nicole [Prieto 00:26:38] for scheduling our amazing guests and making a mess of my schedule. Today's show was produced, edited, hosted, and fraught over by yours truly. The opinions expressed by our guests are their own and may or may not reflect those of the INDATA project, Easterseals Crossroads, our supporting partners or this host. This was your Assistive Technology Update and I'm Josh Anderson with the INDATA Project at Easterseals Crossroads in beautiful Indianapolis, Indiana. We look forward to seeing you next time.