Halloween is just around the corner and you know what that means, time to quickly put together a costume! It's stressful enough for parents to decide what their child should wear, but for children with disabilities, it drastically limits their selection. Many mainstream costumes are not designed for children who use wheelchairs, crutches, or have other disabilities. For most parents of children with physical impairments, this means they must design and create a homemade costume.
Carter has spina bifida. According to the U.S National Library of Medicine, Spina Bifida is a birth defect in which the backbone and spinal canal do not close before birth. This disease can create partial or in some cases complete paralysis of the legs. Because of his spina bifida, Carter uses a wheelchair. However, that didn't stop Carter's dad from creating this inventive Halloween costume last year! By making the wheelchair the main element of the costume, Carter was able to wheel around in Buster's Ice Cream truck as an ice cream man for Halloween.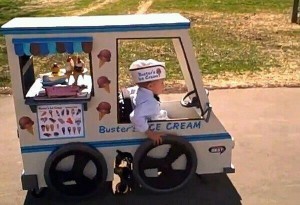 This story has recently received significant press and praise for Carter and his father. Here at the INDATA Project and behalf of everyone at Easter Seals Crossroads in Indianapolis, we encourage all parents with children with physical impairments to help their kids celebrate Halloween in a fun and playful fashion!
Here are a few cute and creative Halloween costumes designed for children in wheelchairs and crutches: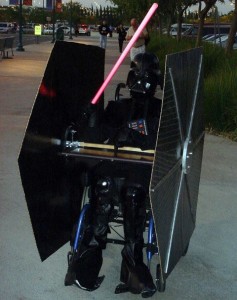 This little boy dressed up as none other than Darth Vader in a Tie Fighter. His parents even incorporated the super cool light saber!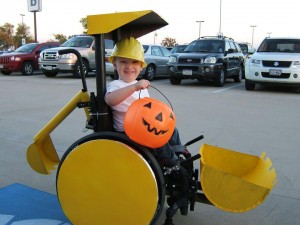 This little boy also uses a wheelchair and was also able to get his Halloween candy. His parents designed Bob the Builder's Bulldozer costume for him. The best part is that you can store all the candy in the front!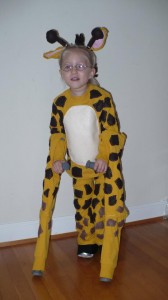 This little girl has cerebral palsy and uses crutches to navigate daily. Her mother designed this adorable Giraffe costume so she could trick-or-treat while still dressing up as one of her favorite animals!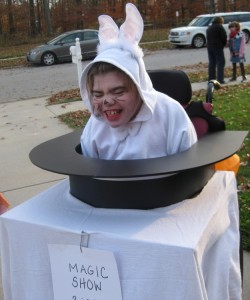 How precious is this little girl? A rabbit coming out of a hat- what an imaginative idea!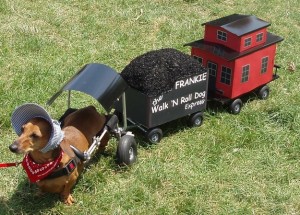 Disabled dogs can also to have a fun Halloween!
Kudos to the creative and dedicated parents who helped design and produce these wonderful costumes!  Happy Halloween everyone!