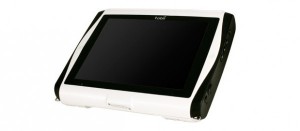 The Tobii C8 communication aid allows people with communication disabilities to easily achieve more indepenence. The Tobii C8 is a small, lightweight and portable communication aid for text and symbol based communication. This device is designed for people who have use of their hands. It works well for people who:
When you want to speak, the C8 communication aid can function as a speech generating device;  text or symbols can be used to generate synthesized or digitized speech. This device is ideal for asking or answering questions, having a conversation, telling your favorite joke, or simply saying hello. If computer access is required, the Tobii C8 communication aid offers the flexibility of e-mail, text messages and chat. With this device, you can edit documents, surf the Internet, listen to music and play games.
The Tobii C8 Communications aids moisture resistant, have swappable batteries and are free from wires. Tobii's communication aids are quick to set-up and can be personalized with multiple profiles for different locations or times of the day. The Tobii C8 aid can go with you, where you want to go whenever you want to go.