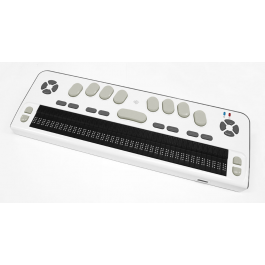 HIMS manufactures the Braille EDGE 40. This piece of assistive technology provides Braille access for PC or mobile devices for people who are Blind or visually impaired. It allows people to connect, read and write with your PC or iOS, Symbian or Android mobile device via USB or Bluetooth. Braille EDGE supports all major screen readers including Jaws, Window Eyes, System Access, Supernova, NVDA, VoiceOver for Mac and iOS, Mobile Speak and TALKS.
Users can create, read or save notes, books and documents to the SD card. It can store thousands of books and documents with you for reading on the go.
It can also be used as a scheduler and alarm to remind you of important dates and upcoming appointments. The device includes a built-in calculator, stopwatch and countdown timer. You can choose between English, Spanish, French, German and Italian languages when you use the device.
Other features include:
40 cell braille display
Patented quiet braille keyboard
Compatible with most screen readers
additional features: Notepad (Braille/Text Document), calculator, schedule manager, alarm/clock/stopwatch/countdown timer
13 multi-language support
20 hour battery duration
HIMS is now offering a two year warranty on the Braille EDGE 40. You can find more information about the Braille EDGE 40 at EnableMart.com.