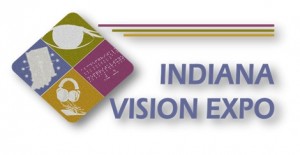 This year's Indiana Vision Expo is brought to you by the Indiana Talking Book and Braille Library. It will focus on the world of art. In addition to displays by visually impaired artists and hands on demonstrations, our keynote speaker will be award winning blind artist John Bramblitt. The Expo will also feature our usual wide variety of vendors and non-profit agencies who provide the latest in adaptive technology, independent living aids, and other resources for all ages. It will be heled at the Indiana State Library from 10am-3pm on September 28, 2013.
This year's event will again be held in conjunction with the annual Foundation Fighting Blindness VisionWalk, which will be held on the downtown canal adjoining the State Library prior to the start of the Expo.
For more information about the Expo or VisionWalk, contact us at 317-232-0609 or 1-800-622-4970, by email at lawilliams1@library.in.gov, or visit our website at www.indianavisionexpo.org.