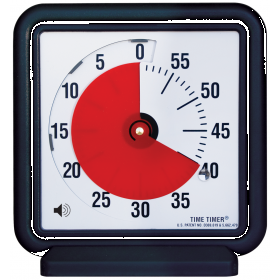 For teachers or care givers, having a timer may be helpful for children with cognitive disabilities. The Time Timer from Mayer Johnson is an assistive technology device that can be used in the classroom or at home. For children who learn better with visual clues, this timer may help put them at ease for assignments.
The Time Timer is a visual timer (now with an audible cue) that shows (and tells) students just how much time is left. Use this battery-operated timer in behavior plans, to transition exercises and for time awareness activities. You can even turn off the audible option for a purely visual experience if it's preferred. Use the base for free-standing applications, or hang on the wall for use by groups.
It's available from Mayer Johnson.