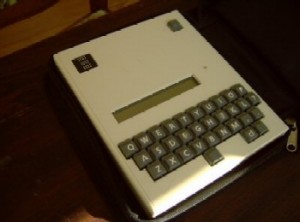 The Block Letter Communicator is a communication device for individuals who are deaf-blind. It's an assistive technology device that is helpful for people who need to communicate with people who are sighted or have hearing.
This small, lightweight device enables individuals who are deaf-blind and who do not know Braille to communicate with sighted individuals. When a sighted person types on the unit's QWERTY keyboard, the characters are presented as extra large tactile block letters. This device uses rechargeable batteries.
This device is available for AbleData.com, an organization that provides objective information on assistive technology and rehabilitation equipment available from domestic and international sources to consumers, organizations, professionals, and caregivers within the United States. The organization serves the nation's disability, rehabilitation, and senior communities.