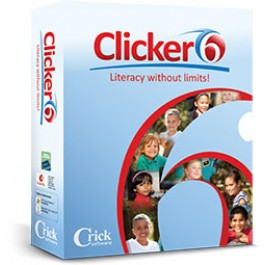 Clicker 6 is a powerful yet easy to use writing and multimedia tool that enables you to write with whole words, phrases or pictures. Clicker is a literacy tool that enables students of all abilities to significantly develop their reading and writing skills. Whether you are working in mainstream education or a special needs setting, Clicker is the tool for helping students achieve reading and writing success. Clicker enables children to learn and progress within an easy-to-navigate, motivating environment tailored to their individual needs.  It combines customizable student support tools that empower children to work independently, with intuitive activity wizards that make it easier than ever before for teachers to create and edit Clicker activities.  Features of this assistive technology service are:
Quick start word processor – Children are able to start working right away!
Primary word predictor – This intelligent predictor suggests words that fit the context of the student's writing.
Enhanced picture library – Over 2,500 curriculum pictures, which are available for use in documents, Clicker Sets, the predictor, and the spellchecker.
Built-in painting tools – Crick's popular painting program, Clicker Paint, is now fully integrated into Clicker.
Webcam support – Students' photographs instantly appear in their Clicker documents.
Favorites list – Children save their favorite Clicker activities for easy future access.
Click and Edit books – This feature enables students to independently create their own talking books and presentations. Less Teacher Time!
Clicker wizards – Follow the step-by-step instructions to quickly create personalized reading, writing, matching, labeling, speaking, and listening activities.
Editing tools – Editing activities made simple! When you click on a cell, the toolbar instantly changes to display only the tools relevant to the item being edited.
Faster access to LearningGrids – No need to login, access hundreds of free resources instantly from within Clicker.
A license is required for each computer that will use Clicker 6. If you already have the software, you only need to purchase additional licenses for each user, which makes it much more affordable to offer this program to multiple users.