Podcast: Play in new window | Download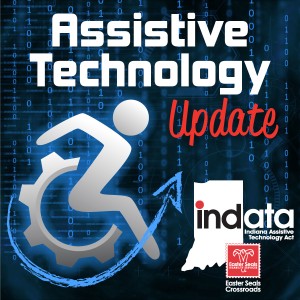 Your weekly dose  of information that keeps you up to date on the latest developments in the field of technology designed to assist people with disabilities and special needs.
Show notes:
Daniel McNulty, PATINS Project www.PATINSProject.com
What's New in JAWS 15 http://bit.ly/16KW4K5
Apple announcements
Apple OSX Mavericks
overview of accessibility features:
switch control video from Luis Perez  http://bit.ly/16KNLxN
ipad air, etc
App: Handy Speech www.BridgingApps.org
——————————
Listen 24/7 at www.AssistiveTechnologyRadio.com
If you have an AT question, leave us a voice mail at: 317-721-7124 or email tech@eastersealscrossroads.org
Check out our web site:  https://www.eastersealstech.com
Follow us on Twitter: @INDATAproject
Like us on Facebook:  www.Facebook.com/INDATA
—–transcript follows —–
DANIEL MCNULTY:  Hi, this is Daniel McNulty, and I'm the state director of the PATINS Project in the Indiana Center for Accessible Materials, and this is your Assistive Technology Update.
[Music]
WADE WINGLER:  Hi, this is Wade Wingler with the Indata Project at Easter Seals Crossroads in Indiana with your Assistive Technology Update, a weekly dose of information that keeps you up-to-date on the latest developments in the field of technology designed to assist people with disabilities and special needs. Welcome to episode number 127 of Assistive Technology Update. It's scheduled to be released on November 1 of 2013. My main guest is Daniel McNulty. He is the state director of the PATINS Project, which is a group here in Indiana that really helps schools, K-12 educational institutions, deal with assistive technology.
This is part one of a two-part conversation we talk about AT, assistive technology, as part of the IEP, the Individualized Educational Plan. Most of our conversation talks about what happens here in Indiana, but there is also a lot of applicability in other states. Also, we've got some information about the new version of JAWS and also some information about what Apple is doing in terms of accessibility with OS 10 Mavericks, their new desktop operating systems.

We hope you'll call our listener line with questions and comments. That number is 317-721-7124. Shoot us a note on Twitter @indataproject or visit our website at eastersealstech.com.
I thought it might be a good time to talk about you, in fact, our audience. A lot of folks know that the Indata Project is housed here in central Indiana at Easter Seals Crossroads, which is an outpatient provider of rehab and assistive technology services and Indiana, and a lot of our guests, including today's guest, are from Indiana, and we focus on those kind of things. But we have a worldwide audience, and we thought it might be worthwhile to talk about that a little bit.
In fact, if you look at the geography of folks whose into our show, obviously a lot of folks are from the youngest days, but also we have a lot of listeners from the United Kingdom and Canada, Australia, the Philippines, Malaysia, Germany, China, Japan, the Netherlands and so on. We even have a few listeners from places like Egypt and Luxembourg and Yemen and Jamaica, so in terms of the people that we know that listen to our show, and that includes a lot of special educators, people with disabilities who use assistive technologies, assistive technology specialist, rehabilitation counselors, occupational physical speech therapists, lots of folks who are in our audience listening to our show on a weekly basis.
We like to understand more about our audience. We think we understand a little bit about it, but we would love to understand more come in one of the ways you can do that is to call our listener line at 317-721-7124, and tell us a little bit about you. We can highlight you maybe in an upcoming show as one of our listeners, or shoot us an email, tech@eastersealscrossroads.org, or you can also decide to share your listening experience with others.
If you let folks know about our show, we appreciate that. If you go into iTunes and click on stars to rank us, or write up a rating or a review of our show in iTunes. We love to do that too. Love to see those come and the also let folks know about our show. Thought it might be useful and interesting to share a little bit of information about our audience that includes you and others who are interested in us at the technology.
If you are a screen reader user, you're probably familiar with JAWS, which is one of the most popular screen readers for the Windows platform in the world. Freedom Scientific, the manufacture of JAWS, has announced JAWS 15 is now available. The big things that seem to be related to JAWS 15 is that it supports Windows 8 and Windows 8.1 and includes touchscreen support. You see a lot of things with tablet computers and touch interface devices like iPhones and now JAWS is supporting that stuff. I'll stick a link in the show notes where you can learn about some of these features, but some of the things that you're going to find is that there ways to use your fingers on the touchscreen to control your speech, so for example if you flick right or left, it will move forward or backward through your objects on the screen; if you do a two finger flick right or left, it'll cycle forward or backward through the object navigation types like headings, list items in the exact that. You can double-click to activate the currently selected items, and there are other things like a five finger tap that will open the run JAWS manager dialog box, and a five finger double tap which opens your jaws main window. Some of those things sound familiar to me, like other touchscreen interfaces, and I'm glad to know that jaws and the Windows interface is working out with a new job searching update. A couple of other things that seem to be included are the vocalized expressive synthesizer. It's reported to be a more human sounding synthesizer for screen reader users. Also something that I thought was interesting was a speech history. If you've ever been using your screen reader and wondered what did that to stay, or not you have the ability to insert and then H, that will open up a window that will allow you to go back and review the most recent of 50 announcements that were spoken by your synthesizer. That's something that braille user have that access to for a while, had access to for a while, but is now included for speech only user. Again, I'll stick a link in the show notes over to freedom scientific where you can learn more about what's new with JAWS 15.
On October 22, Apple released the most recent version of their operating system, OS 10. This one is called Mavericks. There's lots of cool stuff going on with accessibility, but if you don't have the Mavericks operative system yet, and you wanted, what you need to do is on your Mac, your desktop or laptop, click on the Apple icon and go to your software update. It will prompt you to install Mavericks. It's free and some of the accessibility stuff that's built in, and I don't have time to go into all of it here, but there are some pretty cool things. One of the most profound things I think is the inclusion of switch access. This can often iOS seven as well, so this is available for iPhone and iPad and iPod touch and on those kinds of the devices, but now it's available on the desktop as well. It's pretty good switch access. There's been lots of devices for many years, even back to the Apple 2C and Apple 2E days that it did switch access, but it required extra soft either a card in your computer or special software. Now it's built right into the operating system. It's designed to work with a number of switches, USB and Bluetooth switches, and will do what most which access is going to do. It gives you access to an on-screen keyboard, backspace; it gives you access to some mouse control; it has a heads up display that will allow you to move around, not only on the items on the screen, but give you a menu within your screen that give you options to control different kinds of interaction with the screen. Lots of customization, the ability to speed it up and slow down. You can even customize those heads up displays, those control panels, to allow you to adjust the size and color and text and those kind of thing so you can create 10 of your own keyboard within the switch access system for the task that you have at hand. I'm going to stick a link in the show notes. Luis Perez did a video that I thought was pretty good. It's about eight or nine minutes, kind of going over the basic features of the switch access portion of the OS 10 Mavericks. I'm going to encourage you to go to our show notes at eastersealstech.com. Click on that link, and then watch Louis' video and check out what he's got going on there.
The other thing that's happening with Mavericks about accessibility, some of the things that I find interesting. There are more options for closed captions now. You can change the fonts in the highlights in the backgrounds and the colors and those kind of things to make those captions a little bit better. If you're a voice over user, you now have some built in sound ducting, which means if your voice over wants to talk, and you're playing music, they were kind of work that out so that you can hear the important stuff coming up when the music is playing that voice over gives you what you need.
The last thing I'll talk about in terms of accessibility is some of the stuff related to dictation. A lot of folks use Siri under iOS devices. Now the dictation and OS 10 Mavericks has also been enhanced, and they call it enhanced dictation. They talk about the fact that you do not any longer have to have an Internet connection for dictation. You can download that voice recognition engine to your computer so you have access when your off-line. You can do continuous dictation; so in the past, there was a limitation about how long you could dictate. Now that's been removed. You can dictate pretty much forever as I understand it. The other thing it does is live typing, so as your dictating, you can see exactly what's going in to the computer as you dictate.
Some pretty cool stuff with OS 10 Mavericks. I've got a couple of show notes, one over to Louis Perez's on YouTube, and another that starts with Apple's list of 200+ features of Mavericks. There's other stuff too, I'm focusing on the accessibility things today, but the very topic on the list of these 200 features of Mavericks is the accessibility features. Check those out in the show notes, and I hope you enjoy your free copy. Think Apple for OS 10 Mavericks.
Now here's an app worth mentioning.
BETSY FURLER:  Hi, this is Betsy Furler with BridgingApps, and this is an app worth mentioning. The app I'm going to tell you about is Handy Speech by Eric Zalberg. Handy Speech is as unique communication app. It allows the user to use handwriting or the keyboard to generate speech. The app learns the user's handwriting as the app is used. The app recognizes a variety of handwriting types paid there's also a page for frequently used phrases that can be customized highly user. The user can then go to this page and quickly select the desired phrase. Handy Speech supports 13 different languages, available through in app purchases. As a user rights or types, the Apple AutoCorrects and suggests possible words. Gestures can be used within the handwriting area for spacing and commands. Handy Speech does rely on Internet access for the speech function, so the app cannot be used in situations where Wi-Fi is not available. This app is great for children and adults who are able to write, but unable to commit it with oral speech. This is a quick and easy AAC app to begin using. It's an ideal addition to a full AAC device, or for temporary communications. It's a solution who has a trach and/or on a vent for a period of time. We also see the value in this app for children and adults who can write quickly and fairly accurately. You can find Handy Speech in the App Store for the iPad. At the time of this recording, Handy Speech costs $29.99. For more information on this app and others like it, visit bridgingapps.org.
WADE WINGLER:  Today on Assistive Technology Update, I'm glad to have turning me via Skype, a friend of mine, Daniel McNulty, who's the state project director for PATINS. Anywhere go to talk about PATINS, what that is and what they do, and we're going to spend some time today talking about assistive technology and how it relates to the IEP process in K-12 education. But before we jump into all that, Daniel, are you online?
DANIEL MCNULTY:  I'm here, yes, Wade.
WADE WINGLER:  Good, hey, thank you. I know you have a busy afternoon. I appreciate you taking some time out of your schedule. We're both in Indiana and we're saying some of our first snowflakes of the year right now. So it's a wonder we can even get on the phone and say anything intelligible today with this early years now. Are you staying warm?
DANIEL MCNULTY:  I am now. I've had my heater on all day in my office, but right at the moment on one.
WADE WINGLER:  Good, excellent. Daniel, event on the show before, and in fact if people are interested in going back, we did and upset almost 2 years before where we talked via Second Life and did a very interesting interview. In fact, I'll stick a link in the show notes back to that, so if folks are interested in seeing what you guys are doing with Second Life, I think that's an interesting way to spend some time. Other than that, tell me a little bit about yourself and PATINS And what you guys as a group do for folks here in Indiana.
DANIEL MCNULTY:  Sure, my pleasure. I guess I started out in this field as a paraprofessional in a big brother and the Big Brothers, Big Sisters program. Then I started a small business providing behavioral services to young kids on the autism spectrum. I eventually moved into a full-time teaching position in a K-6 classroom where I primarily served students with low, mild to severe disabilities, and then I serve as a Northeast Regional Site Coordinator for the patterns project. I did that for six years up in the northeast part of the state.
I'm currently in my second year as the state director of the PATINS Project. So the PATINS Project is essentially a statewide resource that's available to all Indian a public, K-12 schools. We are considered by the state to be a sole-source provider, accessible and instructional materials and assistive technology.
So really what we do is we provide accessible instructional materials to districts, and then we also provided technical assistance, the professional development around the utilization of those materials, and then also training on the creation of accessible instructional materials and assistive technology. So we loan out pieces of assistive technology to go to trial, and we provide consultations to teachers. We have a refurbished computer program, and we do at least two, sometimes more statewide professional development events each year.
And everything we do and Indiana for public K-12 schools, we do at no cost to the schools. With one exception, that one exception is our stake conference each fall. We charge a very minimal fee for that conference, because we bring in a whole slew of national and international presenters, but all of our other services are at no cost to our schools.
WADE WINGLER:  I know that you guys spent a lot of time in the schools and helping educators get better with things like UDL and assistive technology. I know that you guys are rich resource for the state of Indiana when it comes to K-12 accessibility and curriculum development and all that kind of stuff as it relates to students with disabilities. Does every other state have a similar project, where are guys fairly unique and what you do?
DANIEL MCNULTY:  That's really great question. It's actually a question I get quite a bit from folks who are either in Indiana and moving out of the state, or from people in other states have come to maybe one of our trainings or something like that. The answer is there are other organizations and other states that are somewhat similar to PATINS. PATINS is specific to Indiana, and so other organizations and other states might be a little different. They might work little different, they might be funded a little differently. Some of their services might not be free, some of them might have a cost associated with them. The way that their accessible instructional materials work in other states might be completely different. That's one area where I think Indian is fairly scenic. The way out Indiana Center for Accessible Materials works, which is part of PATINS, is quite different than what I've seen in most other states. It's kind of a one-stop shop in the state of Indiana where lots of different accessible formats can come from. The answer is yes and no. There may very well be something in other states, it just may be a little bit different.
WADE WINGLER:  Excellent, and I would encourage you, if we have listeners who are interested in finding a local resource if they're out of Indiana to email us, and we'll work with you guys to try to help them find somebody if they are looking for a local resource. For the sum okay?
DANIEL MCNULTY:  Certainly, yes.
WADE WINGLER:  Great. So our topic today is about assistive technology in the IEP process. I know that a lot of parents listen to this show as well as professionals in the field of assistive technology, especially educators. Can you give me a few words about the IEP process and how assistive technology may or may not fit into that?
DANIEL MCNULTY:  Yeah, absolutely. That's a really good question. I'd be glad to provide an overview of that process. There's a few terms that we kind of need to make sure everyone has at least a basic understanding of an order to make sense of this process.
The first term is Indiana's Article 7, which is essentially Indiana's special ed rules, Indiana special ed laws. Basically we referred back to that for how we determine the rest of the IEP process with regard to assistive technology and accessible instructional materials. One other acronym that we need to clarify is IEP, so that's an Individualized Education Program. And IEP is basically just that, it's individualized to a specific student. It's a team process. That team we typically refer to as a CCC or a Case Conference Committee, so that's another important term. I've got two more important terms. Three more actually. One of them is AT, which stands for Assistive Technology; another one is AIM, which stands for Accessible Instructional Material; and the last one is FAPE, which stands for Free and Appropriate Public Education.
So all those terms kind of come together, and basically what Article 7 says with regard to all of those terms and how they work together is that the case conference committee meets to determine, one: if a student requires accessible instructional material for a free and appropriate education; and also does a student require assistive technology for a free and appropriate education; and then if we go and look in the Indiana IEP, which is the IEP system that the majority of public schools in the state of Indiana utilize, it's under the provisions area of that IEP process. Under that provision area, there are two kinds of subsections. One subsection is entitled Accessible Materials and it's just a yes or no question. It reads, "Does the student need instructional materials provided in an accessible format to receive a free and appropriate public education?" So it's just yes or no. If you choose yes, then there's a box that says described the environment, the tasks, the tools, and the services related to this provision.
Right underneath that there's a link. This is important. The link is to complete the NIMAS order forms. So NIMAS is the last term here that I want to define. It's the National Instructional Material Accessibility Standard. The reason you have to go in there and complete that order form and eligibility form, both, is because not all students qualify for this NIMAS accessible formats of text with. That's right in the Indiana IEP system. And then right underneath the accessible materials section is another little subsection entitled Assistive Technology. It's very similar. It reads, "Does the student need assistive technology?" Yes or no? And if you choose yes, there's a little box that says described the technology required. That's where it exists in the IEP process.
How it actually looks is a little bit more complicated. It's actually quite a bit more competent. It has to involve a whole team, and I think we'll get into what that maybe looks like an some of the questions that might be coming up. But basically is a multidisciplinary team evaluation process that determines does the student need assistive technology to receive a free and appropriate public education, and/or do they need accessible instructional materials.
One interesting connecting piece between those two, AIM and AT, is that AIM might require assistive technology in order for it to be implemented. That's one piece that I think case conference committee teams might leave out once in a while. They might say something, for example, yeah, the sin needs accessible instructional materials and so we're going to request a NIMAS format for their textbook. Then they go down and they say, but they don't need assistive technologies, so we're going to leave that as a no. Then they get the NIMAS format of this textbook, and then they realized that they need some sort of assistive technology in order to implement that accessible instructional materials.
So I just like to make the point that when it can get into that area of the IEP, if they have questions, if they don't feel fully confident of what they're doing there, they can always contact PATINS for help.
WADE WINGLER:  Excellent, that's great. Thank you for clarifying a lot of those terms, because I know that in this process, especially if you're a parent or an educator, if you don't understand the different forces that are at work here, that can be intimidating and kind of hard to move the process along if you don't understand the language. I appreciate that.
DANIEL MCNULTY:  Absolutely.
WADE WINGLER:  So you're making it sounds to me that it's incumbent upon the schools to provide assistive technology, that if it's part of the IEP process, they have to do that. Is that the case? And what about training and technical support?
DANIEL MCNULTY:  Yeah, well, I need to make the disclaimer that I'm no lawyer, and I always recommend to folks in schools that they refer to their district legal department for ultimate direction. However, Article 7 really is pretty clear in my opinion. If the case conference committee determines that a student needs AT for FAPE, or needs AIM for FAPE, then the school district really must provide it. We can look at Article 7 a little bit and look at specific language. But the second part of your question is also the training piece. It's so very important. We can take a million-dollar perfect piece of assistive technology and stick it in front of a student, and it's rather meaningless without the training on that specific device and the training on implementation of that device. So those are really two different things in my eyes. We could put a great piece of tech in front of a student, and then we can go to the training apologies that peace with the teacher and with the student, and then if we don't also include training on how we implement that into the curriculum, then I think we've left something out.
So if you look at Article 7 here, with regard to accessible instructional materials in particular, it says specifically that each student shall be involved and progress in the general education curriculum to the maximum extent feasible, as determined by the student's case conference committee. And then it talks about how that relates to accessible format. Here's where I like to make a point that most people in Indiana that I've come across don't realize. There's the federal law, which is Individuals with Disabilities Education Act, and then there's Indiana's Article 7, which for lack of a better terminology, Indiana's interpretation of the federal law. So the federal file includes four formats of accessible formats. One is braille, one is audio, one is digital tax, and one is large type. Here's what most people in Indiana that I've come across don't realize. Indiana's Article 7 actually adds four more. It adds tactile graphics, video, captions, and audio descriptions. So if a student's case conference committee determines that the student needs instructional materials in one of these formats, rather than just a standard print instructional format, the public agency – and this is what Article 7 says – the public agency must ensure that that student receives instructional materials at the same time as other students received their instructional materials.
WADE WINGLER:  That's interesting. I can understand that the timing have to be there. Daniel, a quick question. A lot of the listeners are in other states, and some of them are even in other countries. And I know that our experience is limited to the state of Indiana. Two other states have something that's equivalent to or similar to Article 7?
DANIEL MCNULTY:  Yes. I believe so. I couldn't really name off any of the other states interpretations of the federal law for you, but I'm sure that they do. Basically, the idea of the federal law, the Individuals with Disabilities Education Act, mandates the minimums. These are the minimums that must be done. That states can take things a little bit further and set their own requirements that are higher than that, but not lower than that.
WADE WINGLER:  That make a lot of sense, thank you for clarifying that. There's a cost for this technology in the training. Who pays for the equipment and the services that go along with that?
DANIEL MCNULTY:  Unfortunately, it always comes down to that. There's always a cost. There's a couple of important points here. First, ultimately, if it's needed as determined by the student's case conference committee, the school district is ultimately responsible. However, there are some other options that are sometimes available with insurance and things like that, and unfortunately I'm not the expert in that area at all. However, there are a lot of services such as accessible instructional materials and Indiana and other states that could potentially be obtained at very little cost or no cost. Whenever possible we try to utilize what already in place. No, we don't like to throw money at problems and think that they're going to get better, you like to use what's already there, and because it's free, the cost has already been absorbed in some way, and it's familiar. So ultimately it's the district's responsibility, but there are some of the things that are possible with insurance and things like that. I would guess that you might be more of an expert on that than me.
WADE WINGLER:  You know, there are no magic answers, but maybe when we come back next week and the next half of this interview, we can address some of those issues about cost, and we can talk a little bit more about some advice that you might be able to give schools and parents and students. Daniel, thank you for part one of this interview, and we'll talk to you again next week.
DANIEL MCNULTY:  My pleasure, I look forward to it.
WADE WINGLER:  Do you have a question about assistive technology? Do you have a suggestion for someone we should interview on Assistive Technology Update? Call our listener line at 317-721-7124. Looking for show notes from today's show? Head on over to eastersealstech.com. Shoot us a note on Twitter @indataproject, or check us out on Facebook. That was your Assistive Technology Update. I'm Wade Wingler with the Indata Project at Easter Seals Crossroads in Indiana.