Podcast: Play in new window | Download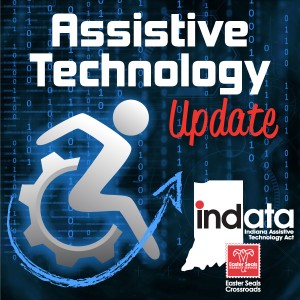 Your weekly dose  of information that keeps you up to date on the latest developments in the field of technology designed to assist people with disabilities and special needs.
Show Notes:
ATIA last minute news:  http://bit.ly/1jnQXli
AAPD Internship opportunities: http://bit.ly/1fRevAW
Financial Aid for Disabled Students http://bit.ly/1fRfaCs
Google bets on the connected future with Nest http://cnn.it/1jnTFqL
Parallel Olympics: Olympic series: Will touts equal access for Paralympic Games http://bit.ly/1fRi8a3
MaxiAids Celebrates Grand Opening of Newest Division, Maxi-Tech Solutions for Assistive Technology –  http://bit.ly/1hGwTKm
App: Do It Write www.AppleVIS.com
——————————
Listen 24/7 at www.AssistiveTechnologyRadio.com
If you have an AT question, leave us a voice mail at: 317-721-7124 or email tech@eastersealscrossroads.org
Check out our web site:  https://www.eastersealstech.com
Follow us on Twitter: @INDATAproject
Like us on Facebook:  www.Facebook.com/INDATA
—–transcript follows——
JOE SLANINKA: My name is Joe Slaninka. I'm the head coach of the Wheelchair Basketball Program at the Henry Viscardi School, and this is your Assistive Technology Update.
WADE WINGLER:  Hi, this is Wade Wingler with the INDATA Project at Easter Seals Crossroads in Indiana with your Assistive Technology Update, a weekly dose of information that keeps you up-to-date on the latest developments in the field of technology, designed to assist people with disabilities and special needs. Welcome to episode number 139 of assistive technology update. It's scheduled to be released on generate 24th of 2014. Today my guest is Joe Slaninka from New York who's going to tell us about wheelchair basketball. I have some interesting news about ATIA conference happenings, internships in Washington DC, and college financial aid for students with disabilities. We hope you'll check our website at eastersealstech.com. Give us a call on our listener line at 317-721-7124 or shoot us a note on Twitter @INDATAproject.

From MIT's technology review blog, there's an interesting article here about an experimental surgery aims to revive a paralyzed limb. The folks over at Case Western Reserve University and Brown University in Massachusetts General Hospital are about to, for the first time, marry up a brain computer interface, which takes signals from the brain to control computers, and connect it to an FES, or a Functional Electrical Stimulation system. They been able to use brain signals to control computer cursors, and they been able to use computers to make muscles move in certain ways, but this is the first time they are closing that loop and putting the whole system together. I think we're going to see a lot more coming out of this, so I'll leave this as a teaser story, and I'll pop a link into the show notes over to MIT's technology review and you can read more about what's happening with this system designed to help folks with paralysis or spinal cord injury to have more independence.
For many years when I heard the word MaxiAids, I think about a company that sells all kinds of assistive technology, but tends to focus more on the lower cost, lower tech systems or kind of items; however, recently the MaxiAids has announced the grand opening of their newest division which is called Maxi-Tech. It seems that they are going to spend a little more time and energy focusing on the high-tech solutions that are out there. They're going to include all kinds of electronic magnifiers, keyboards, text to speech devices, braille displays, vibrating products and visual alerts for folks who are deaf or hard of hearing, personal listening systems and those kinds of things. I'm going to pop a link into the show notes over to the press release, and you can check out more about what MaxiAids is doing with high tech stuff these days.
It won't be long before the 2014 Winter Olympics in Sochi will be upon us. In addition to the regular Olympics, also the Paralympics will be happening there very soon. There's a very interesting article here I'm going to stick a link into the show notes to. It spent a lot of time talking with Sarah Will, who is a 12-time gold medalist, Paralympic Mono skier, and she talks not only about her journey to Sochi and some of the things that's going to happen there and how she's going to be doing some broadcasting, but she makes a point that I haven't really realized. In the 20 years of working in the disability services field, if you would've asked me what does the "Para" in Paralympics mean, I would assume that it meant paraplegia. That's true that that's where the word came from originally, but not that long ago the Paralympics rebranded entity "Para" now stands for "Parallel," meaning that the Paralympics are running parallel to the regular Olympics. I hadn't thought of that terminology before, and it was kind of an eye-opener for me. I would encourage you to check out our show notes and read this article about Sarah and what she's going to be doing at the Paralympics come and check out the difference in the terminology. It's pretty cool stuff.
I didn't get one for Christmas this year, but I really do want a Nest thermostat. Recently Google announced that they are buying the smart device company, Nest Labs, for $3.2 billion in cash. We all know that Google is a great search engine and does a fabulous job of collecting all kinds of information about individuals, their purchasing habits, their web surfing habits and those kinds of things? But this foray into the home automation market is interesting. I think there's a little bit of Big Brother warning that's going off in my head, what does Google wants to learn from us about the things happening in our home with our thermostat and smoke detectors, but I also think that there might be some very interesting implications about what Google could do when you pair things like Google Glasses and some of their Android technology to make smart homes more accessible to folks who might have disabilities. I'm going to stick a link into the show notes over to a CNN article. There are tons of articles out there right now about Google and what they're doing with the best technology. Check it out. I think over the next coming weeks and months and years are going to hear a lot about what Google is doing with home automation, and I think that might bode some great things for folks who have disabilities.
Are you a person with a disability who is interested in starting college, continuing college or just going to school in general? The onlineschools.org website has a pretty cool list of financial aid for disabled students. I found out about this from Top Tech Tidbits. This website is pretty cool. It lists a bunch of scholarships and different kinds of financial aid by category of disability. So they have some for hearing loss, vision impairment, general disabilities, physical mobility impairments and literally it looks like dozens and maybe even 100 or more different scholarships that will cover a portion or up to your entire college costs. I'll pop a link into the show notes over to onlineschools.org and you can check out all of these great college scholarships available for students with disabilities.
Are you a recent college graduate? Are you a college student, a grad student, and are you going to be in Washington DC in 2014? Well the AAPD, which is the American Association of People with Disabilities, has an internship available. They're going to allow folks to have hands-on experience. They're going to have a stipend, mentor matching and other resources to help you with your career goals. I have a newsletter from the AAPD. I'll pop a link into the show notes, and if you happen to be somebody who's in the mind to be an intern and you're going to be in Washington DC the summer, you might want to learn about that opportunity. That sounds like fun.
It's almost that time when ATIA, or the Assistive Technology Industry Association, is having their annual conference in Orlando Florida. It's going to be on January 29 through February 1 at the Caribe Royale in Orlando. I'm not going to be there this year, so I hope you all have a great time without me. I'll be here in the snowy arctic north of Indiana. A couple of things that came across my radar though was that there are some interesting things happening at the ATIA conference. If you haven't been before, there's always a great Exhibit Hall and tons of sessions where you can learn about all kinds of things related to us at the technology. One of the things that I thought was interesting however is that they have an app this year. It's the ATIA 2014 mobile app, and it allows you to have all kinds of information about the conference, different sessions, what you can find there and what's going on. Also the mobile app allows you to build a customized schedule so you can figure out what sessions you want to go to and help keep track of those. They're going to have some preconference seminars that I think look pretty interesting. And also they have free Exhibit Hall passes available. Wednesday evening during the conference and Thursday and Friday as well as Saturday, folks can come in and visit the Exhibit Hall without having to pay the registration fee. I'm going to stick a link into the show notes to this newsletter announcement that has all this different stuff related to ATIA, and I hope everybody has a great time in Orlando. I can't wait to hear about it.
Each week one of our partners tells us what's happening in the ever-changing world of apps, so here's an App Worth Mentioning.
Scott Davert:  With this week's App Worth Mentioning, I'm Scott Davert with AppleVis.com. Today we're talking about an app called DoItWrite. DoItWrite is an app which helps individuals who have visual impairment utilize a new function and Iowa seven with voice over called handwriting. Handwriting is a function that basically allows you to take your index finger and then write on the touchscreen instead of actually using the keyboard on the screen to produce letters, numbers and other print characters. This app, which is $1.99 in the US App Store, allows you to learn how to draw each of those letters, both lower and upper case, in such a way that voice over will recognize them in the most effective way possible. In addition to walking you through it step by step, each one that you need to draw to complete each letter, there's also a game where you blessed letters out of the sky as they come down. You have to draw them correctly in the right amount of time. This app is developed by Draconis Entertainment, and you can find its entry in the US App Store, or you can go to AppleVis.com where we have a podcast going through how to use this app as well as an interview with the developers of Draconis Entertainment. If you'd like more information on the company itself, you can visit their website at www.dracoent.com. From AppleVis.com, I'm JOEDavert with this week's App Worth Mentioning.
WADE WINGLER:  It's that time of the year when indoor sports are being played everywhere, basketball is being played in lots of gymnasiums and field houses. Today I'm going to speak with Joe Slaninka who is in New York and the head coach of an interesting and accessible basketball program. He's speaking to me from Long Island on a very snowy, early January day. Joe, are you one of the line?
JOE SLANINKA:  Yes, I am.
WADE WINGLER:  Good, Joe, thank you so much for taking time out of your day. I understand you guys have piles and piles of snow there today, right?
JOE SLANINKA:  Yes, you actually caught me on a pretty good day. We have a snow day so school is canceled. We have a good 8 to 10 inches across Long Island today.
WADE WINGLER:  Wow, and I know that we are recording this the first week of January, and we've got a lot of snow here in the Midwest too. I think that's kind of the story that everybody's talking about. I'm interested in hearing about this thing that you're doing with basketball. You had up a program that does some pretty interesting stuff. Can you tell me about it?
JOE SLANINKA:  Sure. We have an adaptive wheelchair basketball program at the Viscardi School. It was created from the game that an able bodied person knows, whether it's the NBA for the college ranks and then a little bit from the National Wheelchair Basketball Association. The National Wheelchair Basketball Association has about 300 teams nationwide, and I've played in the league for about 20 years.
I've been at the school for just over 20 years and with my knowledge of the game of wheelchair basketball and stand up basketball, I was able to help create a game that our kids at school would be able to participate in fairly with each other. We call it the Adaptive Wheelchair Basketball Program. Our kids are all in wheelchairs whether it's a power wheelchair or manual wheelchair. Kids that have a disability that are ambulatory can also participate, but they have to be in a chair. We have a series of different size baskets that the kids shoot at depending on the kids' ability or disability. We have a two foot, four foot, and an eight foot basket. And depending on the kids' ability, they shoot it at whatever goal they can reach. All the other rules of basketball apply. We play with five people on the court. It's a regulation basketball. You have two guards, two forwards and a center. We play with two teams from the Westchester area. We have our own little league, and we compete throughout the year with these other teams.
WADE WINGLER: That sounds pretty exciting. So tell me, was this program started there in your area because of a rule or regulation? Was there a change in the law or was it just a good idea, something that needed to be done?
JOE SLANINKA:  It was created out of a good idea. We kind of found that our kids were going to school and then going home and not doing anything. They were just kind of sitting in front of the TV. The Henry Viscardi School is a regional school, so what that means is our kids come from the five boroughs of New York, Westchester, Suffolk County on Long Island. They were coming to school from between eight and three, and then going home on the bus. A lot of the parents and a lot of the staff wanted to kind of create something extracurricular that the kids could participate in. I came in with the idea of wheelchair basketball, and with some help from our existing staff and friends that I know from the and NWBA, we created this game, and along the way be found a couple of the schools that have similar kids to what we do. We taught them the game, and our adaptive wheelchair basketball league was created.
WADE WINGLER:  Yeah, that's pretty cool. So it's an afterschool program. Tell me about how a kid gets involved. Who can tap them and says this might be something good for you? And tell me about how often they play and practice and when and where and described it to me a little bit?
JOE SLANINKA:  Our program is open to everybody. Like I said, the Henry Viscardi School educates kids with physical disabilities so every character has some type of disability. It's our job as coaches to help that child succeed at this game, and we help adapt it in any way that we can so that kid can play. There are no cuts or anything like that. There are no tryouts. It's just a simple application process where a kid says I want to play ball and we either get bus transportation for the child after the program is over, or a parent comes and picks them up. It's just a want and the desire to play a game. That's all that's really needed on the players part.
WADE WINGLER:  That's good. Do they practice every week? What's the season like?
JOE SLANINKA:  We actually have two separate seasons. We do a full season that starts in October and ends early December where we host a tournament at our gym. Then we pick up again and March for the spring season and that culminates in the end of May with the empire games for the physically challenged which is kind of our championship series. The winner of that goes home with the gold medal for the year. We specifically have three teams. We have an elementary team, a middle school team and a high school team. Our elementary team, we call them the Cubbies, The Viscardis School Cubbies. Those kids are between the grades of second grade and fifth grade. The JV Cougars are between the grades of 6th, 7th, and 8th. The Varsity Cougars are between the grades of 9 and 12. The two other teams that we play against have similar ages and similar kids, so we're able to give everybody game experience.
WADE WINGLER:  There must be a lot of kids involved. As they are getting involved at an early age, they probably move up through the ranks and improve their skills and get better as ago, right?
JOE SLANINKA:  Exactly. Start as a second grader, particularly our cubbies play on a Thursday, they play after school for an hour from 3:30 to 4:30, and we teach them the game. This is wheelchair basketball; this is a basketball; there's a lot of skills and drills. We do a lot of teamwork, a lot of sportsmanship, things like that. Just to kind of get their feet wet in the game of wheelchair basketball. They get older and they get better and they go into the JV which is more competitive. We get more into the X's and O's of the offense and defense. Then again you move through the ranks and get into the Varsity and it's even more competitive. The JV plays on a Monday and the Varsity players on Tuesday. Each practice is an hour per day, probably eight or nine weeks at a club.
WADE WINGLER:  It sounds like there's a lot of money and a lot of teamwork and things going into that. Our listeners are very much interested in assistive technology, and Chris Marotta, was one of our listeners, and connected the two of us to have this conversation, told me that there's some pretty cool adaptive devices going on there. Can you tell me a little bit about that?
JOE SLANINKA: Adaptive Wheelchair Basketball, the first part of it would be the different sized hoops, so each kid can participate fairly. A kid that has a disability where they can't raise their arms a lot, they will be able to shoot a two foot basket and basically they would just drive their wheelchair to the rest of the basket and kind of roll the ball off their lap into the basket. Then we have a four foot basket where a player who has a little bit of upper body strength can get it into the four foot high basket. Then we have for the most challenging for those kids who are the least disabled, so to speak, they shoot it in an eight foot basket. Everybody plays together. They had a classification system. We are allowed as a team 11 points on the floor at any given time. That means any player is classified to his or her disability. A Class I being the most disabled, a Class III being the least disabled. You can have any combination of players whether it's Class I, Class II, Class III, as long as both five players do not pass 11 points total. Then we have some assistive technology that allows a child to hold the ball safer and securely on their lap. It's a simple lap hoop that we created that's kind of Velcroed to the child's seat belt on the wheelchair. Instead of trying to push the wheelchair and play the game and waste a lot of concentration on holding a ball, this lap hope that sits on the child lap holds the ball so that they don't lose it as easily. Then we have something that we call the Slam Dunk which is newly created, it only been using it for about two months. One of our assistant coaches, who happens to be an occupational therapist at school, created it out of his own mind out of a bunch of spare parts around the office and school. It basically attaches to a child's wheelchair, and the ball is placed on the top part of the cylinder, and a pressure button is pushed. That activates a switch that moves the ball so a child that would use this would literally push up to the two foot basket, press this little pressure switch, activate the device, and then people would be pushed off of the device into the basket.
WADE WINGLER:  And they make a Slam Dunk?
JOE SLANINKA:  Yes, and they Slam Dunk.
WADE WINGLER:  That's awesome.
JOE SLANINKA:  It's pretty cool.
WADE WINGLER:  Joe, we've got about a minute and a half left. Tell me quickly about a story. Tell me about a kid whose life has really been impacted by this program.
JOE SLANINKA:  I've been at Viscardi for 21 years. I've been involved in the basketball program for 21 years. We have a lot of kids that come through the program as a second grade, rights to the ranks, and then graduate and go on to regular, if you will, butcher basketball. They play in the National Wheelchair Basketball Association. We have had quite a few success stories where kids will come through the program, graduate, latch onto a team and with the knowledge and expertise that that they gained playing with us, they were able to succeed in the adult world. The NWBA gives players on teams a lot more opportunities to travel. There's even a lot of colleges that offer wheelchair basketball as a sanctioned sport. Some of our kids are able to be given scholarships to go to college to play wheelchair basketball.
WADE WINGLER:  That's really cool, and that's got to give you a good feeling to know that you're helping kids with those kinds of opportunities. Joe, if folks wanted to know more about where they might start a program or learn more about what's going on with your organization or with similar organizations, what advice would you give them? Where should they start looking?
JOE SLANINKA:  This is such a small program, small association, then we don't really have the website and things like that. I would offer my information if anybody out there is listening is interested in creating a program or starting a program to contact me directly. I've always said that we are always looking for new opportunities and do teams. There's three teams that we have in our league, we've been together for a long time. It's about time that we expand our horizons. If I could find a team and Indiana, it would be a great road trip to Indiana. I would love to come to Indiana and play adaptive wheelchair basketball. I would offer my information. My email jslaninka@henryviscardischool.org
WADE WINGLER:  Excellent, and I'll pop a link to that in the show notes so that folks can get a hold of you that way. Joe, I appreciate you taking some time and talking with us today. I appreciate you and thank you for the work that you're doing. It sounds like you're not only doing some great work, but it's on like you're having a blast doing it.
JOE SLANINKA:  It's absolutely my passion. I love it. The kids are great, the game is great. Being on your radio show, like I said, I'm always looking for a team, and if I can create a road trip somewhere and take my kids to Indiana or bring Indiana to us, that's all the better.
WADE WINGLER:  Excellent.
JOE SLANINKA:  Thank you for the opportunity for talking to me.
WADE WINGLER:  All right Joe, thank you so much for being on the show today.
JOE SLANINKA: Thanks.
WADE WINGLER:  Do you have a question about assistive technology? Do you have a suggestion for someone we should interview on Assistive Technology Update? Call our listener line at 317-721-7124. Looking for show notes from today's show? Head on over to EasterSealstech.com. Shoot us a note on Twitter @INDATAProject, or check us out on Facebook. That was your assistance technology update. I'm Wade Wingler with the INDATA Project at Easter Seals Crossroads in Indiana.