HumanWare provides assistive technology for individuals who are blind or visually impaired as well as students with disabilities.  Recently the company has reinvented the electronic magnifier to bring you a simpler, more portable vision and reading system.  Prodigi Duo is a 2-in-1 touch-controlled personal vision assistant which doubles as both a desktop and tablet (handheld video magnifier.)  With Prodigi, users can capture text and images with the tablet and magnify selected text, or re-dock the device to enlarge text up to 80x on the desktop monitor!
Instead fumbling with each page on a sliding X/Y document tray (common among similar devices,) Prodigi's "touch and tap" feature enables users to select sections of text to enlarge or listen to via the built-in text-to-speech.  Here are more details about the features available on this personal vision assistant:
Diamond Text™: in order to ensure all text is as legible as possible at all degrees of magnification, Diamond Text™ outlines and sharpens all the characters in just seconds.
Full Page Capture: Prodigi captures full pages in just seconds!  This way users are able to capture a page and have its' contents ready to be magnified.
Reading Modes:  many individuals have a preference on how they want text being presented, and Prodigi is designed to adapt to you and your unique reading style.  Users have the option to have text presented in a column like a teleprompter, or a single line of scrolling words like a marquee. Users can start, stop, magnify and adjust the speed of the scrolling text with a simple touch. Another way to optimize your reading experience is available when combining the Reading Stand with this duo; the Reading Stand is portable and if you choose, once you capture a page it will read the text to you.
Portable: the Prodigi Tablet can go with you anywhere–restaurants, stores, work and more!  Its portability allows users to have the freedom to read all text anywhere they may go.  Or if you want it on a bigger screen, just attach the tablet to the dock and you're ready to go!  (NOTE: The tablet charges while on the docking station.)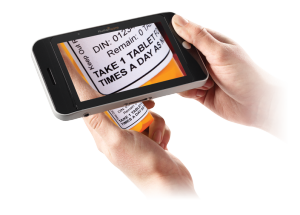 The Prodigi Duo allows individuals to finally read text at home–or on the go!  With its many unique features, the Duo is able to adapt to your unique reading style and preferences, allowing you to read more, faster.