By Laura Medcalf
There are many services readily available at your fingertips to make your online experience with websites and social media more accessible.  For this post, I will provide an overview of multiple resources:
NoSquint is available as an add-on for the Mozilla Firefox browser and allows users to adjust the text-only and/or full-page (text and images) zoom levels.  It also allows users to alter the foreground and background colors, making each page more accessible for all users.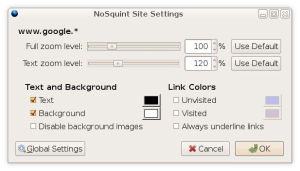 Though web design has indubitably improved throughout the years, web accessibility remains a challenge for many.  As a result, individuals with disabilities may be excluded from major parts of the internet.  Fortunately, there is a resource online called Fix the Web which offers a solution to these issues.  On this website, persons with disabilities are able to fill out a report in under a minute stating the website address, the accessibility issue and email address (useful if further information is required.)  Once the form is filled out, volunteers check the reports and then send them to the website owners with information on web accessibility.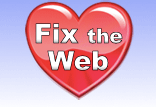 DeafTechNews is a channel available on YouTube featuring product reviews, technology news and editorial content for the deaf and hard-of-hearing.  In order to cater to individuals in the deaf and hard-of-hearing community, DeafTechNews primarily uses American Sign Language-based videos in mass communication.  Though the channel's primary target audience includes the deaf and hard-of-hearing, it is also accessible to more viewers with the supplementation of captioning in the videos.

The resources posted above are few, but may serve as guidelines to web accessibility!  Further website resources will be discussed in future blogs.