by Laura Medcalf
Nearly half of all Americans are on at least one prescription medication.  And among this population, a majority are challenged to take their pills as prescribed which is unsafe and unhealthy.  A possible solution to this common predicament is available through Vitality products, a company whose mission is to help you and your loved ones stay healthy and independent.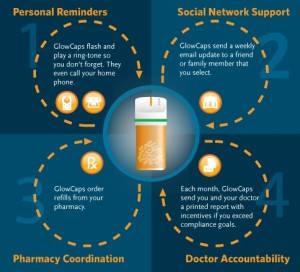 We all forget things occasionally, but it's important for your health to take prescribed medicines at the correct time each day.  Vitality's GlowCap product acts as a helpful reminder to ensure medication is taken daily and on time.  The GlowCap fits popular prescription bottles available at Walgreens, CVS and other retail pharmacies.  
One might ask, "How does GlowCap work?"  Well, a wireless chip is installed inside of the GlowCap which enables medication adherence monitoring.  It also includes an accompanying reminder light that plugs right into any visible outlet around the home.  This reminder light works in tandem with the GlowCap by glowing orange and chiming at your scheduled medication dose time, and sends immediate updates to you or loved one (only if you have enabled this function.)
The setup for GlowCap is simple: all you need is the GlowCap kit to start, which contains the smart glowing lid on top of a 20 dram amber prescription vial and the reminder light; both connect to the AT&T cellular broadband network so other equipment is unnecessary.  Then users will visit the GlowCaps website and follow instructions to activate the product.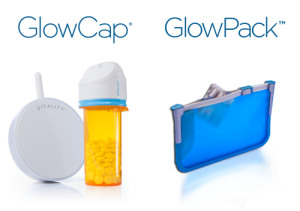 Monitoring medications is much easier when using the GlowCap.  In sum, here are a few of the benefits to using the smart lid:
Refills are as easy as the push of a button; there is a refill button on the base of the lid which will send refill requests to your local pharmacy.
Your personal information is confidential and secure.
The plugin reminder light provides an additional layer of of comfort
Light and sound notifications from the GlowCap escalate from subtle to insistent: devices glow, then make noise, then send a text or dial home phone number to remind you.
Reports and updates can be sent easily to doctors or caregivers/loved ones.
For more information and for frequently asked questions, visit their website here.